After Closing for More Than 50 Days, Barber Shops Open in Turkey
Barbershops and beauty salons in Turkey have opened their doors to receive customers according to new work regulations, after the closure that lasted more than 50 days as a preventive measure against the Coronavirus 2020-05-12
Last update
2020-05-21
After Closing for More Than 50 Days, Barber Shops Open in Turkey
After the positive results and daily consecutive statistics which have predicted that Turkey has passed the peak stage of the Coronavirus spread and the success of its plans and endeavors to control it, and based on the promising data, the Turkish government issued a decision to gradually resume many commercial and industrial activities taking into account the controls and protective conditions and social distancing.
Based on a government decision, the hairdressing and beauty salons in Turkey opened their doors to customers on the morning of Monday, the 11th of May 2020, after a long closing for about 50 days, where those shops were closed on the 21st of March 2020 by a circular issued by the Ministry of the Interior at the time, in a preventive measure to prevent the spread of Covid-19.
A new work system in Turkey's barbershops to protect from Corona
The Turkish Minister of Health, Fahrettin Koca, announced several days ago that his country has completed the first stage of the battle against Corona, and entered a new stage in which caution should be exercised to prevent a new outbreak of the epidemic.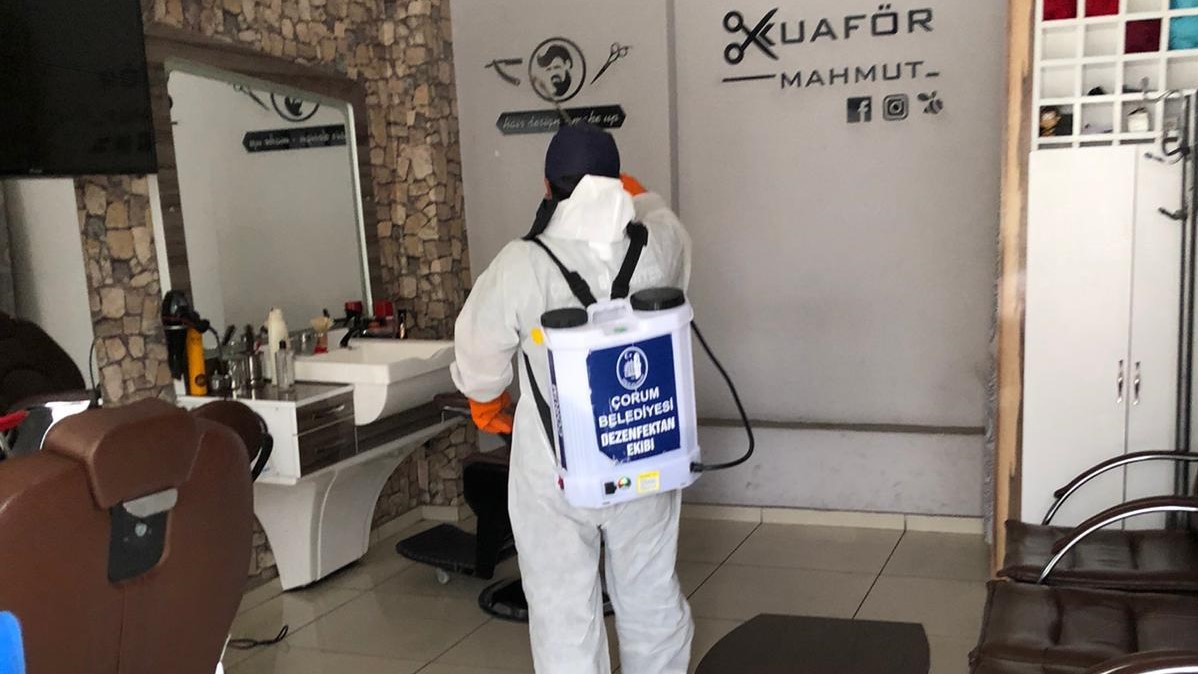 The stage included the reopening of barbershops and cosmetic centers in Turkey based on new conditions and controls starting from the morning of Monday, the 11th of May 2020, and the return of barbershops and beauty salons to work was linked to the commitment of safety controls to prevent the transmission of infection between customers, and the most important of which are:
Full compliance with general hygiene rules by cleaning the tools, floors, and surfaces that the customers will be in contact with, and sterilizing them periodically after each customer.
Providing these shops and salons with masks and towels that can be used only once.
Preventing the use of a razor and relying on electric shavers.
Wearing gags by hairdressers and customers and removing them only when needed.
Working with an appointment system to prevent overcrowding in the shop and in order to implement the safety regulations.
Receiving half the number of customers seats available, so that the barbershops provide their services at half of their normal capacity.
Based on the previously mentioned decision, the hairdressers have resumed their work in Istanbul and the rest of the Turkish provinces between 9:00 AM and 9:00 PM, taking into account the rules of safety and public health.
The barbershops and beauty salons witnessed a disciplined turnout from the first opening day, at a time when life returns to the malls of Turkey and its commercial complexes, which have also seen a good turnout while adhering to other safety rules that have been specified for them, marking the return of life to its former situation and in a gradual, studied, and disciplined manner.
Edited by: Imtilak Real Estate©