Erdogan: "Istanbul Airport" Is a Pride for Turkey and a Gain for the World
"The new Istanbul airport is a great service we provide to our region and the world and not only to our country," said Turkish President Recep Tayyip Erdogan... 2018-10-30
Last update
2021-08-05
Erdogan: "Istanbul Airport" Is a Pride for Turkey and a Gain for the World
Istanbul airport was inaugurated on Monday, October 29, 2018, at the opening ceremony of the new airport in Istanbul. The airport was named "Istanbul Airport", which will be the largest airport in the world upon completion of all phases.  
Erdogan added: "Istanbul airport will be a pride for our country with its architecture, construction, operation and financing, and a typical project in the world."
He pointed out that the government is looking forward to ending all phases of the airport by 2028.
"I am addressing all our friends in our region and the world let's build a safe, secure future for all of us" he added.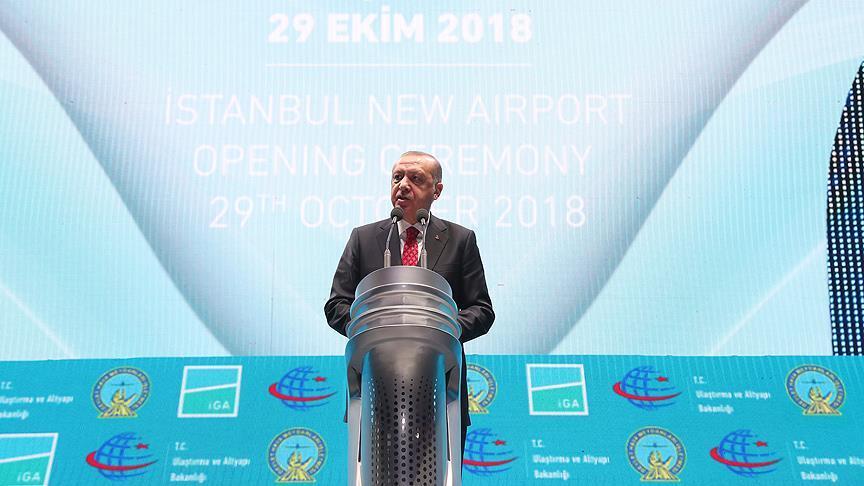 Erdogan noted that "the capacity of the first phase of the airport is 90 million passengers annually, and will rise to 150 million with the end of all stages, and can be raised to 200 million when needed."
He also pointed out that 120 thousand people will work for services at the airport, "which is an environmentally friendly project, and generates the energy that needs automatically."
"Each unit at the airport will be equipped with standards that exceed international standards and the latest technologies," he said.
Transportation between the airport and the city center will be available by land, sea and by rail.
Erdogan said that the economic size of the airport is 32.4 billion euros other than interest, including 10 billion and 247 million euros investment cost, and 22 billion and 152 million euros rental income, which will be paid by the operator to the state, during the operating period of 25 years.
He stressed the importance of the geographical location of Istanbul throughout history, stressing that Turkey has become with the entry of Istanbul airport into service, the most important crossing point between the four axes of the world: North, South, East, and West.
He said the airport connects 60 countries and a $ 20 trillion economy.
"We look at Istanbul airport as a great service to our region and the world, not just to our country," he said.
"Istanbul Airport is a smart airport that will keep pace with the future through its technology-driven characteristics and management it will generate its own energy, and its energy and water savings will reach 40 percent," Erdogan said.


Edited by: Imtilak Real Estate ©
Source: Anadolu Agency