The Turkish President opens Taksim Mosque in Istanbul
The Turkish President inaugurated the Taksim Mosque in the center of Istanbul, after construction work that lasted for nearly 5 years 2021-05-28
Last update
2021-05-28
The Turkish President opens Taksim Mosque in Istanbul
After placing its foundation stone on February 17, 2017, and under the supervision of the most skilled architects in Turkey, the new Taksim Mosque was opened in Istanbul today, in the presence of Turkish President Recep Tayyip Erdogan.
Opening of the new Taksim Mosque in Istanbul
After the completion of construction work, which lasted for nearly 5 years, the Taksim Mosque in Istanbul was opened in the presence of the country's dignitaries, led by the President of the Republic, Recep Tayyip Erdogan.
It is noteworthy that the construction work of the Taksim Mosque was signed by one of the largest Turkish construction companies, known as Fen Yapi Zsur Yapi Company, and under the supervision of senior architects, working in the Presidential Complex in Turkey, Safik Bayrakiya and Selim Dalaman.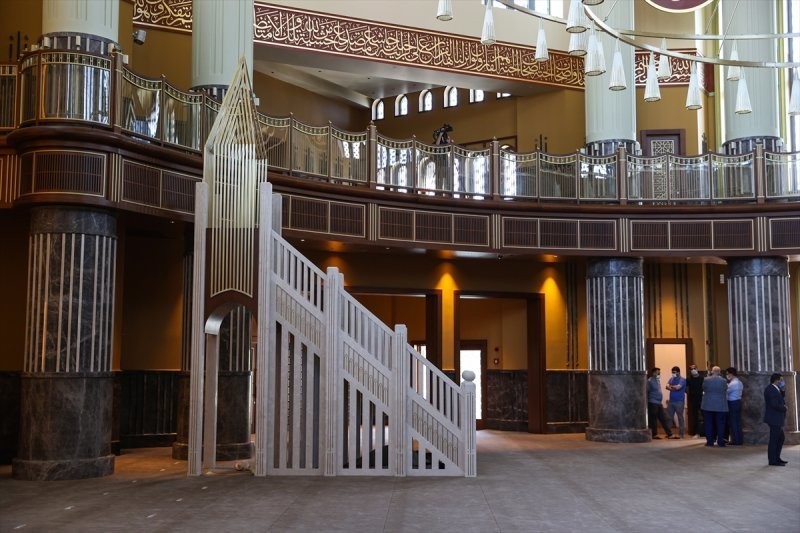 Technical and architectural features of Taksim Mosque
The total area of ​​the mosque is 2,482 m2, and its height reaches 303 meters.
The area of ​​the ground floor of the mosque is 820 m2, and it can accommodate a thousand worshipers at one time.
A special floor for women, with an area of ​​320 m2, can accommodate 375 worshipers.
The external walls of the mosque are decorated with marble stones.
Two minarets decorated with marble as well, and the length of each of them is 61 meters.
The main dome has a diameter of 28 meters and a height of 29 meters.
Private parking, consisting of 3 underground floors, with a total capacity of 165 cars.
An architectural masterpiece, its designs, and beauty mimic the mosques built in the Ottoman era, blending with modern designs.
The mosque includes a special hall for cultural exhibitions with an area of ​​155 m2, in addition to an area designated for endowments and associations, estimated at 180 m2.
The unity of religions is evident in the city of Istanbul when you see the Taksim Mosque next to the Greek Orthodox Church and the Armenian Catholic Church.
Taksim Mosque has a great value geographical location in European Istanbul, near the famous Taksim Square.
We should mention, this mosque is the promise made by Turkish President Recep Tayyip Erdogan in the nineties of the last century, as Erdogan stood on the roof of a building in Taksim Square in central Istanbul, and pointed with his hand to a certain corner, saying: "I hope to build a mosque here". The mosque actually happened after about 27 years.
Edited by Imtilak Real Estate©
Reference: TR Agency
Did you like this topic? You can share it with your friends now.