Erdogan Puts the Finishing Touches on the Eurasia Tunnel in Istanbul
Day after day, the news related to Eurasia Tunnel came to bode the near end the establishment works of the first tunnel of its kind, which will connect between the two sides of the city of Istanbul >>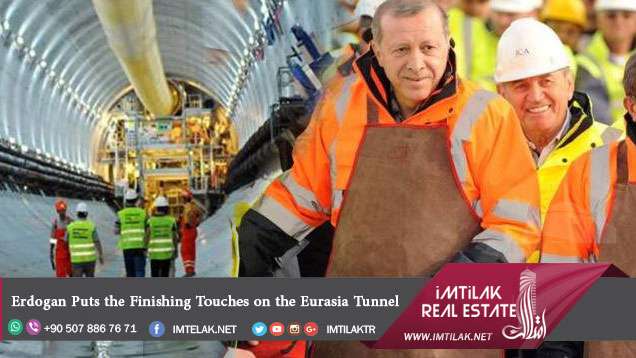 2016-10-08
Last update
2020-04-18
Erdogan Puts the Finishing Touches on the Eurasia Tunnel in Istanbul
Day after day, the news related to Eurasia Tunnel came to bode the near end the establishment works of the first tunnel of its kind, which will connect between the two sides of the city of Istanbul via a highway tunnel going underneath the seabed. The Anadolu Agency reported that the Turkish president, Recep Tayyip Erdogan, is going to test the final touches of the tunnel as part of the final preparations for its opening on 20th December, 2016.
It is expected that President Erdogan will make a declaration about the project as usual, after examining and crossing the tunnel by his private motorcade.
Eurasia Tunnel special features
Eurasia Tunnel is considered as one of the best engineering projects not only in Turkey but also globally. Furthermore, the tunnel would be ranked among the deepest tunnels in the world in terms of going underneath the seabed with a length exceeding 14 kilometers, while the length of the part passing underneath the seabed is about 3.4 kilometers. More than 1,800 workers are working on the creation of the project. The project is expected to contribute in the region's economy by 560 million Turkish Liras annually, and about 100 million Turkish Liras to go directly in the state treasury. Moreover, Eurasia Tunnel will also reduce the emissions from cars by about 82 thousand tons annually, economizing more than 38 million liters of fuel.
More importantly, the project will contribute significantly to ease the traffic jam in the area between Kazl?çe?me on the European side and Göztepe on the Asian side; the thing that will decline the travel duration between the two districts from 100 minutes to 15 minutes; and because of the technology used in the project, the journey through this road will be safe and comfortable.
However, this project will play a major role in stimulating the real estate market in the region since a rise in property prices is observed in the areas near the project and around it, meaning, Zeytinburnu and Bak?rköy, on the European side; and Ko?uyolu and Ac?badem in Üsküdar, on the Asian side of Istanbul, as they are the most benefited districts in the real estate markets due to the tunnel project.
Rising of land prices in Turkey
According to reports and statistical studies of the real estate sector in Turkey, there has been a marked rise in the pr...