Turkish President Erdogan Reveals 100-day action plan
President Recep Tayyip Erdogan on Friday unveiled first 100-day action plan of Turkey's new presidential Cabinet in the capital Ankara. 2018-08-04
Last update
2021-01-21
Turkish President Erdogan Reveals 100-day action plan
President Recep Tayyip Erdogan on Friday unveiled first 100-day action plan of Turkey's new presidential Cabinet in the capital Ankara.
"Today, we share our first 100-day action plan with you," Erdogan said at the presentation meeting at the presidential complex.
Erdogan said they are planning to announce Medium-Term Program by the end of August.
"We have started working on a strategic plan for 2019-2023 and aim to complete this by the end of November," he said.
The president said over 1,000 projects will be completed within 100 days but announced most important are 400 in the program.
Erdogan noted that 48 out of 400 projects are related to the defense industry and said Turkey has no second thoughts on defense industry projects.
Speaking about the judicial system in the country, he said: "We have come a long way in recovering from the destruction that FETO [Fetullah Terrorist Organization] caused to our judicial system".
The FETO and its U.S.-based leader Fetullah Gulen orchestrated the defeated coup attempt of July 15, 2016, which left 251 people martyred and nearly 2,200 injured.
Ankara also accuses FETO of carrying out a long-running campaign to overthrow the Turkish state through the infiltration of state institutions.
Erdogan said within the scope of the action plan, the environmental impact assessment and survey project works of Canal Istanbul will be submitted for approval.
The Canal Istanbul Project, an artificial sea-level waterway that will connect the Black Sea to the Sea of Marmara and the Mediterranean, is planned to be completed by 2023.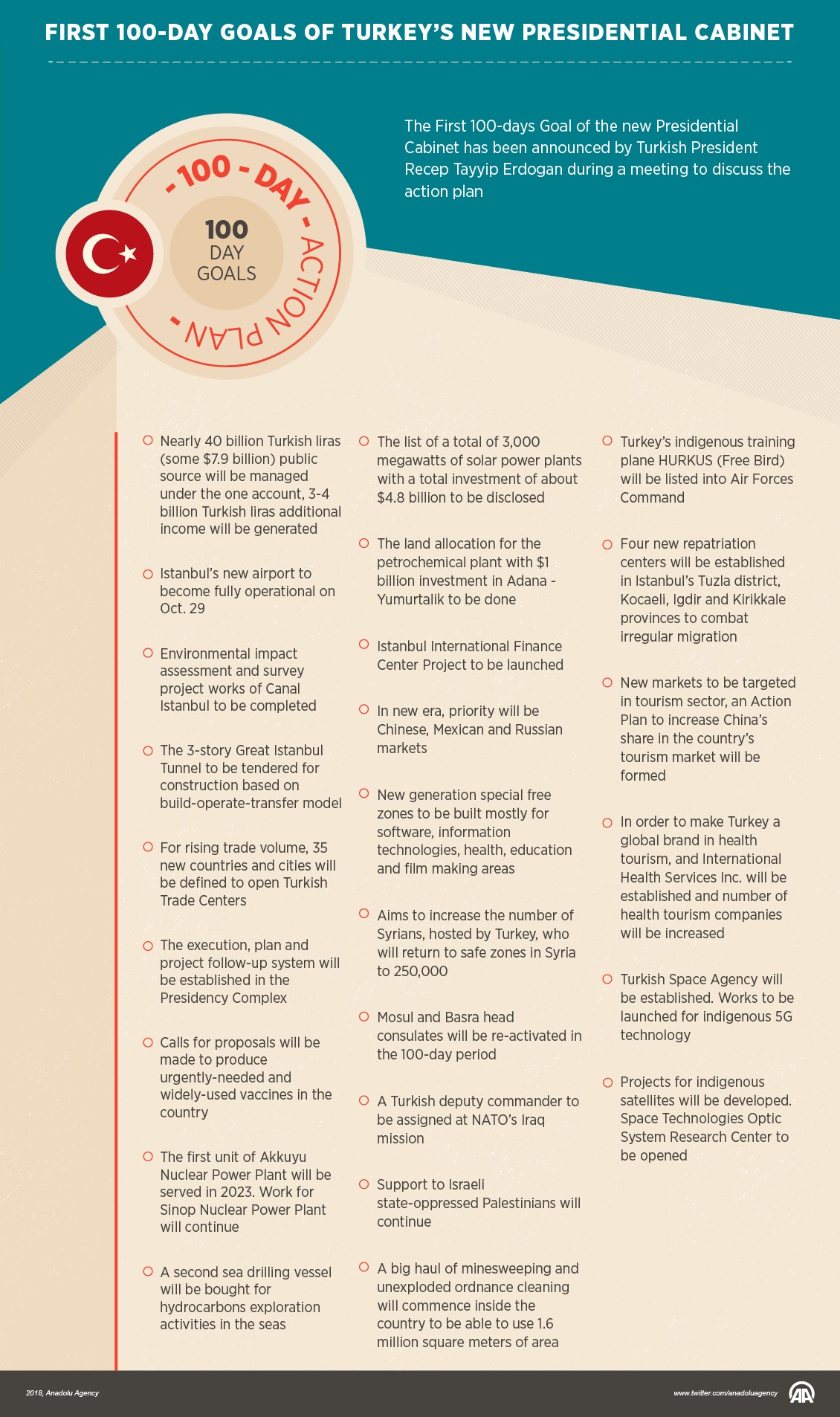 Foreign policy
The president said Turkey's diplomatic missions have increased from 163 to 240.
Erdogan announced that consulates generals in Iraq's Mosul and Basra will be re-activated in the scope of the 100-day action plan.
He added a Turkish deputy commander will be assigned at NATO's Iraq mission.
Speaking about Turkey's relations with the U.S., Erdogan said: "We expect our joint works with the U.S. on Manbij will continue unaffected, [despite] other problems between us."
The Manbij deal between Turkey and the U.S. focuses on the withdrawal of the PKK-affiliated YPG terror group from the Syrian city in order to stabilize the region.
Erdogan said Turkey aims to increase the number of Syrians, hosted by Turkey, who will return to safe zones in Syria to 250,000.
The president reiterated that Turkey will continue to support Palestinian people, who are subjected to "unlawful and inhumane" attacks of Israel. 
Economy and energy
"We are facing an economic war. Do not worry, we will win it," Erdogan said.
The president said nearly 40 billion Turkish liras of a public source will be managed under one account and Turkey will plan to get an additional annual income of 3 to 4 billion Turkish liras.
Erdogan called on citizens to change foreign currencies and golds into Turkish lira.
He said due to "one-sided" reports of credit rating institutions, Turkey tends towards China in external borrowing. "In this regard, for the first time, we are issuing Chinese Yuan denominated bonds," he added.
The president also said Chinese, Mexican, Russian and Indian markets will become a priority for Turkish exports in the new era.
About energy, Erdogan said Turkey's plans to develop a domestic energy sector would include the purchase of a second drilling vessel to conduct offshore exploration of hydrocarbons in waters surrounding the country.
He added the construction of Turkey's first nuclear plant, the Akkuyu Nuclear Power Plant, is on schedule and that the second would be built in Sinop in the Black Sea province, and a third nuke plant was planned to be built in northwestern Thrace region.
Research and Development
Erdogan said Turkey will raise the number of R&D and design centers by 10 percent and 8 percent, respectively.
He added a new generation of special free zones will be built mostly for software, IT, health, education, and film-making.
"The most important topic of 100-day action is that Istanbul's new airport to become fully operational on Oct. 29," Erdogan said.
Istanbul's new airport will be one of the three biggest airports in the world with an annual capacity of 90 million passengers in the first phase.
The president also announced that the works on indigenous 5G and beyond technology will commence.
In his concluding remarks, Erdogan affirmed that Turkey will put further efforts to realize its 2023 targets.
Edited: Imtilak Real Estate ©
Source: Anadolu Agency.