Your step-by-step guide to buying an apartment in Alanya
Looking to purchase an apartment in Alanya? Learn how to do it like a pro with our expert guide and start your journey to property ownership today. 2023-03-30
Last update
2023-04-26
Your step-by-step guide to buying an apartment in Alanya
Have you ever wished to purchase a magnificent apartment in a lovely beach town? Alanya is the ideal location for you. Alanya, with its magnificent Mediterranean shoreline and crystal-clear waters, is an ideal place to invest in a dream home. In this blog, we'll share valuable tips and tricks to help you purchase an apartment in Alanya like a pro.
Benefits of Buying an Apartment in Alanya
Alanya is a popular tourist destination located on the Mediterranean coast of Turkey. It has become increasingly popular among foreign buyers in recent years, thanks to its beautiful beaches, warm climate, and affordable property prices. Owning an elegant apartment in Alanya can offer a wide range of benefits. Here are some key benefits of buying an apartment in Alanya:
1. Affordable Property Prices
Property prices in Alanya are generally more affordable than in other Mediterranean destinations, such as the French Riviera or Costa del Sol.
2. Great Investment
With the growing popularity of Alanya as a tourist destination, property prices are expected to continue to rise, making it a great investment opportunity.
3. Cost of Living
Alanya provides a high quality of life at a reasonable cost of living, especially when compared to European cities. Despite its rapid economic expansion and tourism activities, Alanya continues to provide an affordable lifestyle, with an average cost of living of around $200 for a single person.
4. Turkish Citizenship
One of the most appealing aspects of investing in Alanya real estate is the chance for obtaining citizenship. When you invest $400,000 in property in Turkey, you can apply for Turkish citizenship under the citizenship by investment program.
5. Excellent Transportation
Alanya has modern infrastructure and excellent transportation links, making it easy to get around and explore the area. In Alanya, you don't need a car for getting around. Alanya's municipal government has been working hard in recent years to make life easier for its citizens. Much of this difficult effort included regulating and improving the transportation infrastructure. To go about Alanya, you may use the dolmus or the bus.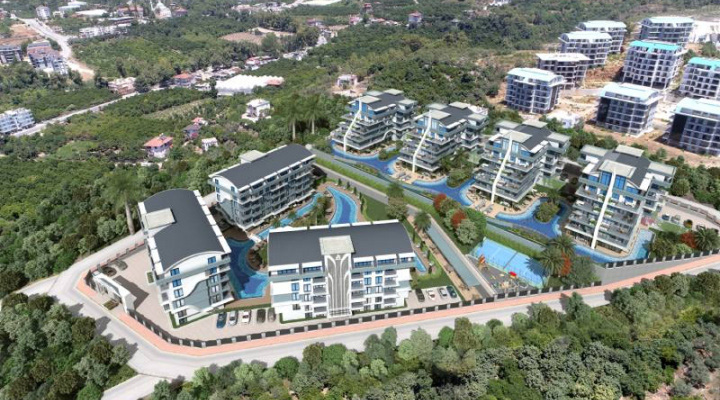 Types of Apartments Available in Alanya
Alanya offers a variety of apartments to cater to different preferences and budgets. Here are some of the types of apartments available in Alanya:
These are small, self-contained apartments that typically have one room that serves as a living room, bedroom, and kitchen.
These apartments have two bedrooms, a living room, a kitchen, and one or more bathrooms.
Three-bedroom apartments:
A three-room apartment is one with three rooms, usually a living room and two bedrooms. This is the best option for students looking for a shared apartment.
These apartments consist of two levels, with a living room, kitchen, and one or more bedrooms on each level.
These are luxury apartments located on the top floor of a building, with large balconies or terraces that offer stunning views of the surrounding area.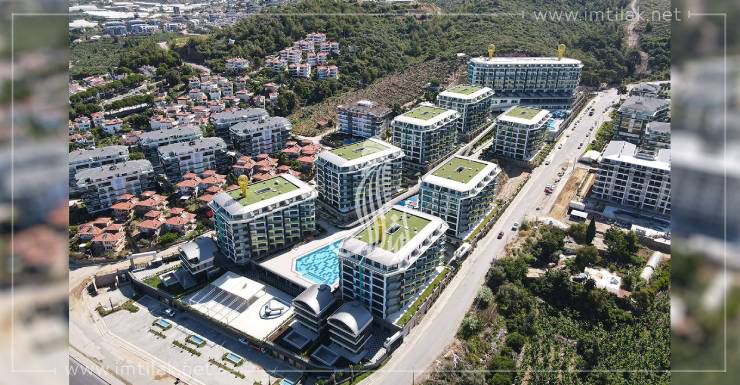 Top Regions in Alanya for Buying a House
Alanya is a large and diverse city with many different neighborhoods and regions. Here are some of the top regions in Alanya for buying a house:
Mahmutlar:
Mahmutlar is a coastal neighborhood located just outside of the city center. It is known for its beautiful beaches, affordable property prices, and lively community.
Kestel:
Kestel is a quiet, residential area located just east of Alanya. It is popular among families and retirees because of its tranquil atmosphere and proximity to nature.
Oba:
Oba is a residential area located just east of the city center. It is known for its beautiful parks and gardens, modern infrastructure, and easy access to the beach.
Tepe:
The hilly part known as the old town is also home to the famous castle. The houses for sale in this area are luxury villas with amazing sea views due to their high landscape and strategic location.
The average prices for apartments in Alanya
The prices for apartments in Alanya can vary depending on the location, type of apartment, and other factors such as age, condition, and amenities. However, here are some approximate average prices for apartments in Alanya are as follows:
| | |
| --- | --- |
| 1+0 (studio apartments, 40-50 m2) | $39,000 – $40,000 |
| 1+1 (one-bedroom apartments with an area of 60-70 m2) | $47,000 – $50,000 |
| 2+1 (two-bedroom apartments with an area of 100-125 m2) | $68,000 – $72,000 |
| 3+1 (three-bedroom apartments and penthouses | $90,000 |
Tips and Steps for Buying an Apartment
Determine your need and budget.
Research the market.
Find a trusted real estate agent.
Visit the properties.
Check the legal documents.
Negotiate the price.
Hire a lawyer to finalize the sale.
Here is a Youtube video to help you choose the right property for you:
How Imtilak Real Estate Can Help You Buy Your Dream Apartment in Alanya?
Legal services: You can get help from our team of skilled lawyers with any legal issues, including the drafting and review of contracts and agreements.
Property inspection: To make sure the apartment you are interested in is in good shape and meets your expectations, we provide thorough property inspection services.
Expert advice and support: We provide professional advice and support at every stage of the purchasing process.
Alanya is a great place for living. It has a pleasant Mediterranean climate, beautiful beaches, and modern infrastructure, making it an attractive destination for both tourists and residents
Generally speaking, Alanya is considered to be a bit cheaper than Antalya, although the cost of living can vary depending on your lifestyle, preferences, and specific needs
Edited by Imtilak Real Estate ©
Do you like this topic? You can share it with your friends now!