Exploring Mahmutlar, Alanya: A guide to its real estate market
Mahmutlar, Alanya is the next hotspot for real estate investment. With the help of our guide, you will have all the knowledge to navigate this booming market Table of Contents
Overview of Mahmutlar, Alanya
Mahmutlar is a district in the Alanya region of Antalya province in southern Turkey. It is located about 8 km east of the city center of Alanya and is situated on the Mediterranean coast.
One of its main attractions is the beautiful beaches. The district has several kilometers of sandy beaches known for their clear waters and stunning views. There are also many beachfront bars, cafes, and restaurants where visitors can relax and enjoy the scenery.
It also has a variety of shops, markets, and supermarkets, making it easy for visitors to find everything they need. The district has a vibrant nightlife, with many bars and clubs staying open until the early hours of the morning.
For those interested in history and culture, Mahmutlar has several ancient sites, including Alanya Castle and the ruins of the ancient city of Syedra. Overall, it is a great destination for those looking for a combination of sun, sea, and culture.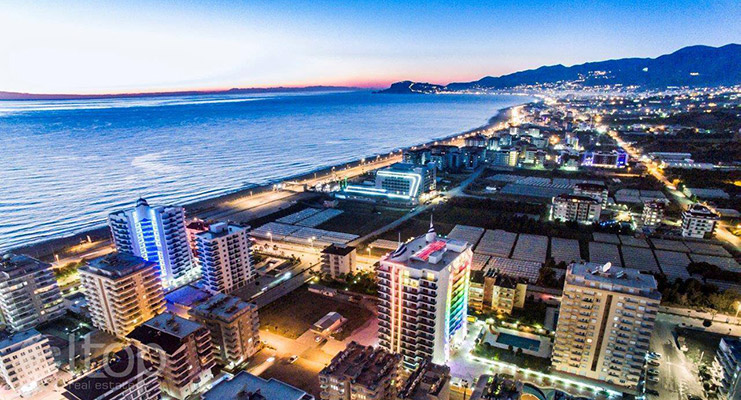 Climate and Weather
Mahmutlar, like the rest of the Mediterranean coast, has a Mediterranean climate characterized by hot, dry summers and mild, rainy winters. The climate is influenced by the sea, which helps to moderate temperatures throughout the year. Winters in Alanya are typically moderate but can be highly unpredictable. The temperature in December is typically around 12 °C, but it can occasionally reach 17 or 19 °C. With persistently high winds, it is also one of the coldest months in Alanya. Around 20 days in December are sunny. It may rain heavily for the next 10 to 11 days. Though the days become longer and there are nine hours of sunshine each day in January, the weather in Alanya is essentially the same as it was in December. In Alanya, February is also fairly chilly.
Living in Mahmutlar, Alanya
The area is a popular destination for tourists and expatriates, and there are many reasons why people choose to buy properties in Alanya:
The sea and beaches:
The district's entire length is bordered by the beach. There are pebble beaches and beaches with poured sand nearby. Even though the sea is clean and occasionally contains large stones, it is not always safe to take kids swimming.
Affordable cost of living:
Compared to other cities in Europe and the United States, the cost of living is relatively low. You can find reasonably priced accommodation, groceries, and other daily necessities.
Good infrastructure:
Mahmutlar has a good infrastructure with modern roads, public transportation, and other amenities that make life comfortable.
Transport network:
Mahmutlar is 30 kilometers from Gazipaşa Airport. Buses frequently travel from Alanya to Mahmutlar and back.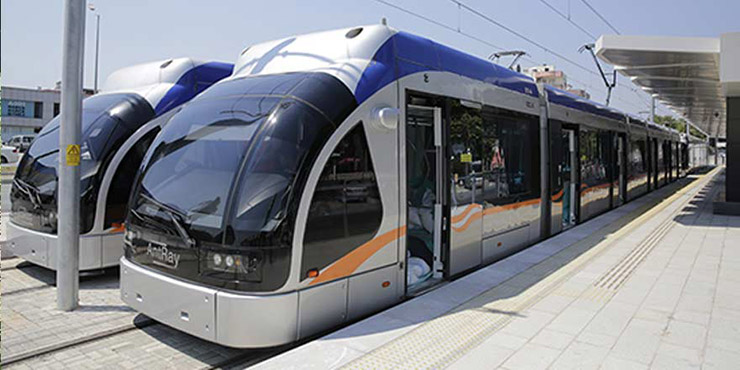 Tourist attractions:
There are many tourist attractions in and around Mahmutlar, including ancient ruins, museums, and festivals. You can explore the rich history and culture of the region. One of the attractions is the Dimchay River, which contains bays where trout can grow and can be eaten in nearby restaurants. The same-named cave and an underground salt lake can be found next to the river. These features led to the formation of exquisitely sculpted stalactites and stalagmites. The ancient ruins of Laertes and Siedre can be found close to the neighborhood.
Mahmutlar Real Estate Market
Mahmutlar's real estate market is impacted by a variety of variables, such as the regional economy, population expansion, and housing demand. These are some prospective developments in its real estate market:
Holiday homes are in greater demand because it is a well-liked tourist resort and there is a high demand for properties there. Increasing demand may increase real estate costs and set off a trend of more new homes and apartments being built.
Increasing property values: As its housing market becomes more popular, property values may grow. This may be advantageous for homeowners who want to sell their homes, but it can make it more challenging for others to afford to buy a house nearby.
Increase in the rental market: There may be a tendency of expansion in the rental market due to the influx of tourists and the rising number of residents moving to Mahmutlar. More options for landlords and real estate investors may result from this, but it may also raise rental costs.
Modifications in the types of real estate offered: The types of properties offered might vary as the real estate market develops. For instance, there can be a tendency to build newer, more contemporary residences or a change toward more apartments or smaller properties.
Watch the following YouTube video to learn about the real estate market in Alanya:


Find Your Dream Property in Mahmutlar, Alanya with Imtilak Real Estate

Our team of qualified experts is committed to offering you the best real estate options to meet your needs. You can trust that we will walk you through every step of the purchasing process with care and expertise. Contact us today and let us help you find your dream property in Mahmutlar Alanya!
Edited by Imtilak Real Estate ©
Do you like this topic? You can share it with your friends now!