Arabian Ranches Area Guide: Reasons to Live There
The Arabian Ranches area in Dubai is one of the best areas to live and buy an apartment. This article is a detailed guide regarding features, weather, and infrastructure. 2023-05-02
Last update
2023-05-25
Arabian Ranches Area Guide: Reasons to Live There
Are you looking for a place to live in Dubai? Arabian Ranches is a popular residential community in Dubai that offers a range of villas and townhouses for rent and sale. We will explore the reasons why you might want to live in Arabian Ranches, such as its amenities, location, lifestyle, and more.
Arabian Ranches Area Overview
Arabian Ranches is a luxury villa community in Dubai, located in the heart of the desert. It offers a tranquil lifestyle with a blend of nature and modern amenities. The community spans over 1,650 acres and features over 4,000 villas, several parks, shopping centers, and sports facilities. Arabian Ranches is known for its family-friendly environment, premium amenities, and stunning views of the Dubai skyline.
Location
Arabian Ranches is located in the heart of Dubai, near the intersection of Al Qudra Road and Sheikh Mohammed Bin Zayed Road. It is situated in the western part of Dubai, approximately 22 kilometers from Dubai Marina and 25 kilometers from Downtown Dubai. The community is easily accessible by car and is close to major transportation routes, making it convenient to get around the city.
Infrastructure
Some of the features of the infrastructure of Arabian Ranches are:
A 30,000 sq. m. Central Park with a cricket pitch and tennis courts
A 4 km long boulevard with a lazy river
A community retail center and dining options
Arabian Ranches is a gated community with 24/7 security, ensuring the safety and security of its residents.
The community has several parks and green spaces, including a central park, where residents can enjoy outdoor activities and sports.
The Arabian Ranches community has several community centers that offer a variety of services such as supermarkets, cafes, restaurants, pharmacies, and more.
Schools and Universities
Arabian Ranches has several schools and universities in its vicinity, including:
Jumeirah English Speaking School (JESS) - a popular British curriculum school
Dubai International Academy - offers the International Baccalaureate program
GEMS Metropole School - a British curriculum school
Ranches Primary School - follows the UK National Curriculum for England
Repton School - offers a British education and follows the UK National Curriculum
For higher education, the Dubai campus of the Heriot-Watt University is located nearby in Dubai International Academic City.
Shopping Places
Arabian Ranches is home to several shopping destinations, including:
Ranches Souk stores
The Body Shop
Holland and Barrett
Carrefour
Entertainment Venues
Arabian Ranches has several entertainment options, including:
Magic Planet is an indoor family entertainment center located in the Arabian Ranches community. It features a wide variety of attractions for children and adults, including arcade games, rides, and virtual reality experiences.
Souk Ranches Restaurants and cafes
Souk Ranches is a popular shopping and dining destination located within Arabian Ranches. It features a variety of restaurants and cafes.
Arabian Ranches Golf Club
This club offers an 18-hole championship golf course that provides a unique and challenging experience for golfers of all levels.
Dubai Polo & Equestrian Club
This is a premier polo and equestrian facility in the UAE that offers various riding lessons and polo games for both beginners and professionals.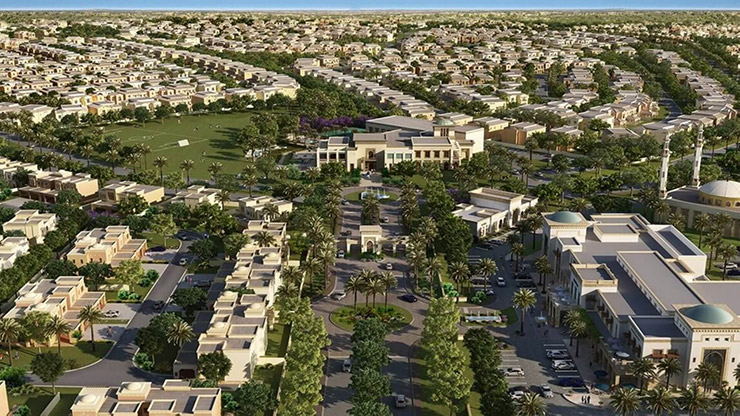 Advantages of Living in Arabian Ranches Dubai
There are several advantages to living in Arabian Ranches Dubai:
Arabian Ranches is a master-planned community that offers a variety of amenities for its residents. It has a shopping center, community center, mosque, medical center, and a golf club. Additionally, it has several parks and landscaped gardens for residents to enjoy.
Family-friendly events and activities
Arabian Ranches hosts several family-friendly events and activities throughout the year, such as outdoor movie nights, holiday celebrations, and sports tournaments. These events provide opportunities for residents to socialize and build a sense of community.
Luxurious villas with a large backyard
Arabian Ranches offers luxurious villas with spacious interiors and large backyards. The villas are designed with modern architecture and offer a comfortable and stylish living experience.
Arabian Ranches is located close to several popular attractions in Dubai, such as the Dubai Mall, Burj Khalifa, and Dubai Miracle Garden. Residents can easily access these attractions and enjoy the best that Dubai has to offer.
Easy access to the best schools
Arabian Ranches is home to several reputable schools, including the Arabian Ranches Primary School and the Jumeirah English Speaking School. Residents have easy access to these schools and can provide their children with a quality education.
Check out our suggestions for the best places to live in Dubai.
Is the Arabian Ranches area in Dubai a Good Option to Buy an Apartment?
Investment property in Arabian Ranches is an excellent opportunity for those looking to invest in the Dubai real estate market. The area is well-established and offers a range of amenities and facilities, making it an attractive proposition for residents and investors.
Arabian Ranches is primarily a villa community, and the majority of properties available for purchase are villas rather than apartments. However, there are a few apartment complexes within the community, such as the Al Reem and Al Thamam buildings.
The Advantages of Real Estate Investment in Arabian Ranches
Real estate investment in Arabian Ranches can offer several advantages, including:
High ROI: Arabian Ranches is a desirable location in Dubai with high demand for properties. As a result, real estate investments in the community can yield high returns on investment (ROI) in the long term.
Growing Community: Arabian Ranches is a well-established and growing community that is constantly expanding. This means that there are always new properties being developed and new residents moving in, which can drive up property values and increase the potential for rental income.
Quality Properties: Arabian Ranches offers high-quality properties, including luxurious villas and apartments, that are designed with modern architecture and premium amenities. This can attract high-end buyers and renters who are willing to pay a premium for quality properties.
Family-Friendly Environment: Arabian Ranches is a family-friendly community with several parks, playgrounds, and community centers that cater to families with children. This can make it an attractive location for families who are looking for a safe and welcoming environment to raise their children.
You may also want to learn more about
Investment in Dubai For Residency
.
Choose Imtilak Global as Your Real Estate Agent for Arabian Ranches Properties
Imtilak Global is a leading real estate agent that specializes in Arabian Ranches properties. We have extensive knowledge and experience in this market, and we can help you find your dream home in this amazing community.
Contact Imtilak Global today and let us help you buy your home in Arabian Ranches
Edited by Imtilak Global ©
Do you like this topic? You can share it with your friends now!