Properties for Sale in UAE 2023
Properties for sale in the UAE (apartments, villas, and commercial properties) are provided by Imtilak Global for those wishing to own property and invest. Offers at special prices in all cities. Watch and contact us.
Properties found: 30
USD

EUR

SAR

AED

KWD

OMR

QAR

BHD

JOD

DZD

YER

TRY

GBP

CHF

CAD

AUD

CNY

RUB
Pros of buying a property in UAE
Dubai has a constant flow of people looking for better employment and business opportunities.
As the city continues to grow, you can expect new shopping centers and roads connecting the community to be built nearby, increasing the value of your Dubai home over time.
Al Ameen Service, which allows residents to anonymously report crimes online, and Smart Police Stations are just one example of how the city ensures residents' safety. The emirate is committed to enforcing the law and uses the latest technology solutions.
You can save money by buying a home in Dubai. There are no annual property taxes to pay, unlike in Hong Kong, New York, and London. Once you've paid for your registration fee and purchased your property in Dubai, there are no ongoing or additional taxes.
Is Buying a Property in UAE a Good Investment?
High Return on Investment (ROI):
Comparing Dubai to some of the biggest business centers in the world, such as Hong Kong, London, and New York City, the return on investment on a property is much higher. You can expect to receive a rental return of 6-10% depending on where your property is located. This rate of return on investment is higher than any other emirate in the UAE. Investors are currently looking at neighborhoods such as Downtown Dubai, Dubai Marina, and Jumeirah Village Circle because they are promising and their property prices are rising.
Golden Visa Opportunity:
You can get a Golden Visa if you invest two million AED into Dubai's real estate market. This visa allows you the freedom to work and live in Dubai without having to be sponsored by an employer. This visa can be renewed, which allows you to live in one of the world's most vibrant metropolises with more stability.
Relentless Growth and Development:
It is no surprise that the home of some of the world's most famous architectural wonders, such as Burj Khalifa and Palm Jumeirah, is always growing. Dubai's rapidly growing economy and entertainment centers attract millions of tourists each year. The government of Dubai is not planning to stop any time soon. They have a number of development projects on the go, such as new shopping malls or fresh road connections. Once completed, these projects will lead to capital appreciation and an increased market value for the real estate purchased.
Tax-free Income:
Tax-free income is one of the main reasons Dubai continues to attract foreign talent within its borders. As a home/property owner in Dubai, you won't be paying any property tax, income taxes, or rental income taxes. It's a huge advantage since many major cities in the world require you to pay income tax on rental income and property tax. This will reduce your ROI. By purchasing a property in Dubai, you can keep your hard-earned cash in your pocket while enjoying a high ROI without having to pay a large chunk of your investment back to the government.
High Standard of Living:
Dubai has everything you could want in a city of the modern age. Dubai is a great place to invest in property, whether you are looking to purchase a home or an investment. It is one the safest places in the world, with the lowest rate of crime. You can now report crimes anonymously, and authorities will act in seconds. Dubai's high quality of life will help you to create a smarter and better tomorrow for your family and future generations.
Average property prices in the UAE
In the UAE, the demand for villas is increasing. According to ValuStart, villa sales increased by 20% in September. 22 transactions totaling AED 30,000,000 were registered. In fact, in response to the 2020 lockdown, people are looking to increase their outdoor space and even gardens. The demand for new apartments is also high.
It can be cost-effective to buy off-plan properties or those under construction directly from a developer or first owner. You can get a new home for 10-20% less than a comparable ready-made property. One of the benefits is that you will pay less upfront as some developers only require a small deposit. The closer the project is to completion, generally, the more expensive it becomes. Off-plan project purchases are not without risk. The most common concern is the potential for a change in market conditions or the delay of completion. It is crucial to know all of the costs associated with buying a house. The purchase price you negotiate is not the final cost.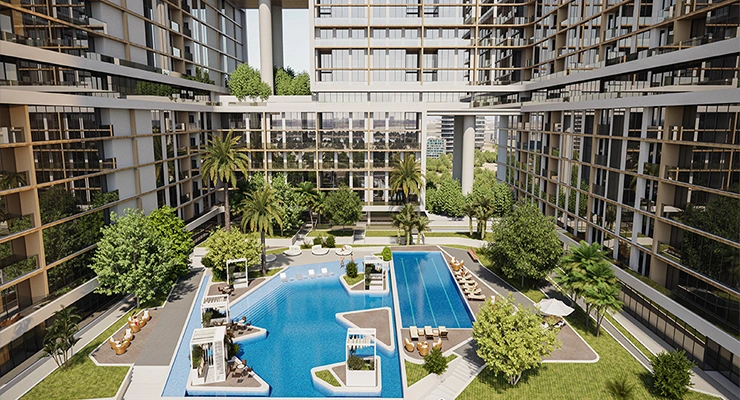 The Best Cities in UAE to Buy a Property
Dubai
Dubai, renowned for its luxurious lifestyle and iconic skyline, is one of the best places to invest in property. The city has a vibrant economy with a focus on trade, tourism, and finance. Dubai's real estate market offers a wide range of properties - from luxury apartments in the downtown area to waterfront homes along the Palm Jumeirah. Dubai's dynamic business environment and potential for high returns attract investors.
Check out our offers for the best villas for sale in UAE.
Abu Dhabi
Abu Dhabi, the capital city of the UAE, combines modernity with tradition. The city is home to government institutions, culture, and finance. Real estate in Abu Dhabi is growing steadily with an emphasis on sustainable development and luxury living. The Corniche offers waterfront properties and upscale apartments. Abu Dhabi is a popular destination for real estate investment due to its strategic location and stability.
Related: Benefits of Investing in UAE Real Estate.
Sharjah
Sharjah, a city with a rich cultural heritage and a relaxed atmosphere, is a great alternative to the neighboring cities. Sharjah's real estate market is known for its affordable prices and diverse selection of properties. Its dedication to maintaining its cultural identity and embracing modern developments makes it a desirable choice for anyone looking for a unique experience. Sharjah has a wide range of real estate options, from villas for families to apartments with a modern design.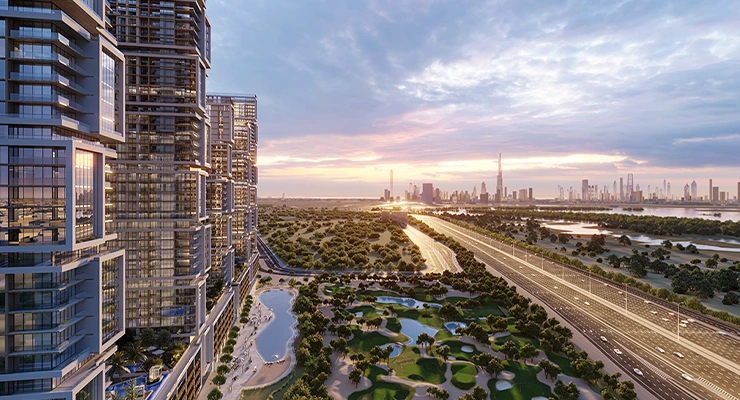 What is the Best Property to Buy in UAE in 2023?
APARTMENTS
Apartments are ideal for those who want a low-maintenance lifestyle in urban centers such as Dubai or Abu Dhabi. Apartments are located in lively neighborhoods, with easy access to amenities and entertainment.
VILLAS
Ideal for individuals or families who value privacy and spaciousness. Villas, particularly in communities such as Arabian Ranches and Jumeirah in the UAE, provide spacious living spaces, private gardens, and a tranquil environment.
PENTHOUSES
A penthouse is a great choice if you want luxury and breathtaking views. Penthouses are often equipped with top-notch amenities and offer exclusive access to the city. They also have breathtaking views of the waterfront or city.
DUPLEXES
Duplexes combine the advantages of an apartment and a house but with more living space. This is a great option for those who prefer the comforts of home, but want a smaller footprint.
TOWNHOUSES
Ideal for those with a family or who are looking to balance space and community. Townhouses are popular because they offer shared amenities and an atmosphere of community.
Property for sale in UAE by Imtilak Global
The project is situated in Ras Al Khar, close to Dubai's most important central areas, an area that has seen rapid growth in the last few years. This project is an excellent investment and a great opportunity for a luxury family home. Its location in a booming area makes it incredibly attractive.
Altai Tower is located in Jumeirah Village Circle, one of the best areas for luxury family homes. The project is located on Sheikh Mohammed Bin Zayed Road - one of Dubai's most important transport services. This gives it easy access to the entire city. The project is a high-rise building with an impressive facade and stunning views over Dubai's skyline.
Elbrus is located in Jumeirah Village Circle, one of Dubai's most exclusive and prestigious residential neighborhoods. It is ideal for luxurious family housing. The project is located strategically near roads and transportation means that connect it to the most significant areas of Dubai. Nearby are all the amenities residents need for their daily lives, such as schools, markets, and shopping centers. Also nearby are health centers, public parks and recreational facilities, social and sporting facilities, and entertainment centers.
Thanks to the network of roads, the project site is easily reachable from all parts of Dubai. The project provides all the daily needs of residents, such as schools, markets and hospitals, along with public and recreational amenities, restaurants and cafes.
The project site is located in a central area, which makes it easy to access the most important landmarks, centres and airports of Dubai. It also overlooks important transport routes such as Sheikh Mohammed bin Zayed Road, and Al Khail Road. The project, located in a central location, is close to all the residents' needs for daily living, such as shopping centers, hospitals, restaurants and cafes.
Steps and conditions for buying a property in UAE for foreigners
Fill out a reservation form that includes the details of the agreement between the buyer and the seller as well as the method of payment.
A deposit of 5% to 20 % is required for the sale and purchase contract. This contract is legally binding.
The buyer can obtain a mortgage if required.
The developer receives the property documents. At that time, the full amount of the property's price is paid.
Book a free consultation with the Imtilak Global team
Are you looking to make an intelligent investment in the UAE or find your dream home? Imtilak Global will be your trusted partner to navigate the dynamic real estate market of this vibrant area. Are you ready to discover the opportunities that the UAE's real estate market has for you? Imtilak Global offers a free consultation to unlock new opportunities.
Edited by Imtilak Global ©
Do you like this topic? You can share it with your friends now!
Istanbul Region Report


The most favorite cities for foreign investors
The nationalities that owned the most in Turkey