Return on Investment in Dubai Real Estate
The return on investment in Dubai real estate is among the best. This article explains how to calculate ROI and how to achieve the highest profit when investing in real estate. 2023-06-26
Last update
2023-07-13
Return on Investment in Dubai Real Estate
What is the Return on Investment (ROI) in Real Estate?
After deducting the expenditures of the investment, which generally include the purchase price and any additional costs related to maintenance or renovations, ROI is the profit made from a real estate acquisition. ROI doesn't become apparent until the property is sold.
How is the ROI in Real Estate Calculated?
The cost technique and the out-of-pocket method are the two main ways to determine ROI:
By dividing the investment gain in a property by its starting expenses, the cost approach estimates ROI.
As an example, let's say you paid $100,000 in cash to purchase a property. You spent an extra $50,000 on additions and repairs, bringing the property's worth to $200,000. This results in a $50,000 gain on the property (i.e., a $100,00 increase in market value minus a $50,000 expenditure).
Divide the gain by all of the expenses associated with the acquisition, maintenance, and renovation of the property to apply the cost method. In this case, $50,000 divided by $150,000 equals 0.33, or 33%, which is your ROI.
Many real estate investors prefer the out-of-pocket strategy because it generates a larger ROI. It requires dividing the home's present equity by its current market value. Be aware that this calculation is different from the one before in that it uses the cost technique, which divides investment gain (rather than equity) by original total expenses (rather than market value).
Assume that you paid the same amount for the same house as in the previous example, but this time you financed the acquisition with a loan and a $20,000 down payment.
Your out-of-pocket costs total $70,000, which includes the $50,000 in repairs and rehabilitation. The property is worth $200,000, which means that your equity position, or potential profit, is $130,000.
In this instance, $130,000 ÷ $200,000 = 0.65, or 65%.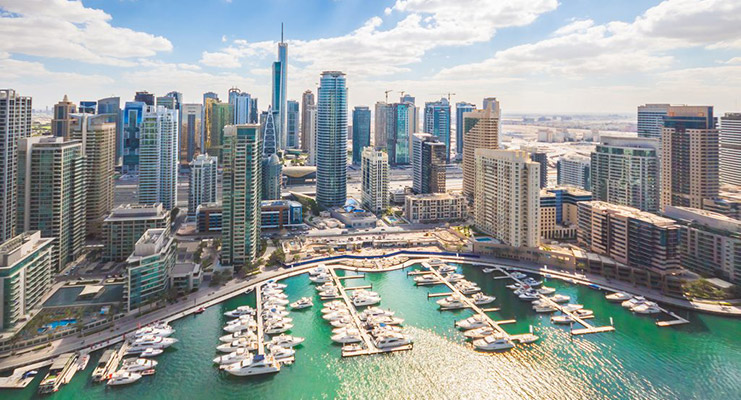 What is the Average ROI in Dubai real estate?
According to a study conducted by Bayut, a renowned real estate platform in the UAE, the average ROI in Dubai for residential properties ranges between 5-7% and 7-9%. These data are based on the rental yields of properties in various districts of Dubai.
How Can I Achieve the Highest ROI in Dubai Real Estate?
The Best Types of Real Estate to Invest in Dubai
The following categories of properties in Dubai were more profitable than others and had a greater real estate yield.
Apartments vs. Villas: Due to Dubai's highly mobile, middle-class population, apartments frequently give greater rental returns than townhouses or villas. Expats commonly look for rental housing because they are just starting their employment. Because of their convenient location, apartments make wonderful vacation homes.
Ready vs. off-plan properties: Off-plan properties will be preferred by private investors in 2023, according to Gulf News, above ready properties. It is crucial to do a comparative market analysis (CMA), regardless of whether you are investing in a property that has already been constructed or one that hasn't. By examining the most recent sales prices of nearby homes in the market, you may get a general idea of whether you're getting a good bargain or not. By examining the rental rates of surrounding properties that are similar to the one in which you want to invest, you may obtain a better understanding of the rental revenue you can anticipate.
Smaller-sized apartments vs. larger apartments: Larger residences do worse than studio or one-bedroom apartments. Investors place a high value on studios and one-bedroom units with established infrastructure in competitively priced communities close to essential amenities. Additionally, smaller flats sell faster and are more affordable because the majority of Dubai's population can afford to buy them.
Prime Vs. affordable areas: Affordable areas, like JVC in Dubai, regularly do better. A lot of people are interested in investing in real estate in JVC since the apartments are of such high quality and are so fairly priced. Compared to properties in upscale neighborhoods, properties in these locations are more likely to generate high long-term rental returns.
The Best Areas of Dubai to Buy a Property
There are many different neighborhoods in Dubai where you may invest in real estate, each with special qualities and potential for growth. Depending on personal preferences, financial constraints, and investment objectives, several neighborhoods in Dubai may be the ideal ones to buy a home. Here are some well-known places recognized for their allure as real estate investment destinations:
Downtown Dubai
Dubai Marina
Palm Jumeirah
Arabian Ranches
Jumeirah Village Circle (JVC)
Business Bay
Book Your Free Consultation with Imtilak Global
Dubai real estate is a great investment opportunity. You can get high returns and enjoy a luxurious lifestyle. Imtilak Global is the top real estate company in Dubai. It helps clients to find the best deals and avoid the pitfalls. Imtilak provides excellent guidance and consultation. If you want to learn more about Dubai real estate market Contact us and book your free consultation today.
Edited by Imtilak Global ©
Do you like this topic? You can share it with your friends no
Select Group Company Profile
Detailed information about Select Group for real estate development in Dubai, in which we mention the most important pro...
Tiger Group Company Profile
Through a group of distinguished projects, Tiger Group was able to make a name for itself among the real estate developm...