Best Area to Buy Villa in Dubai
Do you want to buy a villa in Dubai in a good area? this article shows you the 10 best areas to buy a villa in Dubai in terms of quality of life, prices, and investment opportunities. 2023-05-24
Last update
2023-06-01
Best Area to Buy Villa in Dubai
Dubai is a city full of incentives and possibilities where you may live a high-quality lifestyle while pursuing your aspirations. You must carefully analyze the location if you want to purchase a home in Dubai. Your future profits and enjoyment may significantly change if you choose the correct location. In this post, we'll outline some of Dubai's prime real estate investment locales.
Table of Contents
What are the Best Places to Buy a Villa in Dubai?
1.Emirates Hills
Over 2.8 million square meters in size, Emirates Hills is home to some of Dubai's wealthiest citizens, including well-known people, celebrities, and business moguls. The homes in Emirates Hills have luxurious interiors and well-planned grounds, and their architecture ranges from traditional to contemporary designs.
The freehold homes in Emirates Hills are renowned, and buyers may select from 3- to 8-bedroom luxury villas for sale. In Emirates Hills, the average cost of a freehold villa is AED 20 million for a 5-bedroom home and AED 27 million for a 6-bedroom home. Residents of Dubai Emirates Hills will also have immediate access to the clubhouse, the Montgomerie Golf Club Dubai, tennis courts, and interior courtyards if they invest in the development.
2. Arabian Ranches
There is a prestigious residential neighborhood called Arabian Ranches. It was created by Emaar Properties and is recognized for its stunning scenery, welcoming atmosphere, and opulent housing options. Over 1,650 acres in size, Arabian Ranches provides a seamless fusion of contemporary conveniences, serene settings, and Arabian-inspired architecture.
Arabian Ranches caters to the discriminating preferences of homebuyers looking for luxury, comfort, and a tranquil lifestyle in Dubai with its excellent collection of villas for sale. The Arabian Ranches villas are recognized for their exquisite designs, roomy floor plans, and premium finishes, which speak to the community's dedication to providing great living quarters.
The architectural styles of the villas at Arabian Ranches range from modern to Arabic, Mediterranean, and more. Every design offers a different way of life and emanates its own special charm. Every desire and lifestyle may be accommodated by a villa, which ranges from classic Arabian-style homes with meticulous craftsmanship to contemporary homes with streamlined designs.
3. DAMAC Hills
In Dubai, United Arab Emirates, there is a prominent residential neighborhood called DAMAC Hills, formerly known as Akoya by DAMAC. It is a 42 million-square-foot development by DAMAC Properties that provides an opulent and integrated living environment. High-end villas, townhouses, and apartments in DAMAC Hills are renowned for being surrounded by beautiful landscaping and first-rate facilities.
The neighborhood has a variety of housing alternatives made to accommodate various tastes and lifestyles. The villas at DAMAC Hills are renowned for their expansive floor plans, sophisticated styles, and high-end finishing. They are available in a variety of architectural designs, including as modern, Mediterranean, and Arabic-inspired forms. The villas give occupants a really upmarket way of life with their opulent interiors, well-maintained grounds, and private swimming pools.
Villas for sale are available at DAMAC Hills, which gives homeowners the pinnacle of luxury living in Dubai. These villas are widely sought after by affluent homebuyers because they epitomize grandeur, refinement, and modern design.
The DAMAC Hills villas for sale stand out for their expansive floor plans, expert construction, and luxurious finishing. Customers may select a villa that satisfies their own preferences and aesthetic interests from a variety of architectural styles offered by the developers, including contemporary, Mediterranean, and Arabic-inspired designs.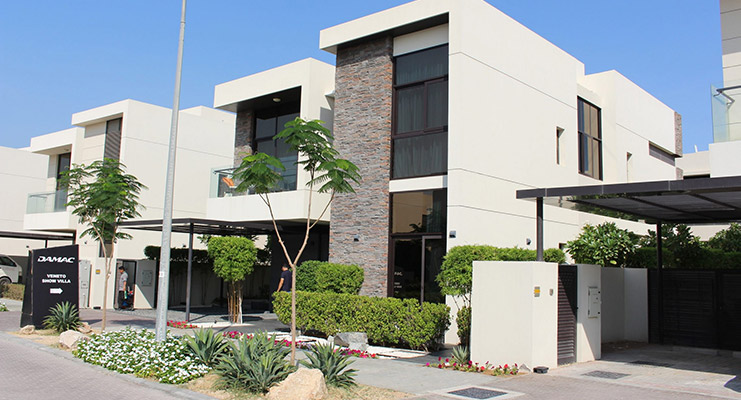 4.Umm Suqim
A thriving beachfront neighborhood called Umm Suqeim may be found in Dubai, United Arab Emirates. It is renowned for its stunning beaches, opulent homes, and a blend of old-world and new-world charm. Umm Suqeim, which is nestled between the famous Burj Al Arab and the Arabian Gulf, provides a distinctive fusion of unspoiled beauty, an opulent lifestyle, and an accessible location. Umm Suqeim's immaculate beaches rank as one of its key draws. Both locals and tourists alike enjoy visiting Jumeirah Beach and Umm Suqeim Beach. Golden sands, turquoise seas, and breathtaking views of the Arabian Gulf combine to offer a tranquil and scenic location for leisure time.
Umm Suqeim provides a tempting range of villas for sale, giving locals the chance to acquire an opulent house in one of Dubai's most coveted seaside neighborhoods. These villas are the pinnacle of beachfront life and are the embodiment of luxury and sophistication. The Umm Suqeim villas for sale stand out for their elegant layouts, roomy interiors, and premium materials. They exhibit a fusion of modern architecture with conventional Arabian elements, producing a distinctive and alluring look. These villas provide a highly upgraded living experience because to their meticulous attention to detail and opulent facilities.
5. Dubai Hills Estate
In the center of Dubai, United Arab Emirates, sits the exclusive residential neighborhood known as Dubai Hills Estate. It is a master-planned community created by Emaar Properties and Meraas Holding that offers the ideal fusion of luxury, nature, and a dynamic lifestyle. Dubai Hills Estate, one of the city's most sought-after residential neighborhoods, spans more than 11 million square meters. The rich vegetation and wide open areas of Dubai Hills Estate are among its best qualities. The Dubai Hills Golf Club, an 18-hole championship course with breathtaking views and an unparalleled golfing experience, is the focal point of the neighborhood. The exquisitely manicured parks, gardens, and jogging trails provide residents with a tranquil and revitalizing atmosphere.
One of Dubai's most coveted residential communities, Dubai Hills Estate, offers homeowners the chance to purchase a luxurious property in one of its alluring selections of villas for sale. These villas are the epitome of luxury, elegance, and modern design, offering occupants a higher standard of living. To accommodate various family sizes and lifestyle choices, Dubai Hills Estate provides a variety of villa sizes and arrangements. There are solutions to suit all needs, ranging from tiny family houses to vast mansions. Buyers can choose the option that best meets their needs from a variety of ready-to-move-in villas and off-plan residences offered by the community.
6. Palm Jumeirah
In Dubai, United Arab Emirates, there is a famous artificial island called Palm Jumeirah. It is one of the most ambitious engineering projects ever undertaken, like a palm tree and reaching into the Arabian Gulf. It also represents the creativity and elegance of Dubai. The villas for sale on Palm Jumeirah are renowned for their opulence, grandeur, and breathtaking views. These waterfront properties often feature contemporary designs, spacious layouts, and high-end finishes. The villas offer residents the opportunity to enjoy a luxurious beachfront lifestyle with direct access to the crystal-clear waters of the Arabian Gulf.
In one of Dubai's most prominent and recognizable residential neighborhoods, Palm Jumeirah offers homeowners the chance to purchase a magnificent waterfront property from an amazing variety of villas for sale. These villas are the pinnacle of luxury, refinement, and beachside lifestyle. The Palm Jumeirah villas for sale are recognized for their gorgeous designs, roomy floor plans, and extraordinary attention to detail. These waterfront residences frequently include modern architectural designs, tasteful interiors, and premium materials. These villas provide residents with an unmatched beachside living experience with direct access to the Arabian Gulf's beautiful beaches and crystal-clear seas.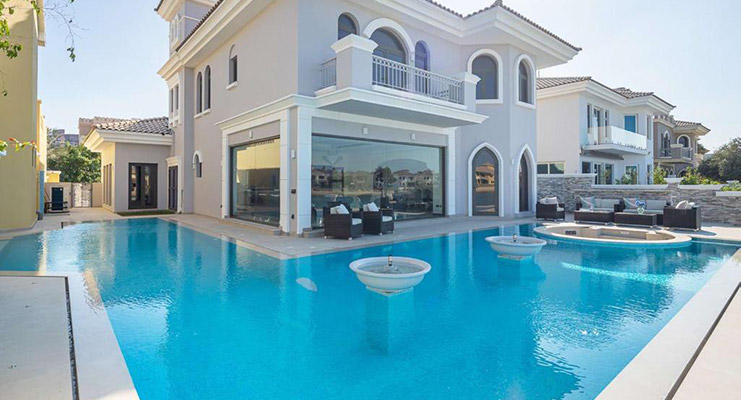 7. Jumeirah Village Circle
Modern families' demands are taken into consideration when designing the villas for sale in Jumeirah Village Circle. They include roomy floor plans, cutting-edge architecture, and a wealth of facilities. Numerous bedrooms, attractive living spaces, well-equipped kitchens, and exclusive outside areas like gardens or rooftop terraces are common features of these homes. JVC advocates for an active, healthy lifestyle that emphasizes outdoor activities. There is something for everyone to enjoy in the neighborhood, which offers a variety of facilities like jogging trails, bicycle pathways, sports fields, and children's play places. In the attractively planted surroundings, residents may practice their workout regimens, take leisurely walks, or simply spend time with their families.
8. Al Furjan
Al Furjan is a bustling neighborhood in the center of Dubai, United Arab Emirates. Al Furjan, a community created by Nakheel, is equipped with a variety of housing alternatives and a wide range of facilities to provide a contemporary and family-friendly living environment. Al Furjan offers a variety of villas, townhouses, and flats to suit various lifestyles and tastes. The villas for sale in Al Furjan are designed to provide residents with a spacious and luxurious living environment. They often feature generous floor plans, multiple bedrooms, well-appointed kitchens, and private outdoor spaces such as gardens or terraces. These villas are perfect for families looking for ample living space and modern comforts.
9. Emirates Living
The famous residential neighborhood is called Emirates Living. Emirates Living, created by Emaar Properties, consists of a number of distinctive sub-communities, each of which offers a special living experience distinguished by luxury, greenery, and a peaceful atmosphere. The jewel in Emirates Living's crown, Emirates Hills, is a gated neighborhood with some of the most opulent and private homes in Dubai. These homes, which are located near the Montgomerie Golf Course, have stunning views, lavish interiors, and gorgeous landscaping. The "Beverly Hills of Dubai" moniker for Emirates Hills refers to the area's several famous inhabitants.
Emirates Living provides homeowners with a fine living experience in one of Dubai's most renowned residential communities by offering a variety of opulent villas for sale. Emirates Hills, The Meadows, The Springs, and The Lakes are just a few of the sub-communities inside Emirates Living that provide distinctive villa alternatives made to the greatest standards of comfort and elegance. Some of the most exclusive villas are offered for sale in Emirates Hills, which is frequently considered to as the pinnacle of luxury living in Dubai. These villas are known for their opulence, exquisite architecture, and stunning vistas. The homes in Emirates Hills, which are built around the Montgomerie Golf Course, have open floor plans, opulent interiors, and high-end furnishings.
10. Mirdif
Mirdif is situated in Dubai, United Arab Emirates' eastern region. Mirdif, which is well-known for its welcoming attitude, combines convenient living with a variety of attractions. Villas, townhouses, and flats are just a few of the diverse housing possibilities in Mirdif, which is distinguished by its well-planned districts. The neighborhood is appealing to families, professionals, and individuals looking for a balanced and community-focused living environment since it accommodates a variety of lifestyles and budgets.
In one of Dubai's family-friendly neighborhoods, Mirdif provides homeowners with a selection of villas for sale that are roomy and pleasant. The villas in Mirdif come in a variety of sizes, configurations, and architectural styles in order to accommodate various lifestyles and interests. The Mirdif villas for sale often include many bedrooms, roomy living areas, well-equipped kitchens, and private outside areas like roofs or gardens. These villas are made with an emphasis on contemporary aesthetics, utility, and practicality, guaranteeing occupants a pleasant and comfortable lifestyle.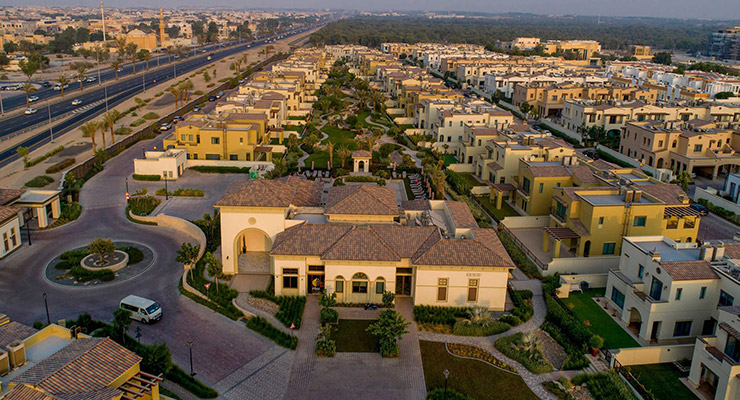 Imtilak Global Real Estate: Your Partner in Finding the Right Villa
As you can see, buying a villa in Dubai is a smart and rewarding decision, but you need to choose the right location and partner to make it happen. Imtilak Global Real Estate is a trusted and experienced company that can help you find the perfect villa for your needs and budget.
Contact Imtilak Global Real Estate today and let us help you buy your dream villa in Dubai!
Edited by Imtilak Global ©
Do you like this topic? You can share it with your friends now!