Top 10 property developers in Dubai
The real estate sector in Dubai has boomed in recent years, with the efforts of some of the best real estate developers such as Emaar. In this article, we talk about the top 10 property developers in Dubai. Top 10 property developers in Dubai
The United Arab Emirates (UAE) has been a shining example of real estate investment during the past few decades. The nation has firmly established itself as a magnet for international investors looking for profitable chances because of its alluring cityscape, architectural wonders, and opulent homes. Visionary builders who create works of art that capture people's imaginations are a major driver behind this real estate revolution. These builders play a key role in developing alluring homes that not only redefine modern living but also stimulate the entry of foreign capital into this vibrant country.
Table of Contents
Top 10 Real Estate Developers in Dubai
1. Emaar Properties
One of Dubai's biggest developers, Emaar, is a well-known name. This well-known developer, both domestically and outside, is in charge of many of the nation's and the world's most illustrious projects, including the Burj Khalifa, the world's tallest tower, and the Dubai Mall.
Emaar has one of the best records in the business when it comes to real estate projects, with a track record for delivering work on schedule and at the greatest level possible of quality. Many of the city's most well-liked neighborhoods, including Arabian Ranches, Dubai Hills Estate, The Springs, Creek Harbour, and many more, are the result of them.
Since its founding in 1997, Emaar Properties has been making waves in the UAE's real estate market. Emaar, one of the top developers in the UAE, has interests in all aspects of real estate development, including residential, commercial, retail, and hotel. In addition to the United Arab Emirates, the corporation is present in a number of other international markets, including those in North Africa and the Middle East.
The portfolio of Emaar also comprises a number of residential communities, such as Downtown Dubai, Emaar Beachfront, Dubai Marina, Arabian Ranches, The Meadows, The Lakes, The Greens, and The Springs, in addition to hotels and resorts.
Address: Downtown Dubai, Burj Plaza
Contact: +971-800-EMAAR (36227)
2. Damac
Damac is a name everyone is familiar with, launching designer projects one after the other. Being painted on residential towers with a high rise all throughout the city, it is difficult to overlook. The developer, well known for its residential neighborhood Damac Hills, is currently building its stunning mega community, Damac Lagoons. With its sparkling lagoons and Mediterranean-style architecture, the project will include some of the most extravagant facilities one could hope for, making it a genuine landmark.
DAMAC Properties has now completed over 26,000 residences and has a portfolio of several thousand additional units that are in various stages of development. DAMAC Hills, a premier golf community that provides townhouses, villas, and apartments in addition to a first-rate of amenities and services, is a noteworthy development.
Address: Dubai International Financial Centre
Contact: +971-4-373-1000
3. Nakheel
Nakheel is a different real estate developer with a track record for market-leading projects and a number of landmark buildings and properties in the United Arab Emirates. The most noteworthy is perhaps Palm Jumeirah, a renowned artificial island community that is home to magnificent beaches, opulent homes and villas, and the Nakheel Mall. A variety of wonderful residential developments, such as Jumeirah Islands, Jumeirah Park, Jumeirah Village Circle, and JVT, have also been built by them.
The enormous Palm Jumeirah in Dubai is one of Nakheel's numerous famous constructions. An achievement in and of itself, the creation of the artificial archipelago increased Dubai's shoreline by more than 300 kilometers. In addition, hundreds of beachfront resorts, hotels, houses, and other attractions increased the Dubai real estate market.
Nakheel is the name of a number of famous residential complexes in addition to the man-made island. This comprises International City, Jebel Ali Village, The Gardens, Nad Al Sheba Villas, and Discovery Gardens. Nakheel's portfolio also includes a number of well-known retail developments, such as Nakheel Mall, The Pointe, Dragon Mart, Dragon Mart 2, Ibn Battuta Mall, and Golden Mile Galleria.
Address: Al Sufouh 1, Dubai
Contact: +971-4-390-3333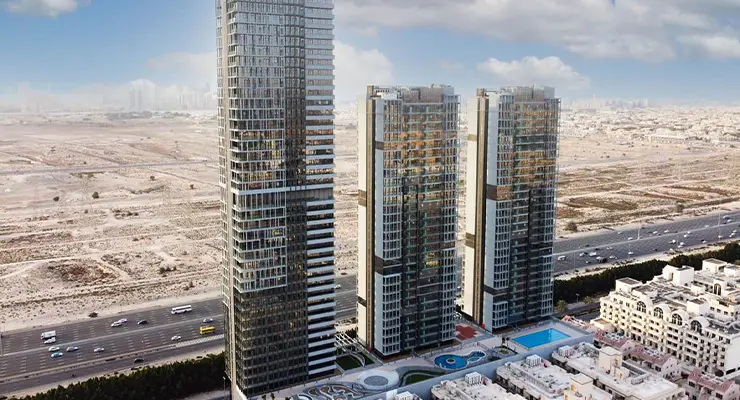 4. Aldar
One of the largest real estate companies in Abu Dhabi has been in operation for 17 years: Aldar Properties PJSC. The company wants to improve the infrastructure of the Emirate by offering residential, business, hotel, retail, and medical facilities.
The real estate portfolio of Aldar Properties includes a variety of new constructions and redevelopments, such as Al Raha Beach, Yas Island, the World Trade Center Abu Dhabi, Al Falah, and Noor Al Ain. The Aldar headquarters in Al Raha, which is the first circular building of its kind, perfectly symbolizes the company's groundbreaking philosophy.
Related: Learn about Binghatti Real Estate Development Company in Dubai.
5. Sobha
A well-known developer with a stellar portfolio of luxury flats, Sobha Realty, has a solid reputation for quality. The global organization was established in 1976 by Indian businessman PNC Menon and has operations in Oman, Bahrain, Brunei, and India.
The developer is well-known for its master community, Sobha Hartland, which includes the largest artificial crystal lagoon in the world, a gorgeous array of residential buildings, and opulent villas. Sobha has unveiled its plans for its follow-up, Sobha Hartland 2, in response to the enormous success of this master community.
6. Dubai Properties
Dubai Holding, a development giant, increased its market share by acquiring Meraas, a real estate developer, and adding it to its diverse portfolio. Some of the most recognizable residential communities in Dubai, like Madinat Jumeirah Living, have been built by its real estate company, Dubai Properties. 
You may also want to learn about the benefits of buying a property in Dubai.
7. Meraas
A holding company located in Dubai named Meraas has started a number of projects in a variety of industries, including real estate, F&B, retail, entertainment, healthcare, and hospitality. Since its founding in 2007, it has created a number of well-liked projects.
Meraas is recognized as one of the leading real estate developers in Dubai and is credited with leading a wide variety of residential projects around the city. One of them is Port de la Mer, a beautiful island neighborhood near the center of Jumeirah. Nikki Beach Resort and Spa, Caesars Palace Bluewaters Island, and Bvlgari Resort and Residences are a few of Meraas' other well-known endeavors.
Address: 32-C Street, Dubai
Contact: +971-800-MERAAS (800-637-227)
Check out our list of the top real estate company in Dubai to wrok with.
8. Deyaar
Deyaar is in charge of a number of initiatives that have grown to be essential fixtures in Dubai's recognizable skyline. The firm was established in 2002 and has a "paid-up capital" of AED 18.38 million. Over the past several decades, it has grown quickly to become one of Dubai's leading real estate developers. Property development, property management, facilities management, and Owners' Association Management are all services offered by the business.
Address: Deyaar, Dubai Head Office – Al Barsha
Contact: +971-4-395-7700
9.  Omniyat
Omniyat has reached a number of milestones to solidify its place among Dubai's best real estate developers. The Opus is one of its most illustrious works. The distinctive cube-shaped building, which has an amorphous hole in the middle, is situated in the famous Burj Khalifa neighborhood. Additionally, the interior of the building is as magnificent. The mirrored glass structure, which was designed by the late Zaha Hadid, has a hotel as well as serviced apartments, restaurants, and offices.
Address: Omniyat Head Office, One by Omniyat, 26th floor, Business Bay
Contact: +971-4-511-5000
10.  Mag property development
The Moafaq Ahmad Al Gaddah (MAG) Group, a global corporation with headquarters in the UAE, includes MAG Property Development. One of the biggest companies in the area with a 40-year history is MAG Group, which also maintains a highly visible position of leadership among its peers in the real estate, contracting, engineering, industrial and commercial trading, freight services, and hotel sectors. Today, MAG Property Development's interests include introducing wellness-focused living to the UAE in addition to developing high-end luxury complexes and pioneering affordable housing programmes.
Address: MAG Group, Keturah Reserve, MBR City, District 7
Contact: +971 4 355 5580
Imtilak Global Provides the Best Property in Dubai for Ownership and Investment
There are over 75 real estate developers in Dubai and this is just to mention but a few. They have different reputations and quality standards. To buy a decent property that makes your investment profitable it is important to choose a good developer that takes every detail into consideration. Imtilak Global is a real estate company that helps you find the best property from the best developer.
To learn more about the Dubai market and the best available opportunities, please contact us and get a free consultation that will put you ahead of your competitors.
Edited by Imtilak Global ©
Do you like this topic? You can share it with your friends now!
Wasl Properties Company Profile
Since its inception, Wasl Properties has developed several residential and commercial projects in Dubai. This article is...