How to buy property in Dubai from Canada?
Dubai is among the best cities for real estate investment, and Canadians can own real estate in it. Learn everything about buying a property in Dubai from Canada. 2023-07-03
Last update
2023-07-04
How to buy property in Dubai from Canada?
Do you long to be a part of Dubai's booming real estate market? If you're a citizen of Canada, you might be interested in learning more about your options for investing in real estate in this cosmopolitan metropolis with a recognizable skyline. Thankfully, Dubai provides a friendly climate for foreigners who aren't residents yet and want to invest in its expanding real estate market.
Can a Canadian Buy Property in Dubai?
Yes, Canadians are permitted to purchase real estate in Dubai. Expats and foreign purchasers began investing in Dubai once the government of Dubai opened the real estate market to them in 2022.
Types of Properties that Foreigners Can Own in Dubai
Leasehold property ownership
When you purchase a leasehold property, you commit to owning it for 99 years or less, based on the time frame outlined in the leasehold contract. Buyers are simply given the rights to a property in this form of transaction; the actual land is not included.
Freehold property ownership
In the UAE, foreigners are permitted to purchase freehold real estate. With this kind of real estate, purchasers can own both the building and the land it sits on. It's crucial to remember that foreign nationals can only purchase freehold property in specific locations.
Learn more about the terms and conditions for buying a property in Dubai as a foreigner.
The Best Areas of Dubai to Buy a Property
Dubai provides a range of real estate investment opportunities, each with its distinctive qualities and attractions. The greatest place to buy a home relies on personal preferences, lifestyle, financial constraints, and investment objectives. But these are some of Dubai's well-liked and sought-after neighborhoods:
Palm Jumeirah
Jumeirah Beach Residence (JBR)
Emirates Hills
Arabian Ranches
Jumeirah Lakes Towers (JLT)
Read in detail about:
The Best  Areas to Buy a Property In Dubai
.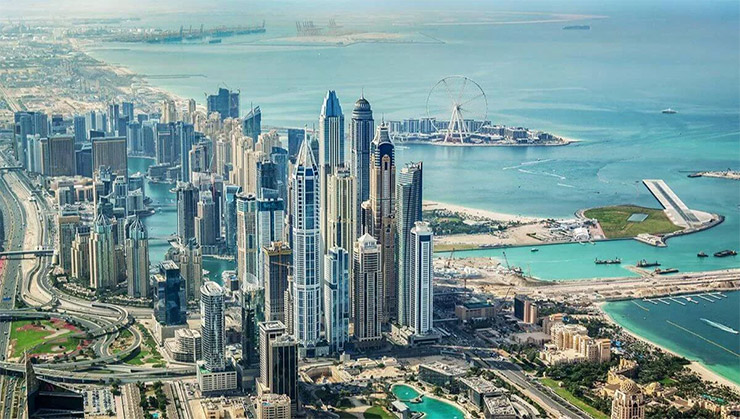 How to Buy a Property in Dubai from Canada?
If you are in Canada and wish to buy a property in Dubai, here are the general steps to guide you through the process:
Research & Area Selection: Start by studying several areas in Dubai to identify the one that best suits your tastes, financial constraints, and investment objectives. Take into account elements including location, facilities, possible return on investment, and future growth plans.
Find the Proper Property: Once you've located a trustworthy and fully licensed real estate agent, they can assist you in finding the home that best suits your requirements. Whether you're purchasing a home for personal or investment usage, it's important to take into account aspects like size, market circumstances, and the availability of utilities and amenities.
Close the Deal: Hiring a local attorney is advised since you will need to complete several legal procedures. A Memorandum of Understanding (MOU) or Sale Agreement must be signed by the seller and the buyer (you), and as proof of your commitment, you must pay a deposit. 
Transfer of Ownership: This document attests to the fact that all debts and responsibilities relating to the property have been paid in full. The Dubai Land Department will also need that you submit the required paperwork and payment.
How Imtilak Global helps Canadians to Buy Property in Dubai?
Imtilak Global is a real estate company that helps Canadians and other foreign investors to buy property in Dubai. Imtilak Global provides several services such as Consultation and guidance, Assistance with legal and financial procedures, and after-sales services. If you consider Dubai one of the good real estate markets to invest in.
Contact us and book your free consultation with one of our real estate experts!
Edited by Imtilak Global ©
Do you like this topic? You can share it with your friends now!
Select Group Company Profile
Detailed information about Select Group for real estate development in Dubai, in which we mention the most important pro...
Tiger Group Company Profile
Through a group of distinguished projects, Tiger Group was able to make a name for itself among the real estate developm...