How to buy a property in Dubai in installments?
It is possible to buy a property in Dubai in installments based on the 4 payment plans that we explain in this article. We also discuss the advantages and disadvantages of buying a property in Dubai in installments. How to buy a property in Dubai in installments?
Is it Possible to Buy a Property in Dubai in Installments?
Yes, it's possible. The real estate market in Dubai provides a range of payment options to accommodate various purchasers' financial circumstances and preferences. These payment schedules give a wider spectrum of investors and homeowners flexibility and accessibility.
Types of Installments Plan to Buy Property in Dubai
Post-handover payment plans
Buyers who choose post-handover payment plans can occupy the property before making the final payment. These plans are created to offer ease and flexibility, especially for individuals who intend to occupy or rent out the home right away. Before the handover, buyers often make a modest down payment and then resume making payments after they move in.
Related: Buy Property In Dubai without a Down Payment.
10/90 payments
In a 10/90 payment plan, purchasers put down 10% of the purchase price upfront, and the remaining 90% is paid upon completion or handover. Those who can afford a greater down payment and are prepared to finish the payment soon after the home is available for possession should choose this sort of plan.
Payment in installments until handover
This type of plan divides the overall cost of the property into payments that are made at various building phases. The ultimate payment is often made after the project is finished, with buyers making monthly installments as development advances. Using building milestones as a guide, this strategy enables customers to budget their payments.
Related: Understand the different stages of buying property in Dubai.
Rent-to-own payments
Plans for rent-to-own sometimes referred to as lease-to-own, present an original strategy. A percentage of the rent paid by the buyers throughout the agreed-upon rental period will be used to increase the property's equity. The buyer has the opportunity to acquire the property at a predetermined price at the conclusion of the agreed-upon period. For people who wish to test out living in the property before committing to ownership, this strategy might be very helpful.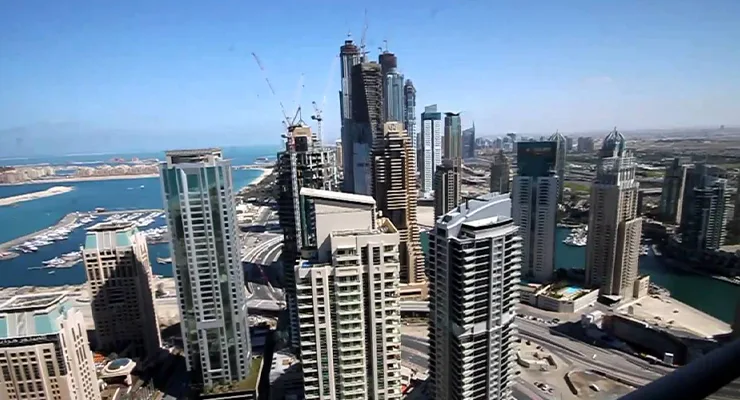 Advantages of Buying a Property in Dubai in Installments
Financial flexibility is one of the main benefits of purchasing real estate in Dubai using an installment plan. You may stretch the expense out over time rather than paying it all at once, which will make it easier on your budget.
A wider range of people may now buy a house in Dubai thanks to installment arrangements. You may enter the real estate market without needing a sizable upfront investment by dividing the overall cost into smaller installments.
When compared to a standard full payment, the initial down payment for installment plans is frequently smaller. As a result, you can obtain the home for less money at first.
Some payment schedules, including post-handover payment schedules, let you occupy the property before making the final payment. This might be especially helpful if you want to move into or rent out the house right away.
You don't make a significant financial commitment all at once while using installment plans. This can lower the financial risk involved with real estate acquisitions in Dubai, particularly if you're unsure of the state of the market or your long-term goals.
Some developers provide interest-free payment schedules, which let you purchase the home without paying further interest fees. When compared to conventional financing methods, this can lead to significant savings.
Disadvantages of Buying a Property in Dubai by Installments
While purchasing a house in Dubai in installments has many advantages, there are a few possible drawbacks to take into account before making a choice. By agreeing to an installment plan, you bind yourself to the property financially for the term of the payment schedule. You could find it difficult to fulfill the payment requirements if your financial condition changes or if unforeseen events occur.
Buying a Property in Dubai in Installments by Imtilak Global
Imtilak Global is one of the best companies that help home buyers opt for the best opportunities in the market. Imtilak's good reputation has come from serving thousands of clients and participating in the flourishing real estate market. Imtilak believes that partnering and working alongside lead to success. So Imtilak grows as our clients' interests grow. If you want to buy a property in installments, Imtilak with a professional team of experts could help you buy your desired property without the hassle and the bustle of procedures.
Contact us today and rest assured that your needs will be satisfied!
Edited by Imtilak Global ©
Do you like this topic? You can share it with your friends now!
Select Group Company Profile
Detailed information about Select Group for real estate development in Dubai, in which we mention the most important pro...