How to Buy Property in Dubai without a Down Payment?
Foreigners cannot buy a property in Dubai without a down payment, but the down payment can be financed in several ways, which we will learn about in this article. How to Buy Property in Dubai without a Down Payment?
What Does the Down Payment Do?
The down payment performs a number of crucial tasks in a variety of financial transactions, most frequently in the financing and purchase of real estate. Additionally, the down payment safeguards the bank in the event that the borrower stops making payments and the bank is compelled to sell the home to recoup its losses.
Is it Possible to Buy a Property in Dubai without a Down Payment?
The down payment is a customary practice in real estate transactions and acts as the buyer's commitment, lowers the lender's risk, and influences the loan-to-value (LTV) ratio for mortgage financing.
This may be a big problem for those who want to enter the market for the first time but may not be that confident because they now have to put down a lot of money upfront before they can acquire a home. If the loan is a first mortgage and the property is valued at less than AED 5 million, the maximum Loan to Value for expats in the UAE is 75%.
The LTV drops to 65% for purchases over AED 5M and to 60% for all subsequent transactions. Therefore, a first-time buyer has to come up with a 25% down payment in addition to an estimated 7% of the property's worth to cover all transaction expenses. This is a pretty high rate for someone who is just joining.
Related: Buy A Property In Dubai In Installments.
How to Buy a Property in Dubai without Down Payment?
Research lease-to-own options
Lease-to-own or rent-to-own agreements, where a portion of the rent payments goes toward developing equity in the property, are offered by some developers or property owners. The renter may eventually have the choice to buy the home, using the accrued equity as a down payment. Many families find this way very appealing to own a property in Dubai.
Make use of existing investments
You can think about utilizing your current investments, such as stocks, bonds, or other assets that can be sold, to cover the down payment. Before making any decisions, it is crucial to speak with a financial counselor because selling investments may have tax repercussions.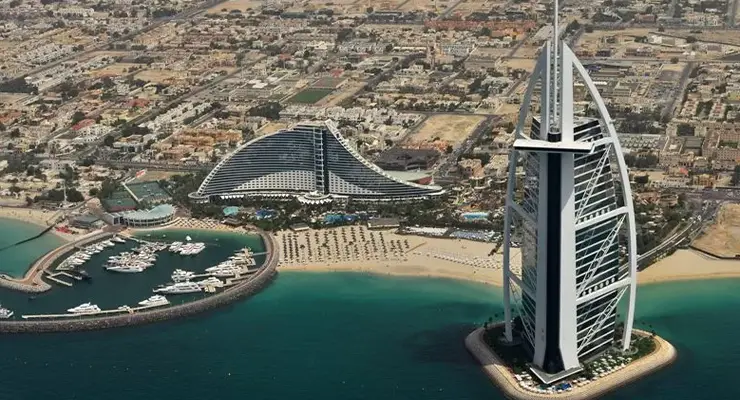 Using the non-cash assets
Developers or sellers could occasionally take non-cash assets in exchange for a down payment. These assets might be exchanged for a less financial down payment and could include priceless goods, real estate in other areas, or even services. Check out our list of the best developers in Dubai who are willing to discuss fair deals with clients.
Negotiate a low-down payment
You can try to bargain with the seller or developer for a lesser down payment requirement, however, it could be difficult to avoid a down payment completely. During specific times, some developers could offer special packages with lower down payment percentages.
Properties exchange
You may look into the potential of exchanging it for the home you wish to purchase in Dubai if you currently own a property or have a sizable equity position in another one. A property exchange, a form of transaction, may enable you to forgo making a down payment in cash.
Learn more about the best areas where people prefer to live and buy apartments in Dubai.
Developer payment plans
Some developers provide customers with appealing down payments stretched out over a long period of time after the home is finished through prolonged post-handover options. This may enable purchasers to better control their cash flow.
Joint ventures or partnerships
Think about combining resources with other investors or people to buy a home. The need for individual down payments can be lessened and the financial load shared among many parties with the use of this strategy.
Book Your Free Consultation
Buying a property is easy and seems easy for individuals, but getting a deal in your favor requires extensive experience and knowledge. This is why it is very beneficial to get help from local real estate agents and make use of their services. Imtilak International is a real estate company with a great team that strives to help you find the perfect property in Dubai.
Edited by Imtilak Global ©
Do you like this topic? You can share it with your friends now!
Select Group Company Profile
Detailed information about Select Group for real estate development in Dubai, in which we mention the most important pro...