Deyaar Development Company Profile
Deyaar is one of the strongest real estate development companies, as it operates in several countries, and the company implemented important projects in Dubai A Brief History of Deyaar Development
Deyaar, located in Dubai Islamic Bank is a real estate and service company which develops and sells residential and commercial real estate properties across UAE. Deyaar was initially the property management division of Dubai Islamic Bank before transitioning into an independent private company with an initial capital base of AED 18.38 Million and commencing operations on June 1, 2002.
Deyaar Development Best Projects in Dubai
1. Amalia Residences
In addition to residential apartments, Amalia Residences will feature various amenities for its residents that will enable them to relax, exercise, and spend quality time together within this gated premium community without needing to travel out of it. These will include a modern gym, adults and children swimming pool (complete with a play area and lounge), landscaped gardens as well as walking/running paths - perfect for unwinding after an active day at work!
Amalia Residences by Deyaar Development will soon become one of Dubai's iconic residential projects when completed in early 2025, offering 400 luxury apartments within its 8-storey complex in Al Furjan and featuring gated amenities in this gated modern community with nature at its doorstep. This project draws buyers as well as investors. Deyaar Development stands as a top developer with many other iconic projects throughout Dubai that attract both buyers and investors. This 8-story complex will soon be ready for occupation for buyers as early as early part 2025 when this 8-story residential building becomes ready for occupancy by buyers as investors looking for high returns from investment projects that attract both parties involved; both buyers as investors join buyers when investing.
Related: Explore Wasl Properties Best Projects in Dubai.
2. Mar Casa
Deyaar has constructed Mar Casa in Maritime City's maritime district. Due to be finished by 2026's fourth quarter, its 52-story tower will boast one, two, and three-bedroom apartments as well as two and four-bedroom penthouses - offering stunning panoramic views across both Persian Gulf waters, coastal lagoon waters as well and city skylines.
3. Midtown
Midtown by Deyaar (International Media Production Zone (IMPZ), located within Dubai Production City is an urban development project featuring Afnan district as its first phase. Unveiled during the Cityscape Exhibition 2014 and completed the following year after going live a year after, construction started in August 2017 for Phase 1.
This integrated community, located near Sheikh Mohammed bin Zayed Road and consisting of six districts housing 24 buildings spread out over nearly 5 million square feet, features studio apartments as well as multi-bedroom apartment blocks of one, two, or three bedrooms for residents to reside within its walls.
Related: Explore DAMAC Properties Best Projects in Dubai.
4. Regalia
Regalia Deyaar's 70-story tower will stand 331 meters, becoming their tallest project yet. Studios, 1, 2, and 3-bedroom premium apartments will be featured within this luxurious residential tower that also provides exclusive penthouses and duplexes for rent. The construction schedule for the Regalia tower off-plan should be complete by December 2024.
Regalia's location also works to its advantage; this tower is the latest addition in Business Bay, an extremely desirable residential and business hub of Dubai. Residents with cars will appreciate quick connections via Al Khail Road or Sheikh Zayed Road for quick travel throughout Dubai.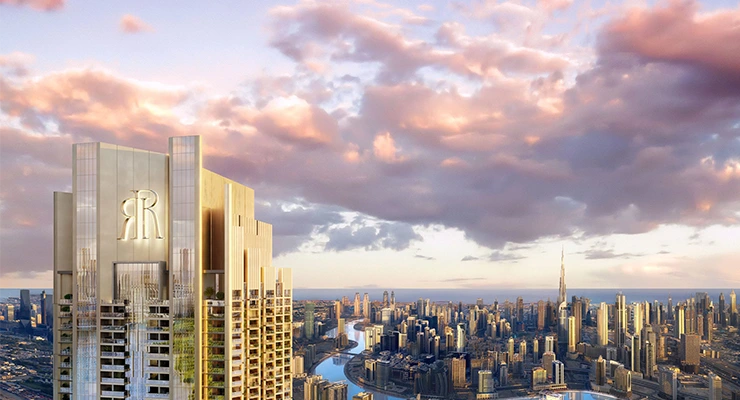 5. Bella Rose
This 20-story building in Dubai Science Park at Al Barsha South 2 Al Barsha South features 478 apartments for rent ranging from studio apartments and one and two-bedroom homes, as well as studio units.
6.  Mont Rose
Dubai Science Park serves both small and medium enterprises (SMEs) as well as multinationals within its sector, featuring both commercial and residential spaces in this mixed-use neighborhood. Montrose Residence B and A are two towers offering 1 to 4-bedroom residential apartments; from here one can quickly reach both Mall of the Emirates as well as Dubai Miracle Garden within 10 minutes by vehicle or foot respectively.
7. The Atria
The Atria is an iconic pair of high-rise buildings located in Business Bay - Dubai's bustling hub for business. Comprised of two towers - one residential and the other four-star hotel Millennium Atria Business Bay; Millennium Atria also provides 31-floor residences known as Atria-Residences to house elegantly constructed units and 347 apartment rentals on 31st floors for short or long-stay guests; Sheikh Zayed Road can easily be reached. Business Bay provides a fast-paced life similar to Manhattan New York!
8. The Burlington
One of Dubai's most prominent landmarks, Burlington Tower is one of Deyaar's 191-metre commercial high-rise towers located in Business Bay district and opened for business in 2014. Offering offices that come fully furnished - many offer spectacular views of Burj Khalifa from their windows - its popularity makes this high-rise tower one of its most visited spots.
Related: Explore Emaar Properties Best Projects in Dubai.
Social Responsibility
Deyaar embraces social responsibility at every opportunity supports causes and champions initiatives whenever we have the chance. Deyaar company is highly socially aware, working closely with various agencies dedicated to improving communities and individuals alike.
Awards and Recognition
Book a Real Estate Tour to the Best Projects of Deyaar Development
Deyaar Development is one of the leading real estate developers in Dubai, and it has a wide range of luxurious projects. Buying a property in these projects is a favorable choice. However, It is very advisable to work with a local real estate agent to help you achieve your goal and satisfy your needs. Imtilak Global, a reputed company that provides real estate services in Dubai, will assist you in owning the property you are interested in. We encourage you to book a real estate tour for the desired property. This is a great way to see the different projects firsthand and to discuss your options with our expert team.
Contact us today and let's discuss the opportunities available.
Edited by Imtilak Global ©
Do you like this topic? You can share it with your friends now!
Wasl Properties Company Profile
Since its inception, Wasl Properties has developed several residential and commercial projects in Dubai. This article is...
Select Group Company Profile
Detailed information about Select Group for real estate development in Dubai, in which we mention the most important pro...