Dubai Creek Harbour Area Guide
What makes Dubai Creek Harbour so special? Find out in this article, as we explore the features and benefits of this project by explaining its infrastructure and facilities 2023-05-22
Last update
2023-05-31
Dubai Creek Harbour Area Guide
Dubai Creek Harbour is a new waterfront place that aims to redefine the future of living and working in Dubai. Located on the banks of the historic Dubai Creek, Dubai Creek Harbour offers a mix of residential, commercial, retail, leisure, and cultural attractions, spread over six districts. In this article, we will give you an overview of Dubai Creek Harbour and its various features and benefits.
Dubai Creek Harbour Area Overview
Location
Dubai International Airport, which is only a short drive from Dubai Creek Harbour, is among the important monuments and transit hubs that are close by. It also enjoys great proximity to major highways like Sheikh Zayed Road and Al Khail Road, allowing for simple transit to various areas of Dubai and beyond.
Schools and Universities
Dubai Creek Harbour is an emerging area with the goal of offering inhabitants a wide variety of amenities, including educational facilities. There are proposals to include schools and institutions inside or adjacent to Dubai Creek Harbour while the complex is still under construction. The following educational choices are anticipated to be offered:
Deira International School
The City School International
Grammar School Dubai
Creek Horizon School
Dubai International Academy
GEMS Wellington International School
American University in Dubai
The University of Dubai
Shopping Places
With a range of shopping options, Dubai Creek Harbour seeks to provide a lively retail experience for both locals and tourists. There are plans to combine retail and commercial spaces into Dubai Creek Harbour, however, the construction is still under progress. The following shopping malls are anticipated to be available:
Deira City Centre
BURJUMAN
Mall of the Emirates
The Waterfront Market
The Dubai Mall
You may also want to read about
Dubai South Area Guide
.
Entertainment Venues
The goal of Dubai Creek Harbour is to provide a wide variety of entertainment options for the community's inhabitants and tourists. There are plans to provide several entertainment alternatives within Dubai Creek Harbour while construction is still proceeding. There should be some of the following entertainment options available:
Spend the day at Dubai Creek Park
Explore the Dubai Dolphinarium
Dubai Creek Tower
Creek Marina
Places to Eat Near Dubai Creek Harbour
Mondoux: Take a quick break from your tour and relax with a nice cup of coffee, cocoa, or tea at Mondoux. Drink some fresh lemonade or a smoothie to beat the heat and feel rejuvenated. Pair your refreshing drink or food with some delectable, freshly baked cakes, pancakes, or other delightful meal alternatives. Enjoy a bottle of wine or a beverage here while unwinding on a calm evening.
The Courtyard: The Courtyard provides a tranquil setting where you may unwind while enjoying a cup of tea or coffee. Enjoy a meal outside while taking in the flavours of international cuisines that have been infused with traditional Arabian flavours.
Soulgreen Dubai: Choose a dinner at Soulgreen Dubai if you're seeking delectable food that was prepared using healthy components. You will be able to order plant-based dishes cooked using locally sourced, seasonal ingredients at this restaurant. Enjoying delicious cuisine that has been carefully prepared to boost your physical and mental energies can make you feel energetic.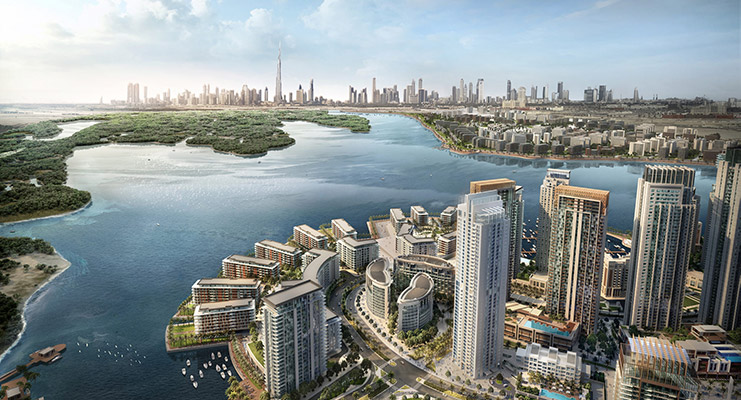 Advantages of Living in Dubai Creek Harbour
Numerous benefits make residing in Dubai Creek Harbour a desirable option for locals. The following are some major benefits of residing near Dubai Creek Harbour such as Flamboyant Nature, Retail Facilities and Waterfront Living.
Dubai Creek Harbour provides quiet and tranquil living despite its busy location. Residents may take advantage of a tranquil setting away from the bustle of the city thanks to the waterfront location and thoughtfully designed green areas and parks.
The community-wide promotion of the arts, culture, and creativity is a goal of Dubai Creek Harbour. Residents will have access to workshops, exhibitions, and a variety of creative events with the addition of a culture and arts centre. This fosters a thriving cultural environment and offers chances for development and enrichment.
Learn more about the advantages and disadvantages of living in Dubai.
Is Dubai Creek Harbour a Good Choice for Buying a Property?
Depending on your individual requirements and investment objectives, Dubai Creek Harbour may be a wise choice for purchasing a home. The following elements should be taken into account while assessing Dubai Creek Harbour as a real estate investment opportunity:
Community presenting you the luxury
Top infrastructure
Beautiful designs
Unique Waterfront Living Experience
Amenities and Facilities
The Advantages of Real Estate Investment in Dubai Creek Harbour
Buying a property near Dubai Creek Harbour has many benefits. The following are some major benefits of purchasing property in Dubai Creek Harbour:
Mega-development Dubai Creek Harbour is expected to expand and appreciates significantly in the future. Property values are projected to rise as development continues and new facilities, infrastructure, and attractions are provided, offering potential financial growth for investors.
A widely desired feature is Dubai Creek Harbour's outstanding beachfront position along Dubai Creek. Properties on the water often retain their value well and provide special lifestyle advantages. Both locals and visitors are drawn to the upscale living atmosphere created by the picturesque vistas, close proximity to the creek, and the distinctive Dubai skyline.
The beautifully constructed neighbourhood of Dubai Creek Harbour provides a wide selection of facilities, services, and amenities. This comprises academic institutions, medical facilities, shopping malls, dining establishments, entertainment venues, and recreational areas. The presence of these amenities improves the neighbourhood's allure, attracting both current and prospective residents.
Due to its strategic position and rising popularity, Dubai Creek Harbour is a popular choice among renters. Professionals, foreigners, and tourists are drawn to the development because of its closeness to important locations like Dubai Marina and Downtown Dubai, as well as because of its accessibility to important road networks and the airport. Due to the increased rental demand, property investors may see favourable rental yields.
Investment Opportunities in Business Bay by Imtilak Global Real Estate
You have seen the benefits of Dubai Creek Harbour. Now it's time to take action. Contact Imtilak Global Real Estate and let us help you secure your spot in this world-class project. We have the experience and knowledge to assist you.
Contact us now and discover Dubai Creek Harbour!
Edited by Imtilak Global ©
Do you like this topic? You can share it with your friends now!