Dubai Marina Area Guide
Dubai Marina area is unique for living, buying an apartment, and investing. This article shows the most important information about the Dubai Marina district. 2023-04-28
Last update
2023-05-02
Dubai Marina Area Guide
Are you looking for a place to live in Dubai? Dubai Marina is a popular residential community in Dubai that offers a range of villas and townhouses for rent and sale. We will explore the reasons why you might want to live there.
Dubai Marina Area Overview
Dubai Marina is a man-made canal city located on the Persian Gulf shoreline in Dubai, United Arab Emirates. The community is known for its luxurious lifestyle, stunning waterfront views, and abundant amenities.
Location
Dubai Marina is located on the Persian Gulf shoreline in the heart of Dubai, United Arab Emirates. It is situated in the Dubai Marina district, which is one of the city's most popular and vibrant neighbourhoods. The community is located just a short distance from some of Dubai's most famous landmarks, including the Palm Jumeirah and the Burj Al Arab. It is also conveniently located near major highways like Sheikh Zayed Road, which provides easy access to other parts of Dubai.
Infrastructure
Dubai Marina is a well-planned and developed community that offers a range of infrastructure and amenities to its residents. Here are some of the key features of the infrastructure in Dubai Marina:
Public Transportation in Dubai Marina
Dubai Marina is well-connected to the rest of Dubai through a variety of transportation options. The Dubai Metro has several stations in the area, and the Dubai Tram provides easy access to other parts of the city. Additionally, there are several bus routes that serve the area.
Parking Spaces
Dubai Marina provides a range of parking options for its residents and visitors. Most of the residential buildings in Dubai Marina offer covered parking spaces for their tenants, which can be accessed through secure entrances. There are also several public parking areas located throughout the community that offer both covered and open-air parking options.
Read our guide to learn more about living in Dubai.
Schools and Universities
Dubai Marina is home to several schools and universities, both local and international, providing a range of educational programs to its residents. Here are some of the schools and universities located in and around Dubai Marina:
There are some well-known nurseries located in Dubai Marina that offer a range of programs and activities to support children's development.
Emirates International School is a prestigious school that offers an American-style education to students from kindergarten through grade 12. The school is located in nearby Jumeirah and is easily accessible from Dubai Marina.
Middlesex University Dubai
Dubai Marina is also home to Middlesex University Dubai, a satellite campus of the UK-based Middlesex University. The university offers undergraduate and postgraduate programs in a range of fields, including business, law, and psychology. The campus is located in Dubai Knowledge Park, which is just a short distance from Dubai Marina. Middlesex University Dubai is a respected institution with a strong academic reputation, making it an excellent choice for students seeking a quality education in Dubai.
Shopping Places
Dubai Marina Mall is a popular shopping destination located in the heart of Dubai Marina. The mall offers a wide range of retail options, from high-end fashion brands to popular high-street stores. Some of the fashion brands available at Dubai Marina Mall include Tommy Hilfiger, H&M, Charles & Keith, and Sephora. Additionally, the mall also has a Miniso store, which is a popular Japanese retail chain that offers a variety of affordable household and lifestyle products.
Aside from shopping, Dubai Marina Mall also has a range of dining options, including cafes, fast-food chains, and restaurants. The mall also features a cinema complex, which offers a selection of the latest movies in a modern and comfortable setting.
Check out our suggestions for the best places to live in Dubai.
Entertainment Venues
Restaurants in Dubai Marina
Dubai Marina has a diverse range of restaurants offering a variety of international cuisines.
Dubai Marina also offers a range of entertainment activities. The Yellow Boats is a popular tourist attraction that offers guided tours around the marina and the surrounding areas.
Reel Cinemas, located in Dubai Marina Mall, is a modern cinema complex that offers a range of movies in a comfortable setting.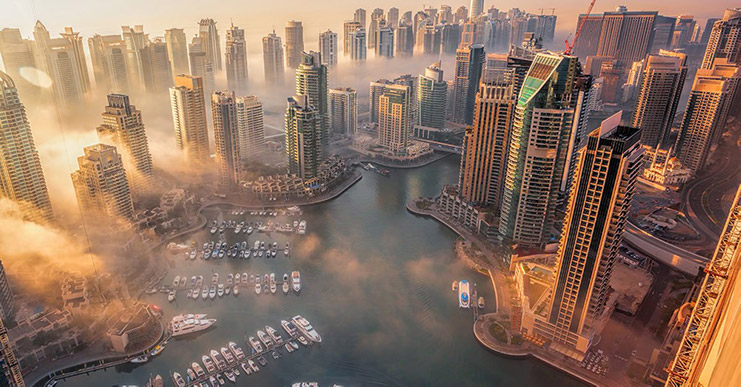 Advantages of Living in Dubai Marina District
There are several advantages to living in Dubai Marina:
Dubai Marina is known for its beautiful attractions, such as the marina walk and Jumeirah Beach Residence (JBR) beachfront, which are great places for leisurely walks and enjoying the views.
The apartments in Dubai Marina are also known for their high-quality finishes and modern amenities, making them a great choice for those looking for a luxurious living experience.
The Dubai Marina is located close to several beaches, including JBR Beach, which offers residents easy access to the sea and water activities.
Multiple public transportation options
Dubai Marina also has multiple public transportation options, including the Dubai Metro, tram, and buses, making it easy for residents to travel around the city.
Is Dubai Marina a Good Choice for Buying a Property?
Dubai Marina is a good choice for buying a property, as it is one of the most sought-after residential areas in Dubai, with a high demand for both rentals and property purchases. Dubai Marina is a lively hive of activity and its famous skyline is recognizable worldwide.
Dubai Marina offers a wide range of property options, from luxurious apartments to spacious villas and townhouses, which can cater to different budgets and preferences. In addition, Dubai Marina's prime location and proximity to major business centers, shopping malls, and entertainment venues, make it an attractive investment opportunity for those looking to generate rental income or capitalize on the city's growing real estate market.
The Advantages of Real Estate Investment in Dubai Marina
There are several advantages of investing in real estate in Dubai Marina:
Convenient area's location, close to Downtown Dubai;
The location of Dubai Marina is very convenient, as it is close to Downtown Dubai, and it also has its own attractions and amenities
Variety of ready-made and off-plan facilities;
The area offers a variety of both ready-made and off-plan facilities, providing options for different investment preferences.
High return on investment;
The high return on investment is also a significant advantage, as Dubai Marina has a strong rental market with high demand and low vacancy rates.
Stable demand for rental properties
The stable demand for rental properties ensures consistent rental income for property investors, making it a sound investment option in the long run.
Imtilak Global Provides the Best Real Estate Investment Opportunities in Dubai Marina
Are you looking for a prime location, stunning views, and high returns?
We have the best deals for properties in Dubai Marina, the most sought-after destination in the city. Call us now and book your dream home before it's too late!
Edited by Imtilak Global ©
Do you like this topic? You can share it with your friends now!