Dubai Metro: A Comprehensive Guide
Dubai Metro is one of the distinguished infrastructure projects that connects several regions in the Emirate. This article shows in detail all about the Dubai Metro. 2023-09-12
Last update
2023-09-14
Dubai Metro: A Comprehensive Guide
Covering a distance of nearly 90 kilometres, the Dubai Metro offers an efficient means to discover the city. It consists of two primary lines: the Red Line, which divides into two routes at the Jabal Ali interchange, and the Green Line. This setup simplifies your trip planning. Here are some common inquiries about the Dubai Metro:
Table of Contents
An Overview of the Dubai Metro
The Dubai Metro is an advanced rapid transit rail network located in Dubai, United Arab Emirates. It boasts a fully automated and driverless train system, complemented by air-conditioned stations equipped with platform edge doors. Aedas, an architectural firm, was responsible for designing the metro's 45 stations, two depots, and operational control centres, while the construction was undertaken by the Al Ghurair Investment group.
Remarkably, within its initial two days of operation, over 110,000 individuals, nearly constituting 10% of Dubai's population, embraced the Metro. From its launch on September 9, 2009, until February 9, 2010, the Dubai Metro facilitated transportation for a staggering 10 million passengers, featuring 11 operational stations on the Red Line.
Notably, engineering consultancy firm Atkins played a pivotal role by providing comprehensive multidisciplinary design and management for the civil works on the Dubai Metro.
Dubai Metro Lines
The Dubai Metro system comprises two lines – the Red Line and the Green Line.
The Red Line commences its journey from Centrepoint (formerly known as Rashidiya) station, conveniently close to Dubai International Airport. This line predominantly follows the city's major thoroughfare, Sheikh Zayed Road, with stops at prominent attractions and neighbourhoods, including Burj Khalifa, The Dubai Mall, Business Bay, Jumeirah Lakes Towers (DMCC station), Dubai Marina (Sobha Realty station), and Mall of the Emirates.
Upon reaching Jabal Ali station, the Red Line divides into two routes – passengers heading to Expo City Dubai can remain on the same train to reach their destination. However, those planning to travel towards Ibn Battuta Mall will need to transfer trains at Jabal Ali station. The Red Line ultimately terminates at the UAE Exchange station, located just beyond the Jebel Ali Industrial Area.
The Green Line embarks from the Etisalat station in the Al Twar area and journeys towards the historic Dubai Creek. Along this line, you can explore cultural gems such as Al Fahidi Historical Neighborhood, Deira, and enchanting gold and spice souks.
 Tram Stations
Dubai Tram Line Stations:
Jumeirah Beach Residence 1
Jumeirah Beach Residence 2
Jumeirah Lakes Towers
Dubai Marina Mall
Dubai Marina
Marina Towers
Mina Seyahi
Media City
Palm Jumeirah
Knowledge Village
Al Sufouh
The Dubai Tram line commences at Jumeirah Beach Residence 1 and concludes at Al Sufouh. Passengers can conveniently access the Tram by disembarking at DMCC or SOBHA REALTY Metro stations.
Related: Your Ultimate Guide to Living in Dubai.
Green Line Stations: The Green Line starts its journey at Etisalat and Creek. Stations along this line include:
Etisalat
Al Qusais
Dubai Airport Free Zone
Al Nahda
Stadium
Al Qiyadah
Abu Hail
Abu Baker Al Siddique
Salah Al Din
Union (Interchange station)
Baniyas Square
Gold Souq
Al Ras
Al Ghubaiba
Sharaf DG
BurJuman (Interchange station)
Oud Metha
Dubai Healthcare City
Al Jadaf
Creek
Dubai Metro Timings
The Dubai Metro operates every day of the week, with metro stations serving passengers during the following hours:
Monday to Thursday: From 5 am until 12 am (midnight)
Friday: From 5 am until 1 am on the following day
Saturday: From 5 am until 12 am (midnight)
Sunday: From 8 am until 12 am (midnight)
For tram stations, their hours of operation are as follows:
Monday to Saturday: From 6 am until 1 am on the next day
Sunday: From 9 am until 1 am on the next day
Please note that the specific opening and closing times for individual stations may vary. Additionally, metro operating hours can be subject to change on public holidays. Trains run frequently on both lines, with approximately every four minutes during peak hours and around every seven minutes during off-peak times.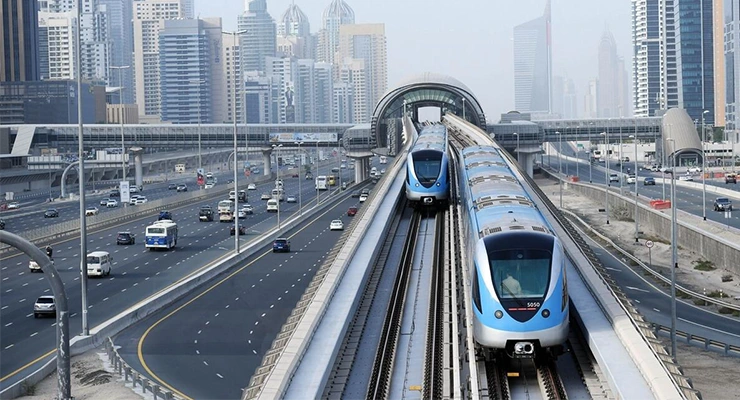 What are Nol cards?
Much like London's Oyster card or New York City's Metrocard, the Nol card is a reloadable ticket that offers discounted fares and can be easily topped up.
Nol cards are versatile and can be used to pay for rides on various modes of public transportation within the city, such as buses, trams, and taxis.
For tourists, the Silver Nol card is a popular choice. It allows you to preload it with up to AED1,000 in credit, making it perfect for frequent use during your stay in Dubai.
Related: Where to live in Dubai: Best Areas for Expats.
Dubai Metro Ticket Price
| | | | | | | |
| --- | --- | --- | --- | --- | --- | --- |
| Nol Card | Within 1 Zone | 2 Adjacent Zones | More than 2 Zones | Student, Social Affairs & Senior Citizen and Residents | People of Determination | Children (5 years old and below) |
| Red | AED4 | AED6 | AED8.5 | Not Applicable | Not Applicable | Free |
| Silver | AED3 | AED5 | AED7.5 | Not Applicable | Not Applicable | Free |
| Gold | AED6 | AED10 | AED15 | Not Applicable | Not Applicable | Free |
| Blue | AED3 | AED5 | AED7.5 | 50 percent | Not Applicable | Free |
Where Do I Buy Dubai Metro Tickets?
You have the option to buy a single-use train ticket or a Nol card at various locations, including Dubai Metro stations, bus terminals, as well as popular supermarkets like Carrefour, Spinneys, and Waitrose.
If you need to recharge your Nol card, you can either utilize the vending machines available or visit the ticket booths at any metro station.
Dubai Metro Gold Class
Dubai Metro trains offer three cabin options: Gold, Silver, and Women and Children's cabins. Gold Class cabins feature roomy spaces, luxurious leather seating, and panoramic vistas. To access these cabins, you'll need to buy a Gold Class ticket, which can be conveniently obtained at ticket counters.
The remaining sections of the train cater to either standard Silver commuters or are reserved for women and children.
Related: Explore Dubai International City: Your Ultimmate Guide.
The Women-Only Cabins
The Dubai Metro offers special compartments for women and children, equipped with extra space for strollers. These areas are easily recognizable with pink signage both on station platforms and inside the train cabins.
It's important to note that female passengers are not obligated to use these designated sections; they are simply provided as an option for added comfort.
Own a Property Near the Dubai Metro by Imtilak Global
Experience the ultimate convenience of living near the Dubai Metro with Imtilak Global! We provide a diverse range of apartments for sale, ensuring you find the perfect home for your family.
With easy access to the metro line, your daily commute becomes a breeze. Don't miss out on this opportunity to own a property that combines comfort and accessibility. Contact us today to explore your options and secure your dream home near the Dubai Metro!