Dubai Properties (DP) Company Profile
Dubai Properties Company is one of the major real estate development companies in Dubai, as it has implemented several famous and essential projects such as Executive Towers and Mudon Al Ranim. Dubai Properties (DP) Company Profile
Table of Contents
A Brief History of Dubai Properties Company
After being founded in 2004 to oversee a portfolio of projects assisting Dubai's economic, social, and industrial growth, Dubai Properties grew in 2005 to become a business of Dubai Holding, a diversified global firm with activities in 13 countries and 10 industries.
With almost two decades of industry experience, Dubai Properties is now a residential developer that is uniquely positioned to create residential destinations that strengthen Dubai's position as the region's top destination for investment and habitation.
Dubai Properties Company Best Projects
1.  La Vie
Dubai Residences La Vie at Jumeirah Beach Residences, a beachfront residential development, offers 1 to 4-bedroom apartments and penthouses starting at AED 7,300,000. The seaside residences of Jumeirah Beach Residence provide their occupants with the ideal setting. Here, people may spend their valuable time with their families and make priceless memories. The residential neighborhood was created especially for those looking for a modern, branded way of living. The waterfront properties feature state-of-the-art architecture that is environmentally friendly and seeks minimum maintenance in accordance with the bio-climatic properties.
The most opulent residences in JBR are available through the residential development La Vie by Dubai Properties, which is located in the singular and unrivaled destination of Dubai. Residents may enjoy the greatest cities and seaside life at this location where the city and the beach meet. JBR Beach, JBR Walk, and Dubai Marina are all close by to the newly constructed projects by Dubai Properties.
Related: Everything you need to Know about Jumeirah Village Circle.
2. Executive Towers
The impressive mixed-use Executive stories complex, which has twelve stories, is close to Sheikh Zayed Road and the Business Bay Metro Station. Eleven of the twelve towers are residential, with only one being commercial. Executive Towers contains 1,799 apartments. Executive Tower M, B, K, H, G, J, L, F, E, C, and D (Aspect Tower) are the names of the various buildings. Residential apartments, offices, podium villas, and duplex penthouses are all mixed together in Executive Towers. Along with the 1, 2, 3, and 4-bedroom apartments, attractive studios are also available for rent or purchase by interested investors.
3.  Bay Avenue
The shopping center is situated in the center of Business Bay Area and features a wide selection of food options, shops, and facilities for basic services. Near the Executive Towers complex, there is a two-story shopping promenade called Bay Avenue. The hub also provides services to visitors to nearby resorts and apartment buildings.
4.  Vision Tower
A 60-story skyscraper in Business Bay, Vision Tower is 853 feet tall. The project's development got underway in 2006, and it was completed in 2011 with 650,000 square feet of freehold office space. Additionally, the only independent office building owned by Dubai Properties in Business Bay is Vision Tower Dubai. The high-performance clear glazed glass was used to construct the bending façade, which sets it apart from similar nearby constructions.
Related: Where to buy properties in Dubai?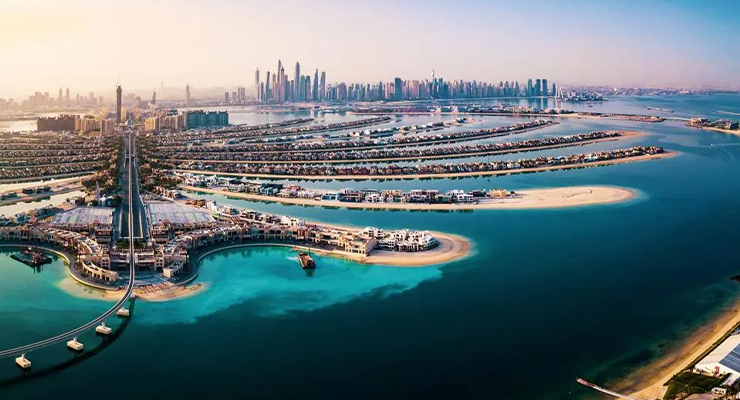 5. Bellevue Towers
Apartments in Business Bay at Bellevue Towers provide tenants unparalleled access to some of Dubai's most outstanding facilities. Walking distance from one another, the Dubai Mall and Sheikh Mohammed Bin Rashid Boulevard provide world-class shopping, entertainment, and eating options.  Sheikh Zayed Road and Al Khail Road are both conveniently located, and The Dubai Mall and Business Bay metro stations are close by, giving locals access to a variety of practical transportation options.
6.  Mudon Al Ranim
Many amenities are available to Mudon Al Ranim Townhouses residents in the surrounding area. Dog parks are available to anyone who want to have pets. Residents have access to exercise centers, neighborhood swimming pools, and basketball and volleyball courts. Additionally, the proposal calls for multipurpose, picnic, and kickabout grounds. Families will also enjoy the play areas and children's obstacle courses that are inspired by nature. Developers have created meditation spaces and lovely gardens for the inhabitants' well-being.
Related: Top Property Developers In Dubai.
7. Manazel Al Khor
In Culture Village, there is a residential enclave called Manazel Al Khor. In 2018, Dubai Properties Group created it. There are 98 residential flats in the cluster, with 1, 2, and 3 bedrooms. The amenities in this freehold building include a gym, a swimming pool, a spa, a barbecue area, a children's play area, and beautifully manicured grounds.
8. The Villa
The Villa, developed by Dubai Properties (DP) in partnership with Mazaya, is regarded as one of the most well-liked residential districts in Dubai. In Dubai, DP is renowned for constructing sizable residential and commercial complexes that are popular with both locals and foreigners. There isn't one at The Villa. It took five years for it to fully develop after being introduced in 2005.
Social Responsibility
In 2007, Dubai Holding launched the Dubai Holding Corporate Wellness Programme, the first corporate wellness program in the area, with this principle in mind. The program was originally created to promote wellness and a healthier lifestyle among their coworkers, but it has since been expanded to include the entire Dubai community in an effort to create a fitter, healthier city. Dubai Holding actively organizes wellness events, partners with organizations to host them, and takes part in them. It also supports programs to help staff members become more creative and entrepreneurial.
Dubai Holding supports a number of organizations and projects that help the neighborhood. In all of their businesses, they actively promote the idea of sustainability, placing a high priority on environmental responsibility. From their comprehensive green procurement strategy to their involvement in international projects to specially designed programs for certain organizations.
Awards and Recognition
2023 Transform Awards MEA
2020 – 2021 MENA Digital Awards
2021 Middle East Public Relations Associations Awards
2020 Middle East Public Relations Association Awards
2019 MENA Digital Awards
2018 Mohammed Bin Rashid Award for Young Business Leaders
2015 Daman Corporate Health Awards
2015 International Corporate Health & Productivity Management Award
2015 FIT Awards
2014 Daman Corporate Health Awards
Book a Real Estate Tour of Dubai Properties Company Best Projects
Dubai Properties Company is one of the most respected real estate developers in Dubai, and their projects are known for their quality, luxury, and location. On our tour, you'll get to see some of their most popular projects up close, including Vision Tower, Executive Towers, and Mudon Al Ranim. Our tour guides will be on hand to answer all of your questions about Dubai Properties Company's projects, and they can help you find the perfect property for your needs. Book your tour today and start your journey to owning a piece of Dubai!
Edited by Imtilak Global ©
Do you like this topic? You can share it with your friends now!
Select Group Company Profile
Detailed information about Select Group for real estate development in Dubai, in which we mention the most important pro...
Tiger Group Company Profile
Through a group of distinguished projects, Tiger Group was able to make a name for itself among the real estate developm...