Meydan Real Estate Company Profile
Meydan Real Estate Company has implemented several of the best residential projects in the UAE, such as Mohammed Bin Rashid Al Maktoum City. Learn in detail about Meydan Real Estate. Meydan Real Estate Company Profile
A Brief History of Meydan Real Estate
Meydan transcends its origins as a horseracing venue; it has evolved into a vibrant, integrated city at the heart of Dubai, offering a sustainable and environmentally friendly metropolis to its fortunate residents.
The Meydan Group, through its diverse projects, extends an invitation to individuals and families seeking an elegant lifestyle with access to world-class entertainment and sporting events.
Meydan Real Estate is where ambition meets reality, offering a world of possibilities and a life of exceptional quality in the heart of Dubai's thriving metropolis.
Meydan Real Estate Best Projects in Dubai
1. Marsa Meydan
Imagine waking up to the soothing sounds of the sea every morning, with the promise of a serene waterfront lifestyle right at your doorstep. This dream becomes a reality at Marsa Meydan, a unique development featuring an array of waterfront villas, townhouses, and apartments, all centred around a vibrant marina.
Nestled along the pristine beachfront in Jebel Ali, Marsa Meydan is poised to become Dubai's newest prime address. Its strategic location places it adjacent to the Expo 2020 site and within minutes of the city's major transportation hubs and the state-of-the-art Al Maktoum International Airport.
Marsa Meydan offers a refreshing twist on coastal living, combining the charm of a boardwalk lifestyle with modern comforts. Set against a backdrop of tranquil natural beauty, these homes are designed to be both accessible and affordable.
Picture yourself leaving the city's hustle and bustle behind as you enter a world of tranquillity, where the gentle waves kiss the shore just steps from your home, and your yacht awaits at your personal dock. Marsa Meydan is meticulously crafted to meet the highest standards, evoking the ambience of the Riviera and Newport, while adding a touch of luxury to your daily life.
At Marsa Meydan, your dream of living by the sea is not only possible but also incredibly inviting. Come experience the serenity and charm of Marsa Meydan, where the sea is your neighbour and the marina is your playground.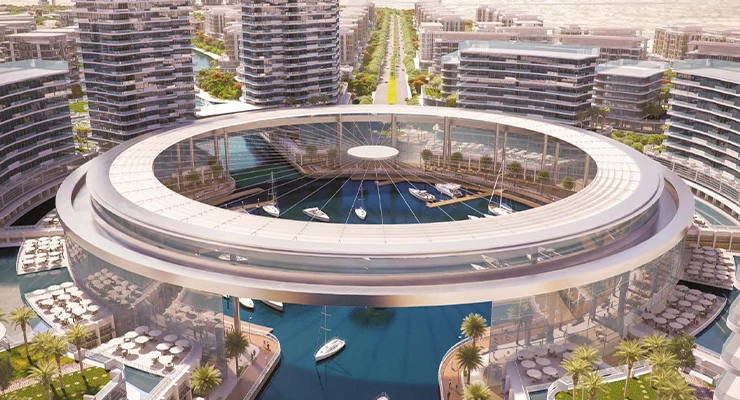 2. Meydan Heights
Nestled within the prestigious Meydan development, Meydan Heights is your gateway to a vibrant lifestyle in Dubai. Conveniently situated in Nad Al Sheba, this community offers the perfect balance between accessibility and world-class attractions, making it an ideal choice for residents seeking a dynamic urban experience.
Meydan Heights enjoys a prime location just minutes away from Dubai's most renowned destinations. You'll find yourself within easy reach of Downtown Dubai, Dubai International Financial Centre, Dubai World Trade Centre, and Dubai International Airport, ensuring that every corner of the city is within your grasp.
Moreover, sports and leisure enthusiasts will be delighted by its proximity to iconic facilities like the Meydan Racecourse and Grandstand, The Track Meydan Golf, The Meydan Hotel, and the upcoming Meydan One Mall. Whether you're an avid golfer, a racing enthusiast, or a fan of luxury shopping, Meydan Heights offers unrivalled access to it all.
Meydan Heights boasts a thoughtfully designed Retail Centre at its core, featuring a mix of 1 and 2-bedroom apartments on the first floor. These homes provide open views and are adorned with high-quality finishes, ensuring a comfortable and stylish living experience.
Residents will also revel in the convenience of having shopping options right at their doorstep, thanks to the ground-level retail outlets, including a Spinneys supermarket and a variety of retail and dining options. With everyday essentials just a stone's throw away, Meydan Heights simplifies daily life and enhances your overall well-being.
In Meydan Heights, you'll discover a neighbourhood that seamlessly blends modern living with the allure of Dubai's finest amenities, promising a lifestyle that's as vibrant as the city itself.
3.  Meydan Racecourse District
Nestled within the heart of Meydan City in Dubai, United Arab Emirates, the Meydan Racecourse District is a racing enthusiast's paradise sprawling across 1,500 acres. Established in 2007 and home to the illustrious US$10 million Dubai World Cup since 2010, this district has captivated the racing world's attention.
Meydan Racecourse District finds its place in the vibrant Ras Al Khor area of Dubai. Its strategic location makes it a hub for equestrian excellence, attracting both locals and international visitors.
The Meydan Racecourse itself boasts a captivating round course, offering a thrilling left-handed oval track stretching over a mile and a half. With a home straight spanning two and a quarter furlongs, it's the perfect stage for top-class horse racing.
4. Mohammed Bin Rashid Al Maktoum City - District One
Mohammed Bin Rashid Al Maktoum City – District One is a featured lifestyle community nestled in the heart of the city. Here, you'll discover elegant residences surrounded by pristine lagoons, tranquil beaches, expansive parkland, and awe-inspiring architecture, promising an unparalleled living experience.
District One enjoys a prime location, just four kilometres from the vibrant Downtown Dubai. It's a stone's throw away from world-class attractions and major transportation hubs, including the Dubai International Financial Centre, Dubai World Trade Centre, and Dubai International Airport. This unique setting ensures that residents have easy access to an array of exceptional experiences, right at their doorstep.
What sets District One apart is its commitment to redefining upscale community living. The community boasts picturesque cycling and running trails shaded by tree-lined avenues, providing residents with an inviting space to stay active and connect with nature. Notably, it features a remarkable man-made lagoon, stretching over an impressive 7 kilometres – the largest of its kind worldwide. This 21st-century oasis offers an idyllic beachfront retreat right in the heart of Dubai, promising residents an exclusive and picturesque getaway.
Moreover, with over 26 million square feet of dedicated open green spaces within this low-density development, District One ensures residents have access to abundant parks, lush lawns, green corridors, and beautifully landscaped walkways. It serves as the perfect backdrop for embracing a green and healthy lifestyle.
District One's homes are designed to cater to diverse preferences. You'll find four to eight-bedroom villas and mansions, each showcasing three distinct architectural styles with exquisite details. The Modern Arabic homes infuse traditional arabesque charm with a modern twist, while the Mediterranean villas and mansions draw inspiration from Italian, Greek, and Spanish styles. The Contemporary homes embody modern chic with open spaces and artistic minimalism. These signature-style residences not only reflect individual tastes but also ensure a luxurious and sophisticated lifestyle.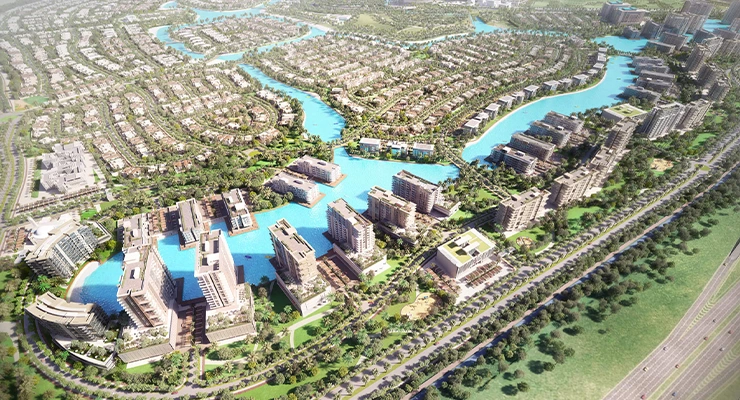 5. Meydan Avenue
Meydan Avenue is a vibrant hub nestled in the heart of the iconic Meydan Grandstand, where the world-famous Dubai World Cup takes place. This unique destination offers a harmonious blend of commercial, residential, entertainment, and mixed-use developments, all inspired by the exceptional quality associated with Meydan's vision.
Meydan Avenue enjoys a prime location adjacent to Mohammed Bin Rashid Al Maktoum City, surrounded by a plethora of new developments and amenities. What sets it apart is the extension of the Creek into Meydan Avenue, seamlessly connecting it to Meydan One development, Business Bay, Dubai Water Canal development, Safa Park, Jumeirah Beach Park, and the majestic Persian Gulf. This strategic positioning integrates Meydan Avenue into Dubai's existing urban fabric, providing residents and visitors with a truly exceptional living experience.
Meydan Avenue is designed to cater to diverse needs and preferences. It boasts modern living environments and beautifully landscaped parks, making it an ideal place for both residential and commercial purposes. For those seeking leisure and entertainment, Meydan Avenue offers an array of dining and retail options, coupled with a scenic 500-meter boardwalk. This ensures an exciting and enjoyable experience for everyone who visits or calls Meydan Avenue home.
6. Meydan One
Meydan One is an exciting and self-contained metropolis nestled in the heart of Meydan City, where the focus is on creating an exceptional living experience for both residents and visitors. This vibrant destination is designed to cater to a wide range of interests and desires.
Meydan One enjoys a strategic location surrounded by lush natural landscapes and connected to the Arabian Gulf through a navigable waterway, making it effortlessly accessible via the Marina.
Meydan One is home to a diverse community of 83,000 residents and boasts an impressive skyline dominated by one of the world's tallest residential towers. Luxury is at the forefront with 2,050 lavish hotel rooms and suites for those seeking a truly indulgent stay.
For those immersed in business and commercial activities, Meydan One offers 484,376 square feet of office space, ensuring that work seamlessly integrates with leisure. The vibrant hub also includes the bustling Meydan One Mall, making shopping and dining a breeze.
Entertainment and leisure options abound at Meydan One. Thrill-seekers can dive into the excitement at the Meydan One Water Park, featuring massive wave pools and exhilarating water slides. If you're looking to delve into culture and recreation, the Meydan One Heritage Village awaits, providing valuable insights into our heritage while offering recreational spaces.
Outdoor enthusiasts will be delighted by the Meydan One Park, which offers activities like rock climbing, skateboarding, jogging, and biking trails, ensuring that there's always something exciting to do. Additionally, the Heritage Museum, a key component of the master plan, promises to deliver exceptional entertainment experiences.
7. Mohammed Bin Rashid Al Maktoum City - District 7
Nestled in the heart of Dubai, Mohammed Bin Rashid Al Maktoum City - District 7 is more than just a location; it's an inviting lifestyle, hospitality, and entertainment hub that promises a vibrant urban experience. Offering exceptional transport connectivity, this district provides direct access to Dubai International Airport, Downtown Dubai, the upcoming Meydan One development, and various other key Dubai destinations via metro and bus lines.
District 7 is strategically positioned to serve as the future gateway to Dubai. Boasting a lively retail boulevard, a sprawling central park, an inviting residential plaza, and a dynamic business hub, this district integrates seamlessly with an unparalleled transport network. It's the epicentre of the city's evolving landscape.
One of the highlights of District 7 is the proposed Etihad Passenger Rail station, which will link Dubai with several countries in the GCC region. Additionally, a transport interchange is conveniently located nearby. Cyclists will find a haven at the Emirate's first dedicated cycling hub right at the district's boundary.
The heart of District 7, known as the District 7 Boulevard, buzzes with life day and night. Stretching for approximately one kilometre, it's a vibrant mix of offices, hotels, and residences. This bustling boulevard is adorned with a variety of retail outlets, inviting pavement cafes, and restaurants that infuse the area with a cosmopolitan atmosphere.
The Boulevard offers a spacious 12-meter-wide pavement on both sides, creating an appealing space for cafes and restaurants with both indoor and outdoor seating options. It also provides easy access to hotels, serviced apartments, and offices, along with a dedicated track for cyclists and joggers.
Shaded by palm trees and set apart from the road, this community-oriented environment ensures that the planned population of 60,000 residents can comfortably savour the charm of their neighbourhood while enjoying everything that District 7 has to offer.
8. Horizon, By Meydan
Nestled amidst the bustling urban landscape of Dubai, Horizon by Meydan is a remarkable mixed-use development that offers a unique connection to nature. Located near Downtown Dubai and Dubai International Airport, this world-class development boasts exceptional views overlooking the Ras Al Khor Wildlife Sanctuary. This sanctuary, one of the world's rare protected areas within an urban setting, has been carefully preserved by the Dubai Municipality to safeguard its delicate biodiversity.
Horizon spans an impressive 39 million square feet of developable gross floor area. It enjoys a strategic location with convenient access via the Dubai-Al Ain highway and the Ras Al Khor highway, ensuring seamless transportation for residents, visitors, and workers alike. Additionally, the planned metro green line will soon provide yet another accessible public transport option, enhancing the overall connectivity of the area.
Horizon offers an array of features and amenities that cater to a diverse range of lifestyles. A picturesque four-kilometre boardwalk lines the waterside, offering a tranquil setting for family strolls, catch-ups with friends, or a leisurely run. The serene northern section of Horizon harmoniously coexists with a two-kilometre canal, designed to provide residents and visitors proximity to nature while respecting the sanctuary's wildlife.
In contrast, the southern section of Horizon is centred around a beautifully landscaped park, providing a lush green heart that complements the aquatic theme of the northern area. Together, these spaces will be home to approximately 72,000 people. An ergonomically designed street grid pattern with walkways ensures easy navigation between residential areas, open spaces, retail outlets, and community zones.
Central Park, at the heart of Horizon, covers an expansive 320,000 square feet and offers a verdant oasis with trees, walking paths, and sprawling lawns. It's the perfect spot for family picnics and leisurely outdoor activities. The park combines active and passive spaces, providing a natural gathering place for recreation and relaxation.
Security is paramount at Horizon, with state-of-the-art measures in place to ensure the safety of residents and visitors. The development's pedestrian-friendly street grid pattern and walkways make it easy to explore the community on foot, enhancing the overall accessibility.
Book a Real Estate Tour with Imtilak Global to the Best Projects of Meydan Real Estate
Discover the finest projects by Meydan Real Estate through an exclusive real estate tour with Imtilak Global. Explore luxury and innovation as you visit the best developments in Meydan. Immerse yourself in the world of modern living and witness unparalleled amenities.
Book your tour today and let Imtilak Global guide you to your dream property. Don't miss this opportunity to experience the pinnacle of real estate excellence with Meydan Real Estate.
Select Group Company Profile
Detailed information about Select Group for real estate development in Dubai, in which we mention the most important pro...
Tiger Group Company Profile
Through a group of distinguished projects, Tiger Group was able to make a name for itself among the real estate developm...