Nakheel Properties Company Profile
Nakheel Properties has several of the best projects in Dubai, such as Dubai International City, so it is classified as one of Dubai's best real estate developers. A Brief History of Nakheel Properties
Nakheel, a Dubai-based master developer, is one of the world's leading master developers. Its innovative and landmark projects are a key part of Dubai's plan to realize its vision. Nakheel waterfront projects have contributed more than 300 km to Dubai's 70km of original coastline. This includes the award-winning Palm Jumeirah and other world-famous developments.
Nakheel's role in resolving Dubai's debt crisis was seen by many as crucial between 2009 and 2010. According to reports, the company is reported as being Dubai's second-largest property developer after Emaar Properties.
Nakheel Properties' best projects in Dubai
1. Nakheel Tower
Al Nakheel Tower Sharjah, a low-rise residential building in Al Majaz Sharjah. The residence occupies a prominent location, surrounded by numerous restaurants, shopping centers, retail shops, and supermarkets. This residence, with its modern exterior, offers many amenities including a gym, children's play area, 24-hour security, and underground parking. The property also has a beautiful landscaped garden.
2. Palm Jebel Ali
Palm Jebel Ali, one of Dubai's most anticipated artificial islands is the Palm Islands by Nakheel Properties. Nakheel Properties' Palm Islands, including Palm Jumeirah and Dubai Islands, include the artificial archipelago of Dubai. Palm Jumeirah, a waterfront community that is popular with residents, already has upscale restaurants, luxurious properties, and leisure attractions. Dubai Islands (formerly Deira Islands) is currently a group of four islands under construction. Palm Jebel Ali has been relaunched by Nakheel with an upgraded development plan. It will eventually be double the size of Palm Jumeirah.
3. Palm Jumeirah
Palm Jumeirah, the world's largest artificial island, is located on the coast of the Arabian Sea. It is located on the Arabian Sea coast and built to resemble a palm, which is a plant that grows in the Middle East. This island is made up of 16 Fronds and the Trunk. The area has a unique collection of luxurious villas, hotels, apartments, and townhouses. Palm Jumeirah offers world-class amenities and stunning views. It is a unique experience. There are a variety of restaurants and cafes that cater to both adrenaline junkies and those who prefer a more relaxed atmosphere.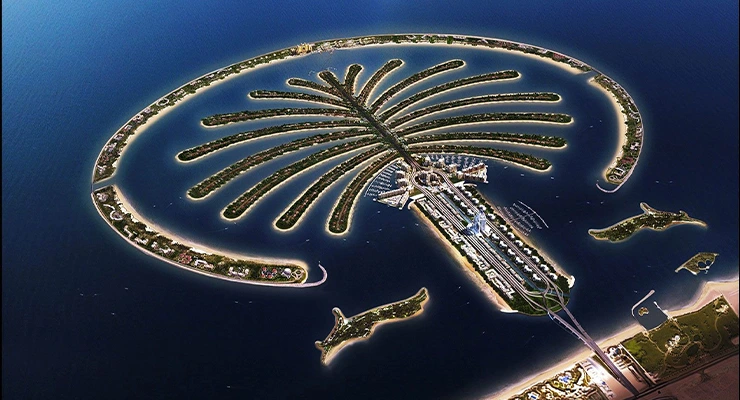 4. Al Furjan
Al Furjan, or Furjan as it is also known, is one of the most popular and vibrant residential areas in Dubai. It's managed by Nakheel Properties. Furjan, a villa community aimed at building a welcoming environment for residents of Jebel Ali Village and Sheikh Mohammed Bin Zayed Road E311, is situated near this road. This community has a network of shared pathways, as well as residential amenities. The residents of Discovery Gardens, Garden View Villas, and Al Furjan can enjoy a shared 40km cycle route that runs through the three communities. Property types include over 4,000 apartment units, as well as houses, hotels, and commercial space.
5. Culture Village
Dubai Culture Village, or Culture Village in general terms is a waterfront project near Al Jaddaf on the Dubai Creek. When completed, the village will cover 3.7 million sqm and include several residential towers as well as a luxury 5-star hotel in Dubai, Palazzo Versace Dubai. It will also have a harbor, an exhibition center, and a waterfront.
6. Dubai International City
International City, one of Dubai's most popular housing districts is also the most affordable. Apartments are a great investment option, with high rental returns. Residents of Dubai International City enjoy a variety of benefits, including affordable housing. Residents have access to a variety of educational institutions and the Dragon Mart.
7. Dubai Maritime City
Dubai Maritime City is a zone with multiple purposes dedicated to the UAE maritime industry. The project, which is based on His Highness Sheikh Mohammed Bin Rashid Al Maktoum's vision, should be finished in 2021. The 249-hectare project is split into five zones, including the Industrial Precinct (also known as Industrial Precinct), Maritime Centre (also known as Maritime Centre), Academic Quarter, Marina District, and Harbour Offices. The Dubai Maritime City Authority is strategically located between Port Rashid, Dubai Drydocks World, and the Academic Quarter. It's the region's first international center focused on maritime, trade, and commerce.
8. Discovery Gardens
Discovery Gardens is located in the Jebel Ali district between Sheikh Mohammed Bin Zayed Road and Sheikh Zayed Road. It is therefore also known as Jebel Ali Discover Gardens. It was also one of many family-friendly communities that grew near Jebel Ali. The community is particularly popular with expatriate family members who frequently commute to nearby commercial zones.
Social responsibility
The Nakheel team is involved in the implementation of various Corporate Social Responsibility initiatives (CSRs) within its company as well as communities. Nakheel strives to meet its social obligations to employees, customers, and residents. CSR projects include the Asian tsunami relief effort, a winter clothing drive for Syrian refugees, and support of UAE's Year of Reading. Sponsorship of Dubai Government Arabic e-Learning Project 'The Translation Challenge', frequent road safety campaigns with RTA, health checks, blood drives, environmental awareness events, etc.
Awards and recognition
The Nakheel brand won six awards, including gold for categories such as Best Brand Evolution, Best Visual Identity for Property, Construction, and Facilities Management sectors, Best Brand Architecture Solutions, Silver for Typography, and Bronze with its partner Ochre for Best Creative Strategy and Best Use of a Visual Property.
Transform Awards MEA recognizes all the hard work behind the scenes that went into Nakheel's 2022 brand transformation. The brand transformation was the result of extensive research and development, reflecting Nakheel's next stage of growth and honoring Nakheel's status as an iconic and loved Dubai brand.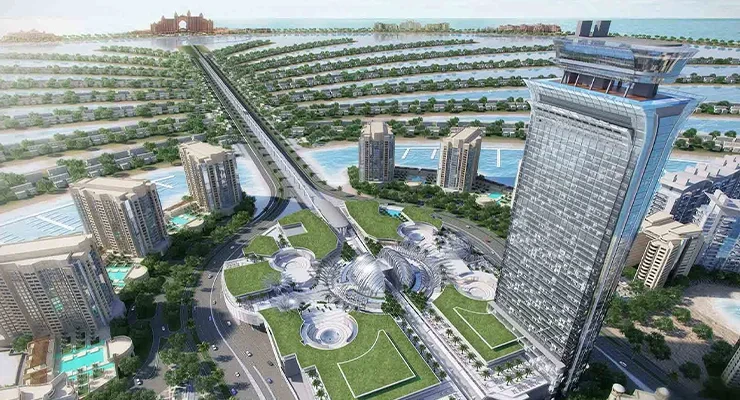 Book a Real Estate Tour of the Best Projects of Nakheel Properties
Nakheel Properties, one of Dubai's leading developers of real estate projects, offers a variety of options. It is advantageous to purchase a home in one of these developments. To achieve your goals and meet your requirements, it is best to consult a local agent. Imtilak Global is a well-respected company in Dubai that offers real estate services. They will help you view any property of interest. Book a tour of the property you are interested in. It is an excellent way to get a first-hand look at the projects and speak to knowledgeable agents about your options.
Contact us today and let's discuss the opportunities available.
Edited by Imtilak Global ©
Do you like this topic? You can share it with your friends now!
Wasl Properties Company Profile
Since its inception, Wasl Properties has developed several residential and commercial projects in Dubai. This article is...