Omniyat Real Estate Development Company Profile
Omniyat is classified as one of the best real estate development companies in Dubai, as it has developed several important projects such as One Business Bay. Omniyat Real Estate Development Company Profile
A Brief History of Omniyat Real Estate Development
Omniyat stands as a truly forward-thinking, privately-owned real estate development and service group in the Gulf Region. Since 2005, it has been crafting unique, top-tier residential, commercial, hospitality, and retail spaces that redefine the premium experience.
At the forefront of the luxury lifestyle industry on a global scale, it approaches the design, development, and management of every Omniyat property with the care and precision of an exceptional work of art. Its projects are strategically situated in prestigious locations, elevating their surroundings and offering an immediate sense of sophistication.
It fosters close collaborations with the world's most renowned architects, interior designers, and artists, ensuring that each project possesses its own distinct identity. Its primary goal is to provide an outstanding return on investment, and it takes pride in delivering an Omniyat guarantee: a personalized, elevated living space that mirrors the owner's personality, accomplishments, and vision for the future.
Omniyat Best Projects in Dubai
1. Dorchester Collection Dubai
Dorchester Collection Dubai is a one-of-a-kind project brought by Omniyat. This exclusive development offers a limited selection of 2, 3, and 4-bedroom apartments and penthouses in the vibrant heart of Downtown Dubai, UAE. With just 39 meticulously designed residential units, all under the prestigious management of the renowned Dorchester Brand, this twin-tower development promises a distinctive fusion of culinary living and world-class hospitality.
Situated in a prime location, Dorchester Collection Dubai boasts excellent connectivity through well-established road networks, providing easy access to Sheikh Zayed Road and Al Khail Road.
This iconic address offers extraordinary hotel facilities in the bustling Business Bay area, all within a short stroll from the Dubai Canal and its scenic promenade boulevard. The development not only offers an unparalleled level of service and amenities but also serves as a central hub that effortlessly connects you to the rest of the city, with the gleaming steel and glass towers standing as a modern landmark along the Dubai Canal, in close proximity to the Burj Khalifa and Marina.
One of the standout features of Dorchester Collection Dubai is its rooftop oasis, which boasts unmatched facilities, including a rooftop pool and various dining options. Both towers are intelligently connected, creating a luxurious living space complemented by a uniquely designed sky garden and a business lounge area that offers breath-taking views of both the downtown and business bay area.
2. Anwa Aria by Omniyat
ANWA ARIA by Omniyat is a serene seafront haven nestled in the heart of Dubai Maritime City, where urban living meets waterfront tranquillity. This exceptional retreat offers unobstructed views of the sea, providing a perfect escape from the bustling city.
ANWA ARIA is designed to offer the perfect day, with a host of amenities that reflect the beauty of its seaside location. An infinity pool overlooks the azure waters, accompanied by inviting lounges and outdoor terraces for creating unforgettable memories. For those seeking wellness, there's a cutting-edge gymnasium and a serene yoga studio. Convenience is at your fingertips with retail spaces and a dedicated kids' play area, while direct access to the promenade puts a wide array of dining, shopping, and entertainment experiences within easy reach.
At ANWA ARIA, every residence is meticulously designed to cater to the unique needs of families and individuals. Whether you prefer apartments, duplexes, penthouses, townhouses, or studios, each living space is flooded with natural light through expansive windows and balconies, offering breath-taking panoramic views of the boundless sea, the iconic Burj Khalifa, and the dazzling Dubai skyline.
Related: The Ultimate Guide to Select Group and its Projects in Dubai.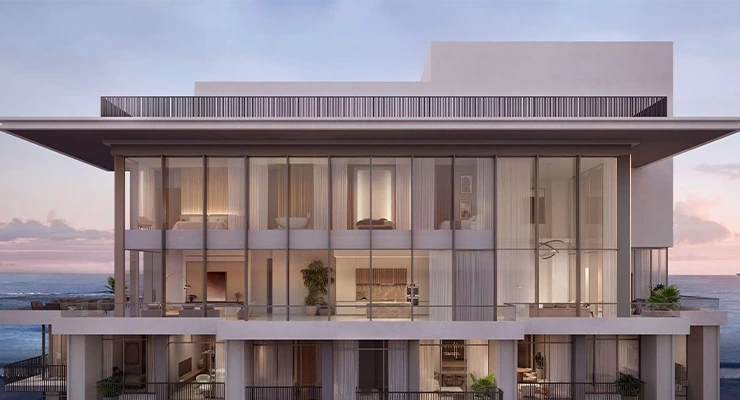 3. The Opus
The Opus, a remarkable lifestyle project brought by Omniyat and designed by the renowned architect Zaha Hadid, stands as an architectural marvel in Dubai's Burj Khalifa District. This exceptional development comprises two distinct structures that seamlessly meld into a single cube, creating an illusion of it hovering above the ground. Among its unique features, The Opus proudly hosts the ME Hotel by the Melia Group, setting the stage for an extraordinary living experience.
Situated in the prestigious Burj Khalifa District, The Opus offers stunning views of both the surrounding area and the city's skyline. This prime location ensures that residents enjoy a vibrant urban lifestyle, with easy access to all the amenities and attractions Dubai has to offer.
The Opus boasts a diverse range of fully-furnished residences, including 1, 2, and 3-bedroom apartments in Dubai, as well as 2 and 3-bedroom penthouses. Each residence is meticulously designed to combine comfort and luxury, with exclusive furniture and fixtures. To cater to your lifestyle preferences, these units are serviced by the ME Hotel, ensuring a seamless and convenient living experience.
For those seeking an elevated living experience, the penthouse units provide access to a rooftop garden and a host of top-notch amenities. All residences come equipped with fully-equipped kitchens and premium-quality finishes, ensuring that every detail is meticulously considered.
To enhance convenience and privacy, The Opus features a separate entrance for the hotel, ensuring that residents can access their homes discreetly. Beyond its role as a premium luxury development, The Opus stands as a new dimension of living, offering a wide array of fine-dining options and an exclusive club to cater to your tastes and preferences.
In addition to its exceptional features, The Opus provides an unprecedented level of personalized and luxurious five-star services for both guests and owners. This development redefines the art of living amidst visual opulence, setting new standards for luxury living in the heart of Dubai.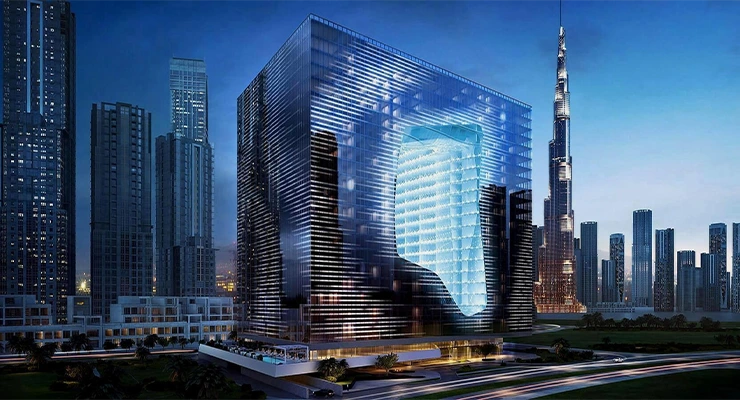 4. One Business Bay
One Business Bay is a remarkable commercial project by Omniyat Properties, situated in the heart of Dubai's well-established Business Bay district. Business Bay was meticulously designed to serve as a thriving hub for commerce, living, and business activities, strategically located along the extended historic creek of the Emirate, running from Ras Al Khor to Sheikh Zayed Road.
What sets One Business Bay apart is its prime location right at the entrance of this prestigious master development. This corner plot position provides exceptional visibility and accessibility, making it an unparalleled address for corporate headquarters. In essence, the tower serves as the gateway to the vibrant Business Bay.
One Business Bay offers a superior working environment that seamlessly combines modernity with elegance. It boasts cutting-edge technology, including state-of-the-art VOIP communication, wireless internet connectivity, intelligent fully integrated business and energy management systems, and a fully integrated V.A.V. air conditioning system.
Within the tower, you'll find a range of amenities designed to enhance your work-life balance. These amenities include a health club complete with a gym, sauna, steam rooms, Jacuzzi, and plunge pool. Additionally, there are retail spaces housing a bank, restaurants with inviting terraces, coffee shops, a travel centre, a day-care nursery, a convenience store, dry cleaners, and a fully-equipped business centre. One Business Bay is more than just a commercial space; it's a comprehensive solution for modern businesses seeking a dynamic and convenient working environment.
5. Bayswater Tower
Bayswater Tower is a dynamic addition to the vibrant Business Bay district in Dubai. This commercial building, crafted by Omniyat, sits at the heart of one of Dubai's trendiest areas, offering a seamless blend of residential and commercial spaces that cater to the modern urban lifestyle.
Bayswater Tower enjoys a prime location with convenient access to key destinations. It is closely connected to Sheikh Zayed Road (E11) and the Business Bay Metro Station, making commuting a breeze.
Rising proudly to 25 floors above the ground, with two basement levels, a ground floor, and five podium levels, the Bayswater Tower is Omniyat's second commercial venture in Dubai. Its distinctive design creates the illusion of two buildings leaning in opposite directions, adding a unique architectural touch to the skyline.
Within this single tower, you'll discover a total of 293 offices available for both rent and sale, ensuring ample options to suit your business needs. Additionally, the lower levels house retail units, adding convenience and accessibility to your daily life. Bayswater Tower promises a well-rounded living and working experience in the heart of Business Bay, Dubai.
6. The Sterling
The Sterling by Omniyat is a forthcoming twin-tower complex nestled in the heart of Business Bay. Situated between Al Asayel Street and Marasi Drive, this project boasts a prime location overlooking the picturesque Marasi Marina, promising a truly luxurious living experience.
The Sterling offers a diverse range of property options for sale in Dubai, including studio, 1, 2, 3, and 4-bedroom apartments, lofts, penthouses, and townhouses. With an anticipated handover date in 2023, it's set to redefine contemporary urban living.
Comprising two towers, The Sterling East and The Sterling West, each rising gracefully to 28 floors, this development provides an array of fitness amenities, including a well-equipped gymnasium and an inviting swimming pool. Residents can unwind in style with poolside cabanas, stroll through beautifully landscaped gardens, and make use of a versatile multipurpose room.
These fully furnished apartments come complete with home appliances and a state-of-the-art smart home system, ensuring convenience and modernity at every turn.
7. Orla Dorchester Collection
Orla Dorchester Collection is an exquisite residential development perched atop Palm Jumeirah in Dubai, brought to life by the visionary minds at Omniyat. Orla is where bespoke living meets lavish elegance, promising a lifestyle tailored to your every desire.
Nestled on the pinnacle of Palm Jumeirah, Orla enjoys an enviable beachfront position at the very tip of the island's crescent. This privileged location offers uninterrupted 270-degree vistas, showcasing Dubai's iconic skyline against the backdrop of the tranquil Arabian Gulf. Beyond Orla's gates, you'll discover a world of culinary delights, entertainment options, and beachfront resorts, all within easy reach.
Orla sets a new standard for opulent living, offering a plethora of upscale amenities and five-star services. Residents are treated to an exclusive enclave where privacy, prestige, and personalized service are paramount. Here, you can relish an unparalleled lifestyle, all while enjoying the artistry of three world-renowned design consultants and the expertise of one of Dubai's most iconic real estate developers. Orla truly epitomizes luxury living on a peninsula connected to the sea, making it a destination like no other in Dubai.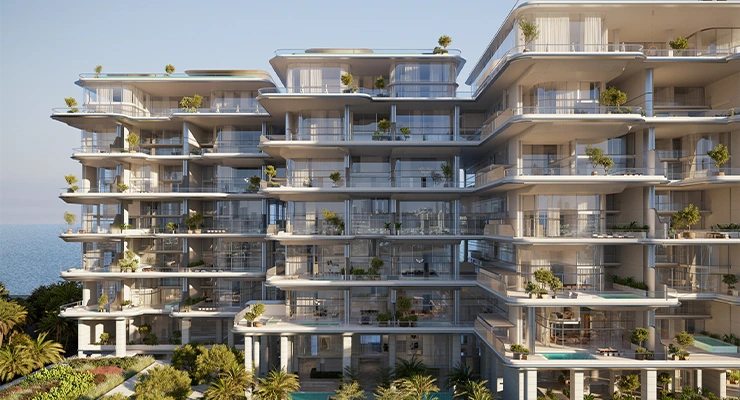 8. AVA by Omniyat
AVA by Omniyat is a truly opulent real estate project nestled in Dubai's iconic Palm Jumeirah. Omniyat, renowned for its innovative real estate ventures in the Gulf Region, proudly presents AVA Palm Jumeirah, a lavish residential development set amidst the stunning Palm Jumeirah islands in the United Arab Emirates.
AVA Palm Jumeirah is an architectural marvel that raises the bar in luxury living, boasting a collection of residences meticulously designed to meet the highest standards of architecture and opulence. This exceptional project, featuring 17 hanging palaces, is set to redefine the real estate landscape in Dubai. Omniyat envisions AVA as a ground-breaking addition that will reshape the luxury market in the city.
What sets AVA apart is its innovative use of technology. For the first time in the world and in Dubai, drones have been deployed to showcase its 3D architectural design, giving residents and guests a captivating aerial view of this luxurious development. With 500 drones soaring over 120 meters above the ground, this spectacle has been a visual delight for those in Palm Jumeirah, Dubai Marina, and Jumeirah Beach, making AVA Palm Jumeirah an epitome of luxury and innovation.
Book a Real Estate Tour with Imtilak Global to the Best Projects of Omniyat
Experience the pinnacle of luxury in Dubai with Omniyat, one of the city's premier developers. Imtilak Global presents an exclusive opportunity to explore Omniyat's finest projects through a real estate tour like no other. Discover a wide range of exquisite properties meticulously crafted by Omniyat, where sophistication meets innovation.
With Imtilak Global, your journey to find your dream property becomes effortless. Contact us today to book your real estate tour and unlock the door to Dubai's most prestigious developments. Don't miss out on this chance to experience the epitome of luxury living. Contact Imtilak Global now!
Select Group Company Profile
Detailed information about Select Group for real estate development in Dubai, in which we mention the most important pro...
Tiger Group Company Profile
Through a group of distinguished projects, Tiger Group was able to make a name for itself among the real estate developm...