Best Places to Live in Dubai for Families
If you want to live in a family-friendly community in Dubai, in this article we present to you the 10 best residential areas in Dubai for families. Nestled on the south-eastern coast of the Arabian Peninsula, Dubai is a place like no other, offering a lifestyle that's a true blend of contrasts and surprises.
Picture the iconic Burj Khalifa piercing the sky, a testament to Dubai's ambition, alongside the historic Al Fahidi neighbourhood with its charming wind-tower architecture. In this city, you can go on extravagant shopping sprees in opulent malls or immerse yourself in the lively atmosphere of traditional markets, where treasures await.
Dubai's culinary scene is a world of its own, offering Michelin-starred restaurants for those seeking refined tastes, while street food vendors serve up flavours that will leave you craving more.
With its sun-soaked climate, pristine beaches, and a vibrant mix of cultures, Dubai presents a lifestyle that caters to your professional ambitions and leisurely pursuits. It's a city where expatriates find opportunities and travellers discover the extraordinary.
What are the Best Places to Live in Dubai for Families?
1. Arabian Ranches
Arabian Ranches Area, known as "the Ranches," stands as one of Dubai's pioneering suburban freehold neighbourhoods, granting expatriates the opportunity to own villas in this vibrant city. Nestled within a golf community, complete with the prestigious Arabian Ranches Golf Club, it consistently ranks as a top choice for luxury villa living in Dubai.
Ranches encompasses two phases: Arabian Ranches and Arabian Ranches 2, offering a variety of villa and townhouse options tailored to different configurations and budgets. This community, a part of the expansive Dubailand development, encapsulates the essence of suburban living within Dubai's dynamic landscape.
Covering 1,650 acres, Arabian Ranches attracts professional couples and families worldwide, providing a serene retreat from the city's hustle and bustle. Each enclave boasts meticulously landscaped surroundings and convenient amenities, including swimming pools, tennis courts, and BBQ areas.
Notably, Arabian Ranches is one of Dubai's pet-friendly neighbourhoods, boasting abundant greenery, spacious homes, and open spaces, making it a suburban haven for families.
Related: Find the Best Area to Buy Your Property in Dubai.
2. Jumeirah
Jumeirah, a highly coveted residential area along Dubai's coastline, offers a wide range of housing options, making it a top choice for families. Renowned for its luxurious villa rentals, Jumeirah provides an opulent lifestyle coupled with exceptional convenience.
This waterfront community exudes a vibrant coastal ambience and boasts proximity to the world-famous Burj Al Arab Hotel. Housing options span from private villas and townhouses to low-rise apartment complexes, ensuring a tranquil yet lively living experience for residents.
Jumeirah is further divided into sub-communities like Jumeirah 1, 2, 3, City Walk, and the newly developed Jumeirah Bay Islands, offering a variety of residential choices. Additionally, the area features a bustling commercial strip with a wealth of amenities, catering to tourists, expatriates, and residents alike.
Related: Discover the Benefits in Living in Jumeirah Village Circle.
3. Al Barari
Al Barari Area, nestled in Dubai's real estate market, stands as an eco-conscious haven for families. This gated community boasts luxurious villas, some of Dubai's most opulent, offering residents an exclusive, tranquil retreat with access to top-notch amenities.
Spanning a colossal 18 million sq. ft., Al Barari is a lush oasis with 60% of its landscape dedicated to green spaces, landscaped gardens, serene lakes, and freshwater streams. The name "Al Barari" translates to "wilderness" in Arabic, fitting given the abundant greenery. It ranks among Dubai's greenest communities.
Residents enjoy upscale amenities such as The Farm restaurant, Body Language health club, and Heart & Soul spa, fostering a serene and eco-friendly lifestyle. Al Barari's eco-conscious design, resembling leaf-like clusters, minimizes environmental impact, making it an ideal choice for families, newlyweds, young couples, and individuals seeking a sustainable and harmonious living environment near Dubai.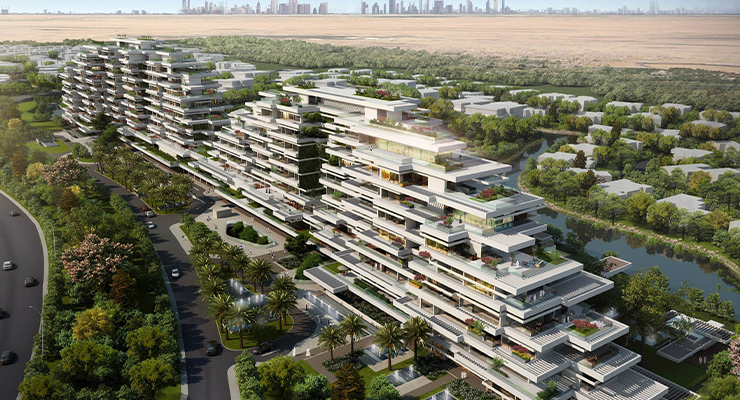 4. Jumeirah Lake Towers
Jumeirah Lake Towers, or JLT, is a sought-after mixed-use community in Dubai, created by the Dubai Multi Commodities Centre (DMCC). Nestled around four artificial lakes and a park area, JLT offers a relaxed community atmosphere and a variety of amenities, making it an excellent choice for families and individuals seeking proximity to the vibrant Dubai Marina.
Comprising 26 clusters, each bearing a letter from the English alphabet (A to Z), JLT boasts three buildings in each cluster, housing apartments, offices, shops, and hotels. These high-rise clusters are bisected by a road connecting Sheikh Zayed Road (E11) to First Al Khail Street.
The neighbourhood provides various communal facilities, including supermarkets, educational institutions, and dining options, and enjoys a strategic location next to Sheikh Zayed Road, with two metro stations facilitating easy commutes to nearby areas.
5. Emirates Hills
Emirates Hills, a prestigious gated community developed by Emaar Properties, is a luxurious haven for families. Drawing inspiration from Beverly Hills in the United States, it offers top-tier living in Dubai. As one of the city's initial freehold property zones, it invites expatriates to own homes in this premier UAE neighbourhood.
Nestled around the Montgomerie Golf Club, most Emirates Hills residences provide stunning vistas of the 18-hole golf course. This opulent villa community is renowned as one of Dubai's priciest, with prices ranging from AED 6M to AED 190M. It's an ideal locale for investing in lavish villas.
Moreover, Emirates Hills is a family-oriented and pet-friendly oasis, boasting dedicated pet parks and playgrounds. With its lush landscapes and well-designed villas, it guarantees a luxurious lifestyle. For golf enthusiasts, the Montgomerie Golf Club Dubai offers an 18-hole paradise. Whether you seek a turnkey modern property or a plot to customize your dream home, Emirates Hills caters to diverse preferences, with plot sizes ranging from 12,000 sq. ft. to 45,000 sq. ft.
Related: How to Choose the Best Area to Live in Dubai.
6. Mirdif
Mirdif area offers an exceptional family-oriented suburban lifestyle, a rarity in Dubai at its price range. Unlike the city's newer, meticulously planned neighbourhoods, Mirdif has organically evolved over the years, radiating a sense of warmth and charm. Many long-time residents deeply cherish this community, having called it home for decades.
In the 2020 Dubai Real Estate Market Report, Mirdif emerged as the top choice for affordable villa rentals. Both Emiratis and expats alike hold a special affection for Mirdif, with some families having lived here for generations, unable to envision life anywhere else in Dubai.
This genuine community prioritizes residents' needs and lacks the touristy vibe, setting it apart in a city filled with hotels. Mirdif boasts numerous educational institutions and essential amenities, making it a premier residential destination for families in Dubai.
7. Mudon
Mudon, a gated residential project by Dubai Properties, boasts a family-centric living experience. Originally designed to replicate five ancient Middle Eastern cities, it has transformed into a thriving housing development in Dubailand.
Situated at the intersection of Al Qudra Road and Emirates Road (E611), Mudon offers ready-to-move townhouses and villas, with more additions in the pipeline. It's a sought-after destination for affordable villas in Dubai, fostering a closely-knit community with 24-hour security.
Residents enjoy a family-friendly environment with convenient access to a shopping centre, schools, a health club, multiple pools, a medical centre, and a vast 1.8 million sq. ft. park, creating an ideal haven for families in the heart of Dubailand.
8. Palm Jumeirah
Palm Jumeirah, the world's largest manmade island, graces the Arabian Sea coastline in the shape of a palm tree. This residential haven comprises the Trunk, Crescent, and 16 Fronds, offering a distinctive living experience.
Families will find an array of luxury villas, townhouses, apartments, and hotels with top-notch amenities and captivating views. Dining options abound, from gourmet restaurants to trendy cafes, and entertainment options cater to both thrill-seekers and those seeking relaxation. It's no wonder Palm Jumeirah ranks third among the most sought-after areas for luxury apartment rentals, making it a prime choice for property investment in Dubai.
Developed by Nakheel Properties, this iconic destination fulfils the vision of His Highness Sheikh Mohammed bin Rashid Al Maktoum, providing an extraordinary lifestyle in a 560-hectare community divided into the Crescent, Trunk, and Fronds.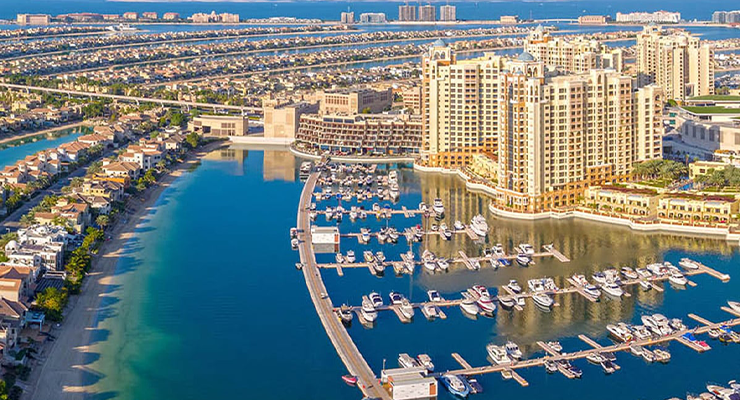 9. Jumeirah Beach Residence (JBR)
Jumeirah Beach Residence, affectionately known as JBR, stands as one of Dubai's most desirable residential areas. Nestled within the sought-after seafront enclave of Dubai Marina, JBR boasts an impressive collection of over 40 residential and hotel towers. Families find JBR particularly enticing, with its luxurious apartments for rent.
JBR is a seaside haven featuring a 1.7 km shoreline within the broader Dubai Marina district. Its distinct sandy-hued buildings, a departure from the gleaming skyscrapers across the city, contribute to its unique charm.
Families residing here enjoy an opulent coastal lifestyle, renowned dining establishments, and year-round entertainment options, ensuring an always vibrant atmosphere, especially on weekends.
JBR is a self-contained community with a Mediterranean and Arabic architectural fusion, offering a sensory delight with its alfresco cafes and vibrant murals. The pristine beachfront is a major draw, and from The Beach JBR, residents can conveniently access Bluewaters Islands via a 265-meter pedestrian bridge. This urban neighbourhood's allure, coupled with its proximity to business hubs like Media City and Dubai Internet City, makes it a magnet for a diverse mix of residents.
10. Motor City
Motor City, originally part of the Dubailand development, has transformed into a sought-after community with charming cobblestone streets and spacious residences. Situated adjacent to Dubai Sports City and Dubai Studio City, this motor-sport-themed area by Union Properties boasts residential buildings, commercial towers, and motorsport facilities.
Motor City comprises UpTown Motor City and Green Community Motor City, along with Business Park Motor City, Dubai Autodrome, and F1-X Dubai, a Formula One theme park. This self-contained community offers a wide range of amenities, including shopping, dining, healthcare, education, parks, and entertainment.
Ideal for families seeking a serene lifestyle, Motor City fosters a healthy and relaxed atmosphere, promoting outdoor activities. It stands out as a peaceful alternative to Dubai's bustling commercial districts, enveloped in lush greenery, making it a pet-friendly haven with ample open spaces for dog walking.
Own a Property in One of Dubai's Best Family-Friendly Communities by Imtilak Global
Discover your perfect family-friendly property in Dubai with Imtilak Global. With numerous family-oriented communities to choose from, our expert local agents will guide you to the ideal choice. Imtilak Global boasts an exceptional team dedicated to ensuring your satisfaction.
Contact us today to secure the best home for your family's future in Dubai.