Select Group Company Profile
Detailed information about Select Group for real estate development in Dubai, in which we mention the most important projects that the company has implemented. Read on Imtilak Global. Select Group Company Profile
Based in Dubai, United Arab Emirates, Select Group is a multifaceted and vibrant company centred around premium real estate and property development. Additionally, it excels in various investment areas, including residential, hospitality, fitness, wellness, technology, and asset management.
A Brief History of Select Group
Founded in 2002, Select Group stands as a respected developer in the real estate realm, recognized for creating upscale residential, commercial, and mixed-use properties in the United Arab Emirates, the United Kingdom, and Europe.
Select Group's core values revolve around delivering unmatched quality and value. Among their notable completed projects are Jumeirah Living Marina Gate, The Residences at Marina Gate, Studio One, 15 Northside, and 98 Baker Street in London. Currently, they're actively working on an exciting line-up of projects, including Six Senses Residences at The Palm in Dubai, the Peninsula waterfront community in the UAE, and 52 Avenue Road in the UK.
With a strong commitment to its guiding principles and a solid reputation for delivering premium projects, Select Group is continually redefining the concept of exceptional living. They're not only enhancing the quality of life for their residents, guests, tenants, and visitors but also contributing positively to the well-being of the neighbourhoods and communities surrounding their developments.
Select Group Best Projects in Dubai
1. The Edge
The Edge is an impressive high-rise residential tower nestled in the heart of Business Bay, Dubai. This exceptional development offers a choice of elegant 1 and 2-bedroom luxury apartments. What sets The Edge apart is its prime city location, offering residents not only the finest in comfort and convenience but also stunning panoramic views of the city skyline.
The Edge epitomizes enduring elegance and impeccable design, making it the perfect haven for those who appreciate sophistication and refinement.
At The Edge, residents are pampered with a wide array of top-notch amenities and services 24/7, ensuring an ideal setting for indulging in leisure and creating cherished moments with loved ones.
Beyond its stunning appearance, this luxurious living space is thoughtfully crafted for practicality, offering state-of-the-art amenities and cosy facilities to enhance your daily living experience. You'll find lush green spaces, serene parks, convenient retail areas, shopping centres, close to business districts and employment hubs, as well as recreational and play areas for unforgettable moments with your loved ones.
What's more, The Edge's strategic location ensures that you can effortlessly reach iconic destinations within minutes. The Dubai Mall, Jumeirah Beach, Burj Al Arab, and the Museum of the Future are all within easy reach. Multiple convenient roadways and routes make getting around a breeze, simplifying your daily life.
Related: Explore the Best Projects of Tiger Group Company in Dubai.
2. Residence 110
Residence 110 is a captivating residential development by Select Group located in the heart of Business Bay, Dubai. This stunning property offers a range of thoughtfully designed studio, 1, 2, and 3-bedroom apartments that redefine luxury living.
Situated in one of Business Bay's most prestigious locations, Residence 110 provides easy access to the city's top hotspots, landmarks, and attractions, including Downtown Dubai, Dubai Canal, and Al Khail Road, ensuring a convenient and comfortable lifestyle.
These meticulously designed apartments combine refined aesthetics with unmatched interiors, creating spacious, elegant living spaces that exude timeless beauty. Surrounded by lush greenery and featuring brilliant architecture, Residence 110 sets the stage for a life filled with joy and contentment.
The apartments are thoughtfully designed to maximize space and natural light, creating an inviting atmosphere. With a touch of hospitality and superior comfort, these homes offer an unparalleled living experience. From the well-appointed rooms to the spacious kitchens with grand interiors and high-quality flooring, Residence 110 elevates your lifestyle, ensuring that the true essence of living is never lost.
Related: Explore the Best Projects of Omniyat Real Estate Development Company in Dubai.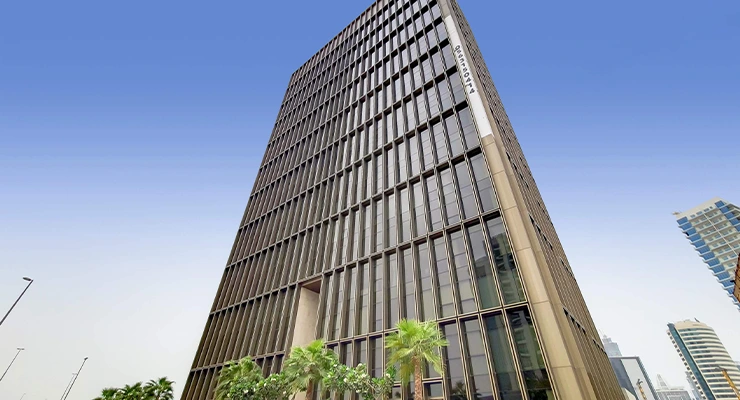 3. Mushrif Village
Mushrif Village is a brand-new development by Select Group offering a range of 2, 3, and 4-bedroom villas and townhouses. Nestled in Mirdif district, Dubai, this community combines modern luxury with Mediterranean-style architecture to create a truly elegant living experience.
Mushrif Village stands out for its exclusive amenities and lush green surroundings, providing residents with a taste of Spain right in Dubai. Each residence is uniquely designed, offering magnificent views and clean, natural air for a joyful and delightful lifestyle within this gated sub-community.
Located in a well-connected part of the city, Mushrif Village ensures hassle-free access to key destinations across Dubai. Families and individuals seeking spacious living spaces will appreciate the development's generously sized villas and townhouses. Here, you'll find everything you need, from morning and evening strolls in parks and gardens to a refreshing swimming pool and a dedicated playground for children. Mushrif Village is the perfect place to call home.
4. Jumeirah Living Business Bay
Jumeirah Living Business Bay by Select Group is an exquisite waterfront residence offering 2, 3, and 4-bedroom apartments, as well as 4 & 5-bedroom penthouses in both simplex and duplex layouts. This is a place where luxury comes alive, with an array of enticing options to elevate your everyday life.
These impeccably designed living spaces are a testament to world-class craftsmanship, meticulously tailored to meet the needs of every resident. The architectural brilliance and artistic finesse add a touch of sophistication to your daily routine, setting a new standard for refined living.
Inspired by the maritime lifestyle and infused with elements of opulence, Jumeirah Living Business Bay offers an exceptional community living experience complemented by world-class amenities. What's more, its waterfront location affords you breath taking 360° views of the Dubai Water Canal.
This residence provides access to a wealth of top-tier amenities, ensuring that every moment is enjoyable for you and your loved ones. Plus, its strategic location ensures seamless connectivity to Dubai's iconic landmarks, including the Dubai Canal, Downtown Dubai, the illustrious Burj Khalifa, and a host of entertainment options.
Related: A Quick Guide to the Best Areas to Buy a Property in Dubai.
5. Peninsula Four, The Plaza
Peninsula Four, The Plaza, developed by Select Group, offers a luxurious living experience in Business Bay, Dubai. These twin 52-story towers, featuring studios to 4-bedroom apartments, penthouses, and 16 premium duplex lofts, are set in a dynamic waterfront location.
This exceptional development combines water features with a variety of community lifestyles and a range of onsite amenities and services. It provides everything you need for a better lifestyle, conveniently located near Downtown Dubai.
Residents of this new waterfront community have the opportunity to embrace a bold and unique lifestyle, surrounded by high-class amenities that elevate comfort and luxury to a whole new level.
Situated in the prestigious heart of Dubai, this master waterfront community offers an oasis of magnificent design and a natural environment that promises uninterrupted luxury. With accessible payment plans, residents can easily immerse themselves in this vibrant living environment, where amenities and services add a touch of class and excitement to everyday life.
Check out our offers for apartments for sale in Duba.
6. Peninsula Three
Peninsula Three, an upcoming residential tower in Business Bay, Dubai, offers a prime location and a range of enticing features and amenities. Situated by the scenic Marasi Marina, this 49-storey tower will feature studio, 1, and 2-bedroom apartments, making it an attractive prospect for potential residents.
As part of the Peninsula community, which includes three other towers, Peninsula Three provides a wealth of fitness and leisure options. Residents can enjoy access to a well-equipped gymnasium, multiple swimming pools, a yoga deck, and a dedicated running/walking track. For those seeking leisure activities, there will be a skate park, splash pad, beautifully landscaped lawns, and courts for basketball, paddle, and tennis. Moreover, the development will offer various food and beverage pavilions, adding to the overall convenience and lifestyle experience.
Business Bay's central location, situated between Al Khail Road and Sheikh Zayed Road, makes it a highly desirable area in Dubai. This vibrant neighbourhood in Dubai provides easy access to shopping, dining, leisure, education, and healthcare facilities, ensuring a well-rounded living experience. Additionally, the proximity to public transportation options further enhances convenience for residents.
With its promising location and range of amenities, Peninsula Three in Business Bay is set to offer a comfortable and well-connected lifestyle for its future residents
7. Six Senses Residences at The Palm
Six Senses Residences at The Palm is a new entrant in the world of bespoke luxury developments. This remarkable establishment offers a blend of hotel rooms and branded residences, all complemented by exclusive wellness and service amenities. Imagine waking up to stunning views of the Dubai Skyline, including the iconic Palm Jumeirah, while relishing the essence of an urban island living near the heart of Dubai.
Located strategically at the west crescent of the Palm in Dubai, this development comes with a range of exclusive advantages. Its prime location allows residents to enjoy easy access to the rest of Dubai, all while savouring an incredible lifestyle with beautiful beaches and recreational facilities at their doorstep. When exploring this luxurious development, residents can bask in the ultra-luxury branded hospitality, catering to both visitors and residents. The offering includes lavish penthouses, sky villas, and beachfront villas, promising a wellness-focused lifestyle accompanied by top-notch hospitality.
Spanning over 60,000 sq. ft., the development offers a wealth of leisure facilities, including restaurants, a gym, squash court, kids club, spa, library, wellness and longevity centre, as well as pools and a dedicated beach area.
Residents here have the luxury of enjoying a wide array of leisure, recreational, and outdoor activities right on their doorstep, with a diverse selection of shops, ranging from retail outlets to boutique stores, offering a world-class shopping experience.
Peninsula Five, The Signature Collection
Peninsula Five, The Signature Collection is a prestigious offering of sophisticated waterfront residences nestled in the heart of Business Bay. These luxurious homes are part of the esteemed Peninsula master plan and represent a coveted opportunity for those seeking a premium living experience in this vibrant location.
Peninsula Five caters to a variety of preferences, offering everything from sleek studios to spacious four-bedroom duplexes, ensuring there's a perfect home for everyone.
Crafted by Select Group, Peninsula Five stands out as a meticulously designed development, where every detail has been carefully considered to provide residents with unparalleled elegance and utmost comfort.
When you choose Peninsula Five, you're not just choosing a home; you're choosing a lifestyle. With completion expected by Q4, 2024, you can look forward to:
Spacious and luxurious waterfront residences
Premium interior finishes
Thoughtful design to maximize natural light
Breath-taking views of the Dubai Canal and skyline
State-of-the-art private amenities
A unique location in the bustling Business Bay
Proximity to Downtown Dubai
Book a Real Estate Tour with Imtilak Global to the Best Projects of Select Group
Select Group ranks among Dubai's premier developers, known for their exceptional real estate projects. Their commitment to excellence and innovation sets them apart in the industry.
Imtilak, on the other hand, presents a diverse range of properties to cater to your unique needs and preferences. Whether you're seeking residential, commercial, or investment opportunities, Imtilak has you covered.
Don't miss out on the chance to explore these outstanding properties first-hand. Contact us today to schedule a real estate tour and discover the perfect property that aligns with your goals and aspirations. Your dream property in Dubai awaits!
Tiger Group Company Profile
Through a group of distinguished projects, Tiger Group was able to make a name for itself among the real estate developm...