Tiger Group Company Profile
Through a group of distinguished projects, Tiger Group was able to make a name for itself among the real estate development companies in Dubai. Get to know Tiger Group in detail. Tiger Group Company Profile
In 1976, a group of forward-thinking individuals came together to create Tiger Group. Their vision was focused on playing a vital role in delivering exceptional projects that would not only meet but exceed the expectations of clients. Their commitment was unwavering when it came to maintaining the highest quality standards.
Table of Contents
As time passed and Tiger Group achieved success after success, it didn't stop at just construction and real estate development. It expanded its business interests to include Facilities Management, Hospitality, Manufacturing, Education, and Health Care.
Moreover, it broadened its operational footprint to cover not only the UAE but also the Gulf Region, the Middle East, and Turkey, making its positive impact felt across these regions.
A Brief History of Tiger Group
Tiger Group has been a major player in Dubai's business scene since its foundation in 1976. Right from the beginning, its founders had a vision to help the United Arab Emirates grow and develop. They began by focusing on construction and real estate projects, earning a reputation for their high-quality work.
As time went on, Tiger Group realized the importance of diversifying its interests. They ventured into different industries, including Facilities Management, Hospitality, Manufacturing, Education, and Health Care. This diversification allowed them to adapt to the changing market.
Tiger Group expanded its reach beyond Dubai, covering the Gulf Region, the Middle East, and even Turkey. This expansion marked a significant step in making their expertise known across these regions.
Throughout their journey, Tiger Group has stuck to their core values of excellence and customer satisfaction, consistently exceeding expectations. As of my last update in September 2021, they continue to be a driving force in Dubai's business landscape, contributing to the city's growth and development.
Related: What Are the Best Development Companies in Dubai?
Tiger Group's Best Projects in Dubai
1. Elbrus Tower
Nestled within the urban landscape of Jumeirah Village Triangle, Elbrus Tower is poised to be an architectural masterpiece by Tiger Properties. This innovative development offers a range of studio, 1, and 2-bedroom apartments, complemented by an array of exclusive amenities. With its 29-storey structure and a commitment to elegance, comfort, and convenience, Elbrus Tower aspires to redefine modern living in Dubai.
Elbrus Tower is strategically situated in the heart of the Jumeirah Village Triangle, providing residents with easy access to both the serenity of nature and the vibrant urban life Dubai is renowned for.
Designed by acclaimed architects, Elbrus Tower's sleek and contemporary design draws inspiration from the graceful lines of nature, seamlessly merging sophistication with tranquillity. The captivating façade reflects the perfect harmony between modernity and the surrounding natural beauty, creating a visually striking structure.
Residents will be treated to a lavish lobby adorned with exquisite artwork and luxurious furnishings, setting the tone for an atmosphere of sophistication and opulence. Moreover, the tower's elevated vantage point offers breathtaking views of Dubai's iconic skyline and the lush greenery that surrounds it.
For relaxation and entertainment, an exclusive rooftop area awaits residents. Here, they can unwind while enjoying panoramic vistas of Dubai's skyline. The pool deck, adorned with lush landscaping, private cabanas, and a poolside bar, provides the ideal setting for leisure.
The luxury extends beyond the apartments themselves. A dedicated concierge service is available 24/7, catering to residents' every need and ensuring a hassle-free living experience. Ample parking space is provided for residents and their guests, complete with valet services for added convenience.
Related: Learn about Select Group Company and its projects in Dubai.
2.  Altai Tower
Altai Tower is an exquisite high-rise residential haven in the heart of Dubai's Jumeirah Village Triangle (JVT). This remarkable creation by Tiger Properties redefines luxury living with its classic design studios, 1 & 2-bedroom apartments, and a range of exclusive services.
Altai Tower enjoys a prime location within the serene and well-connected community of JVT where you can enjoy the tranquillity of your surroundings while enjoying easy access to major highways, business hubs, shopping centres, and recreational facilities. It offers the perfect blend of privacy and convenience, all within a stone's throw from various amenities.
The architectural brilliance of Altai Tower is a sight to behold. Its contemporary design, characterized by sleek lines and captivating aesthetics, graces Dubai's skyline with an iconic presence. The combination of glass, steel, and concrete presents an ensemble of elegance and refinement. Inside the apartments, you'll discover roomy floor plans, impeccable attention to detail in craftsmanship, and expansive floor-to-ceiling windows that frame captivating vistas of the city and its scenic environs.
However, the Altai Tower goes beyond mere visual appeal; it encapsulates a way of life. Residents are pampered with an abundance of high-end amenities that enhance their daily living experience. As you enter Altai Tower, you're stepping into a realm of refined luxury and elegance, representing the pinnacle of contemporary living in one of the world's most vibrant cities. If you're in search of the highest level of elegance and comfort in Dubai, Altai Tower is the address that promises an extraordinary living experience.
Check out our offers for the best apartment in Altai Tower in Dubai.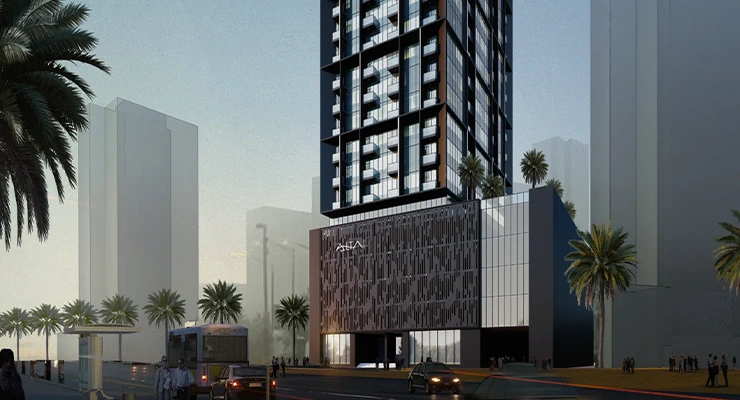 3. Seslia Tower
Nestled in the heart of Jumeirah Village Triangle (JVT), Seslia Tower, by Tiger Group, offers a unique blend of elegance and functionality. This 36-story marvel stands as a symbol of creative development, redefining luxury living in Dubai.
Seslia Tower is strategically situated in the vibrant community of JVT, ensuring easy access to key hubs and top city destinations. You'll find retail stores, shopping centres, offices, and more just minutes away, making it one of the most desirable locations in the city.
Seslia Tower isn't just a place to live; it's a lifestyle upgrade. Choose from a range of studios, one-bedroom, and two-bedroom luxury apartments, each meticulously designed for your comfort.
This iconic development boasts a host of amenities and facilities that elevate your living experience. From its industrial-style living aesthetic to its harmonious blend of natural elements, Seslia Tower exudes sophistication and style.
The complex offers on-site retail stores and office spaces, adding convenience to your daily life. Impeccable interiors and innovative designs create an atmosphere of happiness and harmony. Whether you're seeking a modern environment or a tranquil retreat, Seslia Tower has it all.
Related: Buy an Apartment in Dubai in Installment.
4. Nobles Tower
Nobles Tower, an opulent residential gem developed by Tiger Properties, beckons with its exquisite 1, 2 & and 3-bedroom furnished apartments in Nobels Tower nestled in the heart of Business Bay, Dubai. This 45-story architectural marvel redefines modern living, offering a plethora of top-tier amenities set amidst beautifully designed spaces and a serene environment.
Nobles Tower enjoys a prime location with seamless connectivity. It's easily accessible via the well-connected road networks of Sheikh Zayed Road and Al Khail Road, ensuring convenient commutes to various destinations. Plus, its proximity to iconic landmarks like the Burj Khalifa, the world-famous Dubai Mall for elite shopping, and the mesmerizing dancing fountain enriches the overall living experience.
This lavish development boasts an impressive collection of 549 apartment units, each meticulously crafted with high-level interior architecture and design. Residents are treated to breathtaking views of the surrounding landscape, creating a sense of tranquillity and luxury.
Nobles Tower offers an unparalleled contemporary lifestyle, where boredom is a distant notion. With year-round entertainment facilities, it guarantees that you'll never run out of things to do, ensuring effortless luxury at every turn.
Experience the epitome of luxury living at Nobles Tower in Business Bay, where every moment is an indulgence, and every day is a celebration of modern elegance.
5. Cloud Twin Tower
Nestled in the heart of Jumeirah Village Triangle (JVT) in Dubai, Cloud Twin Tower is the latest residential masterpiece crafted by Tiger Properties. This development presents a selection of furnished studios, and 1- & 2-bedroom apartments, promising a modern and luxurious living experience.
Cloud Twin Tower enjoys a strategic location in JVT, making it effortless for residents to explore the vibrant city of Dubai. It boasts proximity to major highways and excellent access to public transportation, ensuring seamless connectivity for all.
Cloud Twin Tower offers a wide range of features and amenities including:
High-End Design: The architecture of Cloud Twin Tower exudes sophistication and character, setting the stage for a truly exceptional living environment.
Breath-taking Views: Wake up to panoramic views of the iconic palm and the city skyline right from your window. These apartments are thoughtfully designed to offer you a personal sanctuary with mesmerizing vistas.
Luxurious Lifestyle: Cloud Twin Tower doesn't just provide homes; it offers a lavish lifestyle. The towers are equipped with an array of amenities to cater to your every need.
Multi-Level Parking: Say goodbye to parking woes. The development features multi-level parking facilities, ensuring you always have a secure spot for your vehicle.
Retail Area: Enjoy the convenience of having retail facilities right at your doorstep, making daily shopping a breeze.
Swimming Pool: Take a refreshing dip in the swimming pool to unwind after a long day or simply soak up the sun in style.
Cloud Twin Tower at JVT is not just a residence; it's a gateway to a life of luxury, convenience, and breathtaking views. Experience the epitome of modern living in the heart of Dubai.
6. Neva Residence
Neva Residences is an exquisite residential development by Tiger Group nestled in the heart of Dubai's Jumeirah Village Circle (JVC). This 17-storey gem offers a range of living options, including studios, and 1 & 2-bedroom apartments, making it an ideal choice for those seeking a blend of comfort and luxury for themselves and their families.
Neva Residences enjoys a prime location in the vibrant neighbourhood of JVC, Dubai. This well-known area grants residents easy access to both essential city destinations and desired leisure spots. Jumeirah Village Circle is renowned for its excellent shopping, dining, and recreational opportunities, ensuring that you can create lasting memories with your loved ones right at your doorstep.
Neva Residences is designed with families in mind, providing a lifestyle tailored to your needs. Residents can start their day with leisurely activities with their children, enjoy quality time in the evenings, or socialize with neighbours who also call this community home.
The development boasts world-class amenities that promise endless fun and excitement for all. Whether it's morning playtime with the kids or evening gatherings with friends, Neva Residences ensures you have the perfect setting to create cherished moments.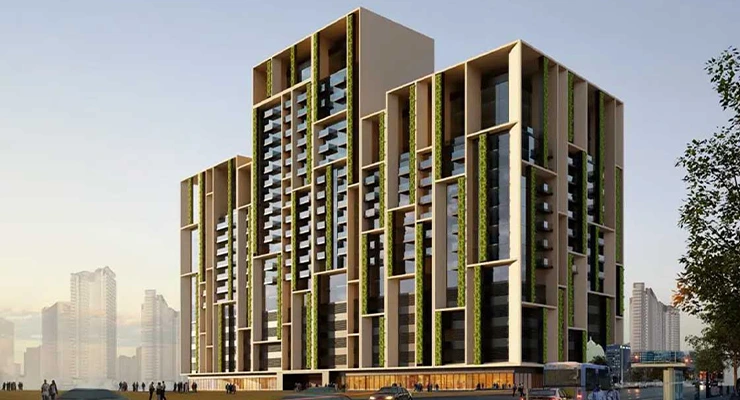 7. V Tower
The V Tower is a luxurious residential development by Tiger Properties that redefines modern living in Dubai. Nestled within the vibrant Dubailand Residence Complex in Wadi Al Safa 5, this architectural marvel offers a range of furnished studios, 1, 2 & and 3-bedroom apartments, and Duplex units.
The V Tower enjoys a prime location, easily accessible via Dubai-Al Ain Road and Emirates Road. It provides seamless connectivity to key destinations like the Plantation Equestrian and Polo Club, Arabian Ranches, Dubai Miracle Garden, Dubai Polo & Equestrian Club, Jumeirah Village Circle, Jebel Ali Racecourse, Palm Jumeirah, and more.
What sets the V Tower apart is its striking curved design, which adds a touch of modern elegance to the Dubai skyline. Residents here are immersed in a world of convenience and luxury.
Surrounding the tower, you'll find a wealth of amenities, including dining and retail outlets, lush gardens and parks, 5-star hotels, and shopping malls, all just minutes away. This prime location allows you to access a balance between a serene lifestyle and the vibrant pulse of Dubai's nightlife.
Discover a one-stop destination for all your needs at the V Tower, where modern architecture meets a dynamic and bustling community, offering a lifestyle that embraces both leisure and luxury.
Related: Discover Al Barari Area with Our Comprehensive Guide.
8. Blue Waves Tower
Blue Waves Tower is an exceptional development by Tiger Properties that offers a range of elegant Studios, and 1 & 2-bedroom apartments. Nestled in the vibrant neighbourhood of Wadi Al Safa 5, Dubai, this 17-storey tower boasts 559 meticulously designed units, creating a harmonious blend of style and functionality.
Blue Waves Tower enjoys a prime location in Dubai, surrounded by a backdrop of towering skyscrapers. It's strategically situated in one of the most advanced areas, ensuring easy access to a plethora of world-class amenities right at its doorstep.
Blue Waves Tower is not just a place to live; it's a dynamic urban hub that caters to the diverse needs of its residents. Here are some of the standout features and amenities you can expect:
Stunning City Views: With its privileged location, Blue Waves Tower offers breathtaking views of Dubai's most prestigious neighbourhoods, providing a stunning backdrop to your daily life.
Centric Connectivity: Residents will enjoy seamless connectivity to various key destinations in Dubai, making commuting hassle-free and convenient.
Cultural and Entertainment Hub: Immerse yourself in a world of arts, culture, entertainment, shopping, and dining, all within easy reach. Experience the vibrant pulse of city life just steps away from your home.
Recreational Facilities: Stay active and entertained with dedicated cycling tracks, a well-equipped kids' play area, and lush green spaces perfect for strolls and relaxation.
Blue Waves Tower is more than just a residence; it's an architectural icon that enriches your lifestyle. Discover the perfect blend of luxury, convenience, and connectivity in the heart of Dubai at Blue Waves Tower.
Book a Real Estate Tour with Imtilak Global to the Best Projects of Tiger Group
Embark on a real estate journey like no other with Imtilak Global as your trusted partner. Tiger Group, renowned for its excellence in Dubai's real estate market, presents its finest projects.
Contact us today to schedule a personalized real estate tour and witness the excellence of Tiger Group's developments. From luxurious apartments to exquisite villas, we have the perfect property for you.
Don't miss this opportunity to explore the very best of Dubai's real estate. Contact us now to book your tour and make your dream property a reality.
Select Group Company Profile
Detailed information about Select Group for real estate development in Dubai, in which we mention the most important pro...