Your Ultimate Guide to Al Barari Area of Dubai
Al Barari is a prime location for living or investing in Dubai. Learn everything you need to know about this green and luxurious area in our comprehensive guide. Your Ultimate Guide to Al Barari Area of Dubai
Al Barari is more than simply a neighborhood; it is a tasteful fusion of verdant greenery, lovely gardens, and perfectly planned homes. You'll be welcomed by an abundance of flora and wildlife as soon as you enter this enchanted refuge, giving you the impression that you're in a place far apart from the hectic pace of the city. Residents may find comfort and tranquillity in their everyday lives thanks to the expertly maintained botanical gardens and lush surroundings, which convey a sense of being linked to nature.
Al Barari Area of Dubai Overview
Location
The Al Barari neighborhood is an upscale residential area. Al Barari offers a serene and calm escape from the rush of modern life while being situated in the center of a busy metropolitan.  Al Barari is strategically located only 15 minutes away from Dubai's major social hubs and amenities and 10 minutes away from Dubai's top international schools.
Infrastructure
The Al Barari neighborhood is an upscale residential area. Al Barari offers a serene and calm escape from the rush of modern life while being situated in the center of a busy metropolitan.  The top international schools in Dubai are only 10 minutes away from Al Barari, which is strategically situated only 15 minutes from the city's main social hubs and amenities. Here are some of the transportation options available: Dubai Metro, buses, and taxis.
Schools and Universities
As a renowned residential district in Dubai, Al Barari is home to a number of reputable institutions and colleges that provide residents with a top-notch education. The following are some notable colleges and universities in and near Al Barari:
Dunecrest American School
International Baccalaureate (IB)
FalconCity Nursery
GEMS Heritage Indian School
You may also want to read about the
Dubai Bluewaters Island
.
Shopping Places
Al Barari is renowned for its serene and natural surroundings, but it is also adjacent to a number of commercial centers that meet the demands of the locals in terms of retail. Near Al Barari, check out some of these popular shopping areas:
Cityland Mall
Cedre Shopping Centre
My City Centre Al Barsha
Mall of Arabia
Entertainment venues
Al Barari offers a calm setting that is ideal for rest and renewal since it places a strong emphasis on tranquillity and nature. While there may not be many large-scale entertainment venues nearby, there are a number of surrounding attractions and recreational facilities that give locals access to leisure time and entertainment. The following are some popular entertainment spots close to Al Barari:
Dubai Miracle Garden
Dubai Autodrome
Motiongate Dubai
Bollywood Parks Dubai
Legoland Dubai
Legoland Water Park
You may also want to read about
Al Qusais Area Of Dubai
.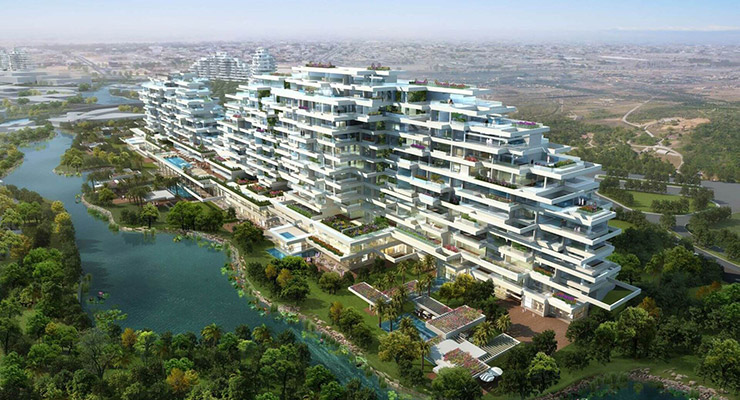 Advantages of Living in the Al Barari Area of Dubai
Al Barari is renowned for its serene environment. It offers residents a tranquil escape from the bustle of the city since it is surrounded by green areas and botanical gardens. A tranquil and soothing way of life is ensured by the focus on establishing a calm atmosphere.
Environmentally friendly living
Al Barari is dedicated to encouraging a green and sustainable way of living. The neighborhood was planned with a focus on green living and environmental preservation. Residents of Al Barari have the opportunity to live environmentally conscious lives and contribute to a more sustainable future.
The amenities are at the highest level
The area offers its residents many top-notch amenities that improve their quality of life. Modern sports facilities, swimming pools, spas, and wellness centers are available in the community. Residents also have access to upscale dining establishments, shopping centers, and practical services, ensuring that all of their requirements are addressed nearby.
Al Barari houses are renowned for their roominess and elegant floor plans. The houses in Al Barari provide a variety of living areas that may accommodate various lifestyle tastes, whether they be opulent villas or chic apartments. The emphasis on space guarantees that inhabitants have plenty of space to unwind, entertain, and take pleasure in a comfortable living environment.
Learn more about The Best Areas To Live In Dubai.
Is the Al Barari Area of Dubai a Good Choice for Buying a Property?
Al Barari serves as a benchmark for sustainability, and the globe is gradually transitioning to sustainable development. Expect a substantial return on investment since investing here would result in increased demand. The location offers attractions including The Farm, a gym club, and a destination spa. The second phase of the project will see the completion of the medical facilities, schools, retail stores, and resort hotels.
The Advantages of Real Estate Investment in the Al Barari Area of Dubai
World-class infrastructure
Al Barari benefits from the top-notch infrastructure in Dubai. The neighborhood is well-developed, with great utilities, transportation networks, and access to important city locations. Residents are guaranteed convenience and accessibility, and real estate investment is increased as a result.
Competitive prices and rental yields
Al Barari, despite being renowned for its exclusivity and luxury, can still provide affordable prices when compared to other upscale areas in Dubai. Real estate investors have a chance to buy properties at comparatively advantageous prices because of this. Al Barari's popularity also means that there is still a high demand for rental properties, which could lead to favorable rental yields.
The real estate market in Dubai is tightly controlled, offering a safe setting for investment. To safeguard investors and ensure transaction transparency, the government has put policies in place. Al Barari is a dependable option for investment because of the regulatory framework's addition of stability and trust to the real estate market.
Dubai is well known for its security and safety. The city boasts strict safety regulations, a low crime rate, and a proactive attitude to upholding law and order. Additionally drawing residents and investors to the Al Barari region, this safe environment guarantees security and investment protection.
Learn more about the Best Area To Buy Villa In Dubai.
Investment Opportunities in Al Barari by Imtilak Global Real Estate
If you are looking for a profitable and secure real estate investment in Dubai, you should consider the opportunities offered by Imtilak Golden in Al Barari. Imtilak Golden has a portfolio of luxurious villas and apartments in Al Barari that are ready to move in or rent out.
Contact Imtilak Global today and find out more about real estate investment opportunities.
Edited by Imtilak Global ©
Do you like this topic? You can share it with your friends now!