Binghatti Developers Company Profile
Bugatti Residences is one of the distinguished projects implemented by Binghatti Developers in Dubai, in addition to several other projects that we get to know in this article. Binghatti Developers Company Profile
Binghatti Developer is a real estate development company based in Dubai, United Arab Emirates. The company has gained recognition for its innovative and distinctive architectural designs in the real estate sector. Binghatti Development has been involved in various residential, commercial, and mixed-use projects in Dubai and the wider UAE.
A Brief History of Binghatti Company
Binghatti Developer was founded by Dr. Hussain BinGhatti, a visionary entrepreneur in the real estate sector. His vision was to create distinctive and innovative properties that would stand out in Dubai's competitive real estate market.
In its early years, Binghatti Developer embarked on a series of residential and commercial projects in Dubai, aiming to combine architectural excellence with functionality to cater to the diverse needs of residents and businesses. Binghatti became known for its commitment to architectural innovation. They integrated distinctive and attention-grabbing architectural concepts into their projects, differentiating themselves from the traditional real estate offerings.
Their portfolio growth encompassed a diverse array of property categories, including residential apartments, office spaces, hotels, and mixed-use developments. These offerings enabled them to address a wide spectrum of real estate requirements.
Binghatti Best Projects in Dubai
Bugatti Residences
Bugatti Residences by Binghatti epitomizes the essence of modern luxury living, redefining opulence through peerless craftsmanship and impeccable finishes. The project's blueprint encompasses two impressive 52-storey towers, mirroring the undulating sand dunes of Dubai and the graceful waves of the French Riviera beaches.
Within these towers, both penthouses and mansions beckon residents into spacious living spaces adorned with the most exquisite materials. In these exceptional abodes, the convergence of Bugatti and Binghatti's design expertise seamlessly blends comfort, elegance, and functionality.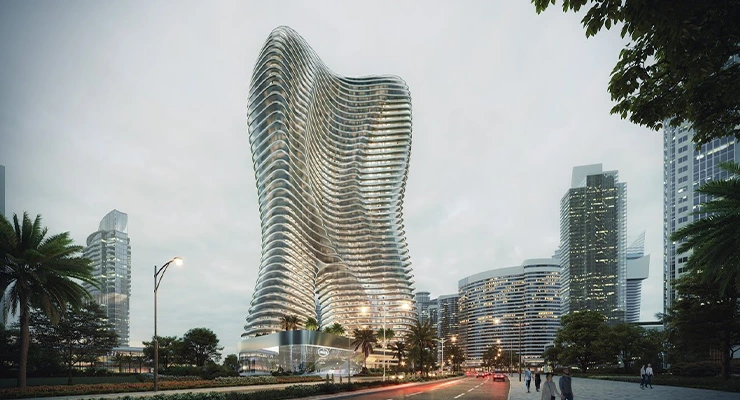 Burj Binghatti Jacob & Co Residences
Binghatti Developers have collaborated with the renowned luxury jewellery and watch brand, Jacob & Co., in their ambitious pursuit to surpass Central Park Tower in Midtown Manhattan, New York, as the world's tallest residential building with the Burj Binghatti Luxury Tower. The concept of constructing this monumental skyscraper is born from the aspiration to achieve the extraordinary.
Upon its completion, the Burj Binghatti Luxury Tower is set to become a dynamic focal point and a magnificent addition to Dubai's iconic skyline. Prepare to be enthralled by the opulence and grandeur of this soon-to-be-legendary landmark in the city!
Related: Discover the Best property Developers in Dubai.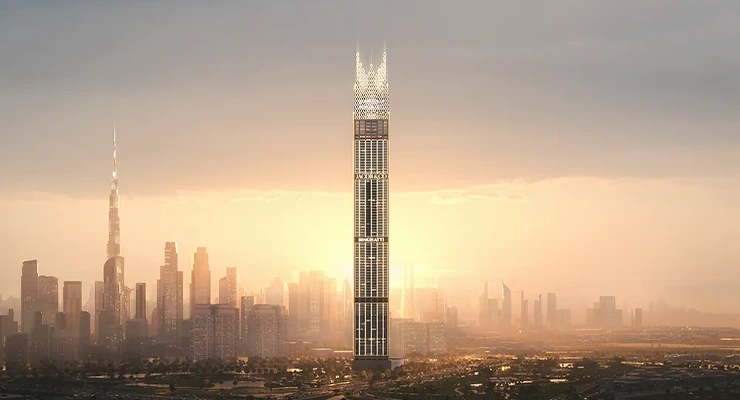 Binghatti Amber
Binghatti Amber in JVC Dubai stands as an exceptional residential venture meticulously crafted by the esteemed developer, Binghatti. Offering an array of apartment options with varying bedrooms, this development finds its home in the dynamic Jumeirah Village Circle (JVC), promising an unparalleled living experience.
Nestled in one of Dubai's most coveted locales, JVC, Binghatti Amber enjoys a prime location. Here, residents can relish a tranquil and family-friendly atmosphere while benefiting from easy access to major city landmarks and destinations. Its strategic positioning effortlessly connects residents to key areas like Downtown Dubai, Dubai Marina, and Dubai International Airport.
Binghatti Amber's design enjoys an unwavering commitment to detail, featuring a well-rounded selection of amenities for residents to indulge in. From cutting-edge fitness facilities to inviting swimming pools, meticulously landscaped gardens, and leisure spaces, every facet is thoughtfully curated to ensure a comfortable and luxurious lifestyle.
Get the best deals on apartments for sale in Binghatti Amber Project.
Binghatti House
Binghatti House at JVC is a brand-new high-rise development by Binghatti Developers. This luxury-class tower offers a variety of studio, 1-bedroom, and 2-bedroom apartments, exuding elegance and exclusivity. Notably, it features contemporary workspaces alongside its residential floors and retail areas.
Binghatti House apartments redefine modern living, striking a perfect balance between sophistication, comfort, and convenience. Its strategic location ensures easy access to all of Dubai's key destinations.
It has an exceptional array of amenities, catering to residents' every need for a happy and comfortable lifestyle. It is a spot where you can stay active and maintain a healthy lifestyle in the state-of-the-art fitness centre, unwind by the refreshing swimming pool, or take strolls through beautiful gardens. Not to mention, dedicated parking spaces and a welcoming foyer exuding sophistication and elegance further enhance the Binghatti House Dubai experience.
As you step inside the Binghatti apartments, you'll immerse yourself in a world of refined elegance, where interiors are meticulously designed to seamlessly blend aesthetics and functionality. High-quality finishes, top-tier fixtures, and spacious layouts combine to create an ambience of pure luxury.
Check out our offers for Apartments in Binghatti House in Dubai.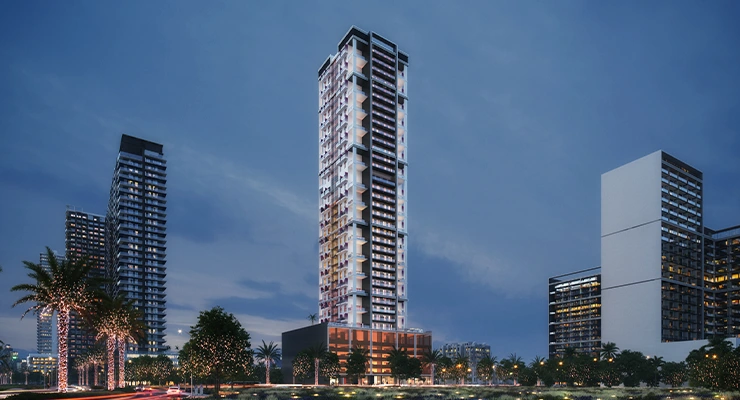 Binghatti Venus
Binghatti Venus, situated in Dubai's Jumeirah Village Circle (JVC), introduces a fresh destination featuring a select assortment of one and two-bedroom apartments, meticulously crafted by Binghatti Developers. This striking 28-story high-rise structure includes a ground level and four podium levels, providing residents with access to a plethora of recreational amenities and attractions, ensuring an exceptional lifestyle experience.
Jumeirah Village Circle (JVC), renowned for its world-class attractions and abundant leisure offerings, offers residents and visitors an idyllic and tranquil lifestyle. This exceptional location provides convenient and hassle-free access to key destinations, complemented by a vibrant array of contemporary lifestyle amenities, fostering both enjoyment and rejuvenation.
Distinguished by its developer's signature colour palette, the facade of this development serves as a distinctive hallmark, epitomizing modernity and luxury. Drawing inspiration from its unique design principles, the architectural splendour of the facade soars to new heights, featuring elevated features and contemporary design elements. Buy an apartment in Binghatti Venus project and embark on an opulent lifestyle within this serene community.
Binghatti Onyx
Binghatti Onyx is an exceptional premium development featuring spacious 1 and 2-bedroom apartments crafted by Binghatti Developers. This distinctive living experience grants you exclusive access to the most sought-after shopping and dining destinations. These impeccably designed apartments set the standard for luxury living, ensuring your loved ones enjoy the highest quality of life.
Immerse yourself in the epitome of elegance, where top-tier amenities, intelligent features, captivating interiors, and tasteful design converge. Live the essence of a true lifestyle within a world-class community by securing your dream home in this delightful haven. This remarkable locale offers a diverse array of services for its residents, with a variety of retail stores, boutiques, restaurants, cafes, resorts, parks, and other essential establishments conveniently nearby. All of this unfolds to present you with the most ideal way of life, characterized by exceptional comfort and convenience.
Binghatti Crescent
Binghatti Crescent, situated in the heart of JVC, Dubai, represents a cutting-edge residential project by the esteemed Binghatti Developers. It offers a range of luxurious 1, 2, and 3-bedroom apartments. This distinctive development showcases the developer's signature colour palette and features a low-rise, 5-story facade combined with retail spaces and services. Here, residents have the privilege of exploring leisure and attractions right at their doorstep.
Step into a realm of innovation and opulence when you make Binghatti Crescent your home. Your life here will evolve into its finest iteration, with hassle-free entertainment and enhancement opportunities. These magnificent homes boast epic designs crafted by top-tier designers and decor that exudes refinement and craftsmanship.
A unique feature of this development is its artistically designed balconies, seamlessly woven into the architectural style of each home, creating a dynamic contrast with the serene surroundings. For those seeking to reside in Dubai, this is an extraordinary opportunity. Seize this chance to secure your place in one of Dubai's most esteemed and admired communities, Jumeirah Village Circle.
These apartments have been meticulously crafted by dedicated individuals who poured their passion into creating dream homes for their owners. They provide a comprehensive array of amenities and services, ensuring that residents have absolutely nothing to complain about. The awe-inspiring designs draw inspiration from Middle Eastern art and architecture, adding to the grandeur of the lifestyle on offer.
Experience a life of pure luxury, complete with remarkable amenities for you to explore and relish. Take advantage of the straightforward payment plans to reserve your dream home here and spend the rest of your life with boundless love and passion.
Binghatti Gems
Binghatti Gems, developed by the renowned Binghatti Developers in JVC Dubai, introduces 1 and 2-bedroom apartments with luxurious amenities, offering a comfortable lifestyle. Given the developer's track record of high-demand projects, this latest collection proudly presents the most extensive facilities in the area.
Situated in the heart of Jumeirah Village Circle, Dubai, this development provides residents with seamless access to key landmarks and points of interest. Embrace living in this timeless architectural marvel, located near a well-known neighbourhood, providing a plethora of leisure and entertainment options.
Residents of this project enjoy convenient proximity to various prominent destinations, including Dubai Sports City, Dubai Marina, Dubai International Stadium, Al Barsha South, Dubai Autodrome, Jebel Ali Racecourse, and more.
Experience an extraordinary lifestyle in JVC that focuses on leisure and entertainment while ensuring effortless connectivity to business districts and professional areas. Additionally, the project offers an array of local amenities, including the expansive shopping experience at Al Khail Avenue and The Circle Mall, allowing you to explore top-tier shopping, dining, and hospitality.
Awards and Recognition
Binghatti Developers emerged victorious in three categories during the 2019 Gulf Real Estate Awards, a highly esteemed event integral to the regional real estate calendar. These awards shine a spotlight on the real estate industry's finest, serving as a symbol of excellence and distinction, acknowledged by both clients and peers. Attracting nominations from across the Gulf region and featuring participation from prominent players in the real estate market, these awards stand as some of the most prestigious accolades within the industry.
Binghatti Developers' exceptional projects, including Millennium Binghatti Residences, Binghatti Stars, and Binghatti Diamonds, set the company apart from its competitors in the region's bustling real estate market.
The Gulf Real Estate Awards, widely regarded as the region's most prestigious honours, commend and reward excellence within the regional real estate landscape. These awards are designed to bolster organizations and businesses by facilitating the exchange of best practices and advocating for ongoing improvement, learning, and corporate development. The winners of the Gulf Real Estate Awards were announced during a ceremony held at the Ritz-Carlton DIFC on March 27, 2019, featuring live, transparent judging and providing benchmarked feedback reports to all finalists. This event stands as a truly exceptional and unparalleled gathering in the Gulf region.
Book a Real Estate Tour to the Best Projects of Binghatti with Imtilak Global
Explore Binghatti's premier real estate projects with Imtilak Global by booking a captivating real estate tour. Immerse yourself in the luxurious and innovative developments crafted by Binghatti Developers, including their flagship properties like Millennium Binghatti Residences, Binghatti Stars, and Binghatti Diamonds. Witness excellence in architectural design and prime locations.
Imtilak Global ensures an informative and hassle-free tour, guiding you through the best of Binghatti's portfolio. Don't miss this opportunity to discover your dream property. Book your real estate tour now with Imtilak Global for an unforgettable experience in the world of real estate excellence.
Wasl Properties Company Profile
Since its inception, Wasl Properties has developed several residential and commercial projects in Dubai. This article is...