All You Need to Know About Bluewaters Island
Bluewaters island is one of the best areas in Dubai to live, buy property, and invest. In this article everything you need to know about bluewaters island in Dubai. All You Need to Know About Bluewaters Island
A man-made island in Dubai called Bluewaters Island provides a distinctive fusion of contemporary living, entertainment, and leisure. The Ain Dubai, the biggest observation wheel in the world, as well as a range of living, shopping, dining, and hospitality possibilities, are located there. We will offer you a summary of all you need to know about Bluewaters Island Dubai in this post.
Bluewaters Island Overview
Location
Off the coast of Jumeirah Beach Residence (JBR), Bluewaters Island is connected to the mainland by a pedestrian bridge that is close to The Beach at JBR. Southwest of Dubai Marina, it is situated on the Arabian Gulf shore.
Infrastructure
Off the coast of Dubai, there is a contemporary and energetic development called Bluewaters Island. Bluewaters which is renowned for its opulent facilities and spectacular architecture provides a top-notch infrastructure to meet the demands of locals, visitors, and enterprises alike.
At The Wharf Station, the first structure on Blue Water Island, GRT will initially link to a transportation hub. Additionally, all of the cabs and buses will come here first before connecting right away to a tunnel that leads to the basement. Private cars can also access the retail and hospitality complexes, residential structures, and subterranean parking areas.
Schools and Universities
It is advised to look into and tour nearby schools when thinking about where to send your kids to school in order to choose the one that best suits their needs. In Dubai, students have access to a wide range of educational opportunities, including foreign schools, multilingual institutions, and schools that follow multiple curricula, including British, American, IB (foreign Baccalaureate), local UAE curricula, and others.
Bluewaters is mostly a vacation spot and a place to stay local. For those who want to make the most of beach life, it also has residential components. There are currently no schools on Bluewaters Island, however, one may attend The American School of Dubai (ASD), which offers a US curriculum, at Al Barsha 1. It takes 17 minutes to get there. Arcadia School on Orchid Street in District 9 is an additional choice. It adheres to the English National Curriculum.
Learn more about The Best Areas To Live In Dubai.
Shopping Places
Dubai's Bluewaters Island is a bustling area with a range of retail opportunities for locals and tourists. A great shopping experience is guaranteed by the island's carefully chosen collection of shopping centers, boutiques, and landmark stores.
One of Dubai's best retail centers, Dubai Marina Mall, is reachable via Sheikh Zayed Road in 11 minutes. It is a comprehensive retail and dining area with both kid- and adult-friendly entertainment options. Some of the most well-known brand shops at Dubai Marina Mall are CK, H&M, and Tommy Hilfiger.
Entertainment venues
Bluewaters is close to several recreational spots on Palm Jumeirah, the biggest artificial island and a popular travel destination. One may travel from Blue Water Island to Palm Jumeirah in about ten minutes, where they can enjoy the family-friendly attractions including Aquaventure Water Park and The Atlantis, The Palm.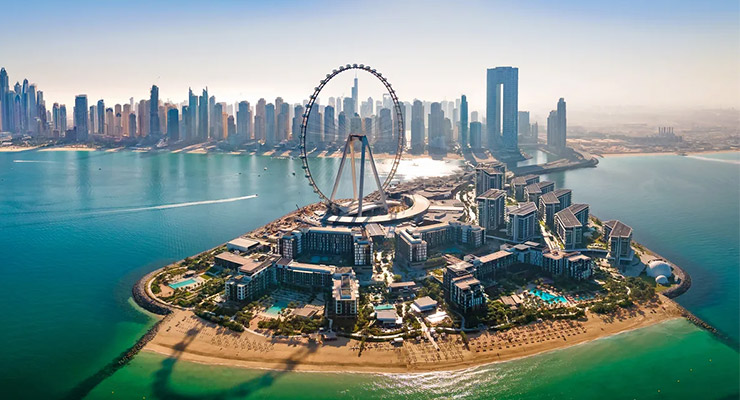 Advantages of Living in Bluewaters Island in Dubai
Off the coast of Dubai, Bluewaters Island is situated in a desirable area. It provides easy access to well-known locations including Palm Jumeirah, Dubai Marina, and Jumeirah Beach Residence (JBR). Residents have quick access to thriving hubs for dining, entertainment, and shopping.
Bluewaters Island has excellent access to Dubai's mainland and neighboring regions. It is easily accessible by automobile or taxi thanks to a dedicated bridge that connects to Sheikh Zayed Road. The island is also connected to the Dubai Metro via a monorail system, allowing for easy access to the city's public transit system.
Luxurious waterfront properties
Apartments, penthouses, and villas are among the opulent waterfront residences available on Bluewaters Island. Beautiful views of the Arabian Gulf, the Dubai Marina skyline, and Ain Dubai can be had from these houses. The homes offer an opulent and cozy living environment thanks to their contemporary interior design and modern conveniences.
A range of recreational amenities are accessible to residents of Bluewaters Island. The island has beautiful beaches where visitors may unwind and engage in water sports. Additionally, there are sports facilities, fitness centers, and swimming pools, enabling locals to enjoy active lifestyles.
Is Bluewaters Island a Good Choice for Buying a Property?
In its position as an urban entryway, Bluewaters Island provides a distinctive living environment. It conveys an air of exclusivity and elegance because of its prominent position just off the coast of Dubai. By mixing features of residential, retail, leisure, and entertainment, the island is intended to create a dynamic and lively community. Property purchasers find it to be a desirable location because of the distinctive atmosphere and thoroughly thought-out infrastructure.
The biggest and highest observation wheel in the world, Ain Dubai, is one of Bluewaters Island's most notable features. Ain Dubai is a well-known landmark that provides stunning panoramas over the Arabian Gulf and Dubai's skyscrapers. Living close to this remarkable destination adds value and improves the quality of life for locals.
Madame Tussauds, a renowned wax museum with lifelike celebrity figures, is also located on Bluewaters Island. Residents and guests may connect with their favorite idols and take part in an immersive entertainment experience at this well-liked attraction. Being close to such a destination enhances the island's distinctive way of life and entertainment choices.
The Advantages of Real Estate Investment in Bluewaters Island
Dubai's economy is strong and stable, luring investors from all over the world. The city's stability is aided by its advantageous position, welcoming climate for business, and varied economy. Due to Dubai's robust economy, Bluewaters Island offers a safe environment for investing.
With no personal income tax, capital gains tax, or property tax on residential buildings, Dubai's tax regime is beneficial to investors. For people and companies looking for tax benefits, Bluewaters Island is a desirable investment choice due to its advantageous tax climate.
High standard of living and safety
The excellent level of life and safety in Dubai is well-known. As a top residential location, Bluewaters Island provides a magnificent lifestyle with top-notch facilities, waterfront vistas, and a peaceful atmosphere. The island's occupants' safety and well-being are guaranteed by strict security measures.
High return on investment
High profits on real estate investments are possible on Bluewaters Island. Property values on the island have the potential to rise because of its prime location, distinctive attractions, and posh homes. The island's appeal to visitors and locals alike might also lead to lucrative rental income opportunities.
Low real estate acquisition costs
Dubai's real estate acquisition expenses may be reasonable when compared to those in other major cities. Apartments, penthouses, and villas are just a few of the real estate choices available on Bluewaters Island. These properties are suitable for a variety of price points. For real estate investors, it presents an alluring opportunity because of the comparatively modest purchase prices and potential for capital growth.
Learn more about the Best Area To Buy Villa In Dubai.
Investment Opportunities in Bluewaters Island by Imtilak Global Real Estate
Imtilak Global Real Estate can help you find the best properties and deals on Bluewaters Island and provide you with professional and legal services. Don't miss this opportunity to own a piece of paradise in Dubai. Contact Imtilak Global Real Estate today and invest in your future.
Edited by Imtilak Global ©
Do you like this topic? You can share it with your friends now!