How to buy property in Dubai from Australia?
Australians can buy real estate in Dubai in certain areas and with certain conditions. In this article, we highlight the conditions for buying a property in Dubai for foreigners. How to buy property in Dubai from Australia?
Can Australians Buy a Property in Dubai?
Yes, you can buy real estate in Dubai, United Arab Emirates (UAE), if you're an Australian. The real estate market in Dubai is well-known for drawing buyers and investors from all over the world, including Australia. The UAE government has put in place a number of laws and policies to promote foreign investment in the real estate industry.
Types of Properties that Australians Can Own in Dubai
In Dubai, there are three basic types of property that foreigners can purchase, and each one generally corresponds to a particular kind of plot of land or house.
Foreign investors frequently opt for freehold property in Dubai since it is generally seen to be the most desired. Freehold homes are fully yours; you are free to sell, rent out, or leave them to heirs as you see fit. Although pre-fabricated dwellings are frequently purchased under a freehold form, the freehold property type is more frequently linked with undeveloped land parcels than with residences or apartments.
Find out How to Buy a Real Estate Apartment in Dubai From Canada.
With the exception of destroying it, you are free to do whatever you wish with a usufruct property. Depending on your discussions and if you are purchasing residential or commercial property in Dubai, these leases might last anywhere between 10 and 100 years.
Similar to owning a freehold property, owning a commonhold property provides you the freedom to purchase, sell, rent, or pass the property on through inheritance. Commonhold properties, on the other hand, are often apartments and require owners to pay maintenance fees for the structure and its common facilities, which are frequently held by the developer.
Learn more about How Foreigner Can Buy a Property in Dubai.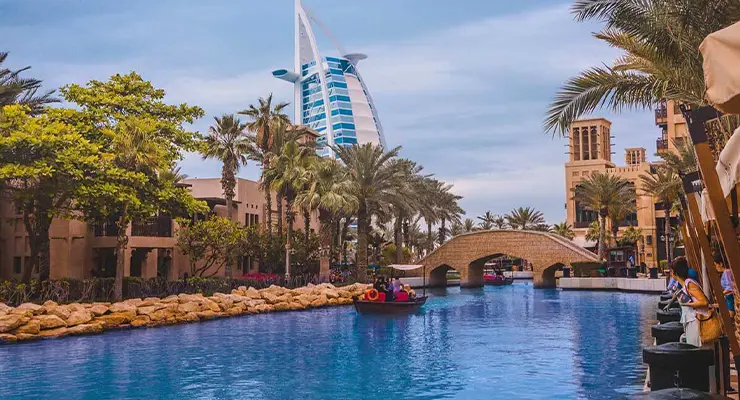 The Best Areas of Dubai to Buy a Property
Business Bay
Business Bay is a bustling neighborhood that combines business and residential development in the center of Dubai. It is a well-liked option for professionals and investors since it provides a variety of luxury residences, office spaces, and retail establishments.
Emirates Hills
Luxury homes and mansions are located in this gated enclave, which is situated around the Montgomerie Golf Course. It is renowned for its seclusion, verdant setting, and upscale facilities.
Arabian Ranches
Arabian Ranches is a family-friendly neighborhood distant from the city center that is renowned for its roomy villas, green areas, and first-rate amenities. It provides a calm setting, golf courses, riding stables, and a community center.
Jumeirah Beach Residence (JBR)
JBR is a well-liked waterfront neighborhood distinguished by its beachfront residences, promenade, and lively ambiance. It provides a large selection of eateries and retail alternatives, among other leisure and entertainment opportunities.
Dubai Marina
Dubai Marina, which is located along the waterfront, is well-known for its breathtaking vistas, opulent high-rise residences, and buzzing environment. It gives quick access to the beach, a bustling marina promenade, and waterfront eating.
Downtown Dubai
Downtown Dubai is a bustling and wealthy neighborhood that is known for having famous attractions like the Burj Khalifa and Dubai Mall. With upscale residences and services, it provides a variety of living, working, and leisure alternatives.
How to Buy a Property in Dubai from Australia?
Purchasing a house is a very simple procedure. A resident visa is not necessary; all that is required is for the foreign buyer to have a current passport. In order to discover the ideal home and finish the appropriate paperwork, the buyer can engage with regional real estate brokers in Dubai or directly with the developer. Here are the main procedures to help you through the process if you're an Australian citizen interested in purchasing property in Dubai:
Start by doing extensive research on the real estate industry, home pricing, and legal prerequisites in Dubai. Set a budget and, if necessary, look into funding possibilities. It's critical to comprehend all associated expenditures, including the cost of the property, registration fees, agent fees, and any other charges.
Find a reliable property consultant or real estate agent who focuses on the Dubai real estate market. They can help you identify appropriate houses, set up viewings, and direct you through the purchasing process.
To narrow down the houses that fit your criteria, work closely with your real estate agent. Plan a trip to Dubai if you can so you can see the properties in person. Alternatives include virtual tours and comprehensive information about the homes from your agent.
What Should You Do If Things Go Wrong?
Many issues start when purchasers or renters fail to read their contracts carefully or seek legal counsel. Make careful to consult a local attorney while seeking legal counsel.
You can think about contacting RERA if you feel you have been treated unfairly or that your developer or landlord has behaved improperly since they will be able to review your contract and provide you with personalized advice. If you decide to lodge a complaint against your developer or landlord, you must be as specific (and offer supporting documentation) as you can. You should be aware that this may occasionally be a drawn-out process and that cases may not be resolved for many months or even years.
How Imtilak Global Helps Australians to Buy Property in Dubai?
If you are a foreigner living in Dubai or living in your own country, Imtilak Global is ready to help you explore the real estate market in Dubai, find a beautiful home, and close a deal at an affordable price. Our expert team is happy to give you detailed information about the available offers and opportunities, contact us today and win your dream home to live in the vibrant city of Dubai.
Edited by Imtilak Global ©
Do you like this topic? You can share it with your friends now!
Select Group Company Profile
Detailed information about Select Group for real estate development in Dubai, in which we mention the most important pro...
Tiger Group Company Profile
Through a group of distinguished projects, Tiger Group was able to make a name for itself among the real estate developm...