Guide to Buying Off-Plan Property in Dubai
Some real estate investors in Dubai prefer to buy off-plan property at cheaper rates. In this article, we explain the process of buying an off-plan property in Dubai. Guide to Buying Off-Plan Property in Dubai
What is the Meaning of an Off-plan Property?
A real estate property that is being sold off-plan is one that has not yet been physically built or finished. In other words, it is a property that is either unfinished or in the process of being built, and prospective purchasers have the chance to acquire it at a very early stage of development.
Off-Plan Property Benefits
In comparison to completed houses in the same neighborhood, off-plan properties are sometimes offered at a discount. In order to get consumers to commit early in the development process, developers offer appealing pricing in Dubai.
During the development phase, the value of the off-plan property may rise if the real estate market is experiencing growth. When the buyer decides to sell the home once construction is complete, the potential capital growth might result in a profit for them.
The benefit of choosing from a variety of available units within the development is frequently provided to buyers of off-plan residences projects. Additionally, they might be able to modify the layout or add or remove fixtures, finishes, or other features to the house.
Off-plan homes typically use the newest design ideas and building techniques, giving purchasers the possibility to own a home that is both contemporary and up-to-date.
Off-Plan Property Problems
The potential for building delays is one of the biggest hazards. The property may be finished later than anticipated due to factors like severe weather, labor shortages, finance constraints, or unforeseen complications.
During the course of development, developers may change the initial designs and specifications. These modifications might not suit the customer's tastes or expectations, and they might not be entirely under their control.
When thinking about buying off the plan, the developer's reputation and track record are essential. Some developers could have money problems, legal problems, or deliver products of low quality, leaving purchasers with incomplete or subparly built properties.
Check out our complete guide to
expeccted risk of buying properties and how to deal with it
.
Costs of Buying Off-Plan Property in Dubai
There are a number of prices and levies that purchasers should take into account when purchasing an off-plan home in Dubai. Depending on the developer, the region, and the particular project, these expenses may change.
There are some costs involved with purchasing an off-plan house in Dubai, just as when purchasing a ready property. All of the major fixed expenses are included in the table below.
Amount               Description                                      Payable To
4%                       Property Registration Fee              Dubai Land Department
AED 3,000            Oqood Registration                       Dubai Land Department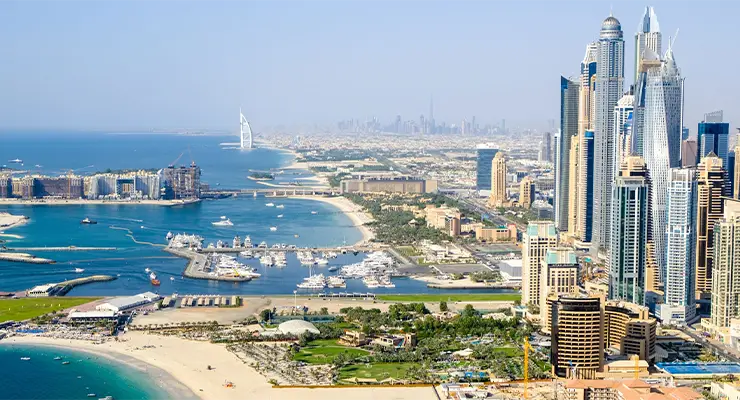 Buying Off-Plan Property in Dubai Process (Step-By-Step)
Decide What You Are Looking for
Choose your development's location, chosen price, property type (apartment, villa, etc.), and any special features or facilities you want. You can reduce your selections by having a clear understanding of your needs.
Learn more about the different qualities and characteristics of Properties for sale in Dubai.
Register with a Trusted and Experienced Real Estate Agent
Hire a trustworthy real estate agent in Dubai or firm that specializes in off-plan properties. They can notify you about projects that meet the requirements that are currently available and assist you in the purchasing process.
Finding the Right Property
In line with your choices, your real estate agent will show you a variety of off-plan developments. Visit the development's sales office or showrooms to learn more about the construction, its surroundings, amenities, and possible future worth.
Booking the Off-Plan Property
After choosing a property, you must reserve it by making a deposit or initial reservation fee. With the payment, the apartment will be secured and removed from the market while the required documentation is being produced.
Making the Payments
Following the first booking, you will be needed to pay further amounts in accordance with the payment schedule that was established. The purchase agreement specifies how the payments will be made, usually over the course of the building period.
Related: Buy A Property In Dubai In Installments.
Signing the Sales and Purchase Agreement
You must execute the sales and purchase agreement with the developer prior to making any payments. The terms and conditions of the purchase, including the payment plan, completion date, and other significant information, are set out in this legally binding contract. It is crucial to carefully examine this agreement and, if necessary, obtain legal counsel.
Inspection and Handover
The developer will let you know when important milestones, like the building's completion or the final touches, are reached as the project moves forward. You will have the chance to view the property after it is almost finished to make sure it complies with the agreed-upon requirements. The property will be given to you after a positive inspection, at which point the last payment is payable.
Read more about the step-by-step guide to buying property in Dubai.
Book a Free Consultation with Imtilak Global
The real estate market is sometimes complicated for individuals looking for a home, so it is recommended to work with a real estate partner who takes all the hard work and makes the process easier and faster. Imtilak Global is one of the best companies to handle your process of buying a property in Dubai. Before you decide to buy your apartment, contact us today and get all your questions answered by our team of experts.
Edited by Imtilak Global ©
Do you like this topic? You can share it with your friends now!
Select Group Company Profile
Detailed information about Select Group for real estate development in Dubai, in which we mention the most important pro...