Expats' complete guide to buying a property in Dubai
Expats can buy properties in Dubai in certain areas and with certain conditions, which we will learn about in detail in this article. Read more. Can Expats Buy Property in Dubai?
Yes, foreigners who are not citizens of the UAE can purchase real estate in Dubai. In 2002, the Dubai government passed legislation allowing foreigners to acquire freehold property in certain locations. The title deed to the property may be owned by non-UAE nationals in certain "freehold areas" or "freehold zones," which gives them complete ownership rights.
Conditions for Buying a Property in Dubai for Expats
Areas that have been given the freehold designation are eligible for foreign property ownership in Dubai. This entails that international purchasers and expatriates (those who do not reside in the UAE) may purchase freehold ownership rights without leasehold rights, access rights, or limitations for up to 99 years.
Here are the key conditions for expats buying a property in Dubai:
In Dubai's designated freehold neighborhoods, foreigners are permitted to acquire real estate. In some zones known as freehold regions, non-UAE nationals have the legal right to possess a piece of property indefinitely. These locations are frequently found in bustling cities and in high-demand regions.
Developers will sell off-plan (i.e., still under construction or unfinished) properties to foreign nationals. There are a number of off-plan projects developments in Dubai that may be bought, each with a different payment method.
For foreigners to purchase residential homes in Dubai, there is no minimum property value requirement. For specific projects, some developers may have their own minimum investment requirements.
In order to fund their home purchase, expats can also apply for mortgages from banks operating in the UAE. Depending on the bank's rules and the individual's financial status, mortgage eligibility and terms may change.
Learn more in our complete guide to the terms and conditions of foreign investment in Dubai. 
Areas of Dubai in Which Expats Can Own Property
Non-UAE citizens are permitted to buy and own houses in certain localities. Some of the popular neighborhoods in Dubai where foreigners can own property include:
Dubai Marina
Palm Jumeirah
Jumeirah Lakes Towers (JLT)
Emirates Hills
Jumeirah Beach Residence (JBR)
Jumeirah Village Circle (JVC)
Arabian Ranches
Types of Properties in Dubai
Dubai has a wide variety of homes to suit different lifestyles and tastes. Dubai has a variety of common property kinds, such as:
Apartments
Villas
Townhouses
Penthouses
Hotel Apartments
Off-Plan Properties
Commercial Properties
Land Plots
Iearn more about
the different types and specifications of the properties in Dubai
.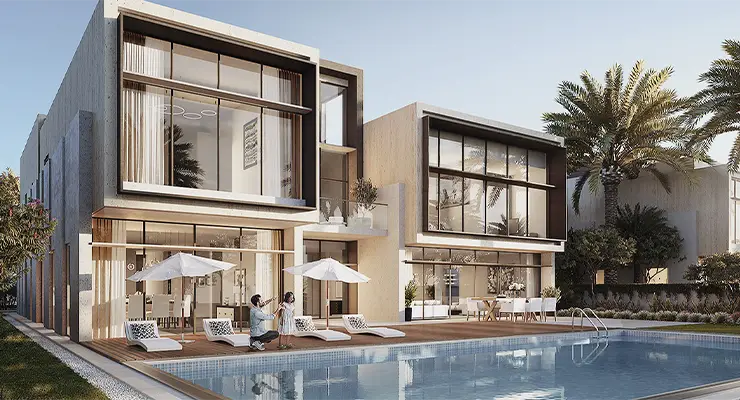 Steps to Buy a Property in Dubai for Expats
To guarantee a smooth and successful transaction, there are numerous measures that expats must take when purchasing real estate in Dubai. The general stages of buying real estate to help you through the procedure are as follows:
Study the Dubai real estate market to learn about different property kinds, neighborhoods, and pricing patterns.
Decide on your spending plan and financing choices, such as cash payments or mortgages.
If you want to use a mortgage to pay for your purchase, get pre-approval from a bank having a location in the UAE.
Hire a trustworthy real estate agent that understands the laws and guidelines for foreign purchasers and specializes in the Dubai real estate market.
Find properties that fit your requirements, preferences, and spending limit by working with your real estate agent.
Visit potential properties and evaluate their suitability in light of their location, features, size, and other aspects.
Once you've chosen a property, do your homework to make sure it's unencumbered by any debts or obligations.
Examine the title document, the history of the property, and any contracts or tenancy agreements that are in place.
Reach a mutually agreeable price for the acquisition by negotiating with the seller or developer.
Consider things like market circumstances and property conditions as you prepare for talks.
As specified in the SPA, pay the first deposit. It usually amounts to 10% of the cost of the property.
To proceed with an off-plan property sale, the developer must first get a No Objection Certificate (NOC) from the Dubai Land Department.
Complete the final payment in accordance with the predetermined payment plan.
Costs Associated with Purchasing a Property in Dubai for Expats
Fees for NOC: These typically vary from 500 to 5000 AED. Direct payment to the developer of real estate is an option.
Almost 4% of the property's total purchase price may be paid to DLD as registration fees.
Nearly 2% of the buying price of the home goes toward the real estate agent's commission.
Factors to consider before buying a property in Dubai for Expats
The property's location is significant since it affects how easily it can be reached by facilities, schools, transit, and general lifestyle. Take into account the distance from your place of employment, kids' schools, hospitals, and entertainment venues.
Research and Analyze Market Stats
Conduct a thorough analysis of the Dubai real estate market, taking into account past pricing patterns, supply and demand dynamics, and market forecasts. You can make wise selections if you are aware of the market circumstances.
Find out if the property has a freehold or a lease. While leasehold properties have a set lease duration after which ownership reverts to the proprietor, freehold properties provide foreigners with complete ownership rights.
Make sure the property you are interested in is within your means by evaluating your budget. Take into account not only the purchase price of the property but also additional charges like registration fees, agency fees, and upkeep costs. 
Check out our guide to learn about the differernt fees invoved in buying property in Dubai. 
Consider the property's prospective rental income if you're thinking about investing in it. Rental yields, which represent the return on investment from rental revenue, may show how profitable a property is.
For you to acquire real estate in particular developments, some developers can ask that you have a valid UAE residency visa. Check whether the property you are interested in requires a visa.
Purchasing a Property in Dubai by Imtilak Global
Buying a property as an expat is somewhat difficult in Dubai. The process requires a deep understanding of the law and its implications for the type of property you may own, and thus influence your decision. Therefore, buying through a real estate agent is very advised to get the best deals. Imtilak Global is helping foreigners from around the world to own properties in Dubai. Contact us now and get your questions answered.
Edited by Imtilak Global ©
Do you like this topic? You can share it with your friends now!
Wasl Properties Company Profile
Since its inception, Wasl Properties has developed several residential and commercial projects in Dubai. This article is...