Insights into Dubai's Booming Real Estate Market
Discover the latest trends and opportunities in Dubai's real estate market. Our guide provides valuable insights for investors looking to invest in this market. 2023-03-23
Last update
2023-04-26
Insights into Dubai's Booming Real Estate Market
Dubai's real estate market is known for being one of the most dynamic and competitive markets in the world. The city has experienced a rapid transformation over the past few decades, with an abundance of development projects, including residential, commercial, and mixed-use properties. Dubai's strategic location, tax-free environment, and diverse population have all contributed to the growth of its real estate market.
Additionally, its infrastructure, including modern transportation network and state-of-the-art facilities, has helped to attract both investors and residents from all over the world. Despite experiencing some fluctuations in recent years, The real estate market remains a popular destination for buyers and investors looking to invest in a vibrant and growing market. In this article, we'll explore the outlook for the Dubai real estate market.
Dubai Real Estate Market Historical Overview
In 2002, when HRH Sheikh UAE Vice President, Prime Minister, and ruler of Dubai, proclaimed freehold rights for non-residents to acquire property, the real estate market in Dubai officially began. The real estate industry saw significant private investor investment, and as a result, the palms, Jumeirah, spring, etc., were developed.
Major banks collapsed worldwide in 2009, resulting in billions of dollars in damages across various industries. Sadly, by 2010, this had a negative impact on Dubai's real estate market, with prices for villas or townhouses falling 8% in a year and those for apartments falling 49%.
What Is the Size of the Dubai Real Estate Market?
According to a recent real estate agency report, the Dubai real estate market has been seeing growth over the past several months, with sales recording a 61 percent increase since 2021 and surpassing AED240 billion in 2022.
Dubai Real Estate Market Total Sales in 2022
Strong sales activity in the Dubai real estate market was seen last year as a result of increased demand for off-plan properties. According to a note published by Emirates NBD Research, sales transactions increased by 61.5% in 2022 to 97,448 while the total value increased by 78.1% to AED265.51 billion.
Dubai Property Sales to Foreigners in 2022
In 2022, the real estate market witnessed an increase in foreign investments, sparking ongoing discussions about the causes of this growth, one of which was the global currency fluctuations, particularly the US dollar, and the resulting effects.
Dubai continues to draw in foreign real estate investors as a result of its very diverse and stable economy, which generates income through trade and tourism. As a result, the number of foreign investors in Dubai's real estate market has significantly increased in 2022, with foreign investors making up 68% of all buyers in sales, an increase of 10% from the previous year.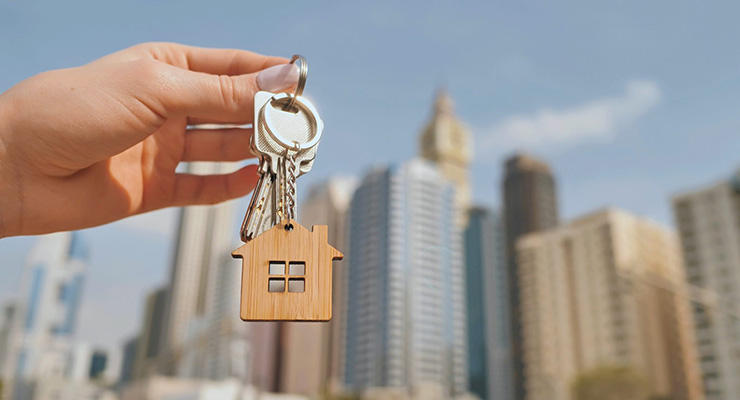 Top Reasons that Attract Foreigners to Invest in Dubai Real Estate Market
Higher annual rental yields: An average yearly return on Dubai real estate is 5.19%, according to research by the real estate investment consultancy firm Global Property Guide. Compared to the annual rental yields in New York (2.9%), London (2.7%), Singapore (2.5%), and Hong Kong (2.4%), this is much higher. The value of the real estate has increased since the Covid era, which gives property market far higher chances of even bigger returns.
Lower property prices per square meter: In comparison to other international cities, Dubai has far lower property prices per square meter. In comparison to Hong Kong ($28,570) and London ($26,262), the cost per square meter for a 120-square-meter flat in Dubai is US$5,918. Manhattan ($17,191) Geneva ($16,467) and Tel Aviv ($17,149) Berlin ($7,325), Tokyo ($16,322), and Paris ($15,867). In comparison to other international cities, Dubai has substantially lower housing costs.
Zero property tax: In Dubai, there is no tax on purchasing real estate or submitting income tax reports. According to the International Tax Competitiveness Index, the burden of the property tax rate is higher in several nations, like the UK (2.53%), France (1.70%), Greece (1.50%), Iceland (1.48%), and Italy (0.71%). (ITCI). Another aspect that makes Dubai a popular choice for foreign investors is the absence of property taxes.
Safety: Dubai is a prominent investment destination since the UAE is one of the safest places in the world. In comparison to Germany (ranked 26th), France (ranked 31st), Japan (ranked 33rd), the United States (ranked 36th), and the United Kingdom, the United Arab Emirates is the fourth-safest nation in the world, according to Gallup Law and Order Index 2020. (ranked 49th). UAE has been placed 10th internationally in terms of law and order in the 2019 Gallup Global Law and Order Index.
Residency visa: The UAE government has implemented new visa legislation tied to real estate investment that provides a speedy road to residency in an effort to make its real estate sector appealing to foreign investors (subject to certain conditions).
Dubai Real Estate Market Forecast 2023
Dubai, January 15 (Reuters) - According to one of the largest real estate consultants in the city, residential property prices in Dubai are predicted to expand more slowly in 2023 following a record year that witnessed a more than 60% increase in the total number of units sold.
Imtilak Global is Your Trusted Advisor in the Real Estate Market
Imtilak Global is a reputable real estate company that offers knowledgeable advice and direction to investors trying to understand the real estate market. To assist clients in finding the best investment opportunities, negotiating advantageous terms, and efficiently managing their assets, Imtilak Global provides a variety of services.
According to Richard Waind, global managing director of Betterhomes, prices are expected to rise by roughly 5% this year, slowing from an 11% growth in 2022, which itself was a slowdown from a 21% increase in 2021.
Economic activity in the UAE's real estate sector has remained stable, indicating that growth prospects for the following year are still favorable.
Edited by Imtilak Global ©
Do you like this topic? You can share it with your friends now!