Dubai South: Everything You Need to Know About Living and Investing
Dubai  South is a modern, urban area, and it is also ideal for living, investing, and buying property. Learn about it in terms of location, infrastructure, and real estate investment. 2023-05-22
Last update
2023-05-23
Dubai South: Everything You Need to Know About Living and Investing
Dubai South City or Dubai World Central, is situated in the southern region of Dubai, United Arab Emirates. It is regarded as one of the city's most inventive and ambitious projects and is intended to serve as a vital center for a number of industries, including aviation, logistics, trade, and residential living.
Dubai  South Overview
Location
Dubai South is often referred to as Dubai South City or Dubai World Central. It is located around 37 kilometers (23 miles) from Dubai's city center and covers a sizable area.
Infrastructure
In order to support its expansive goal, Dubai South, also known as Dubai South City or Dubai World Central, is a master-planned development that includes a variety of infrastructural components.
 With accessible access to many locations of Dubai and its surroundings, Dubai South benefits from a robust public transportation system. Here are some public transportation options near Dubai South:
Dubai Metro
Buses
Taxis
Dubai Tram
Schools and Universities
To meet the many requirements of its citizens, Dubai South provides a variety of educational institutions, including schools and universities. In and near Dubai South, a few renowned colleges and institutions are listed below:
Dove Green Private School
Greenfield Community School
Bright Riders School
Clinics and Hospitals
To meet the requirements of its citizens, Dubai South provides access to a range of healthcare services, including hospitals and clinics. The following hospitals and clinics are located in and near Dubai South. Such as:
Medcare Hospital - Dubai South
Al Maktoum Airport Clinic near Al Maktoum International Airport
Clinic Jafza
NMC Royal Hospital
Aster Clinic - Dubai South
Saudi German Hospital - Dubai
Shopping Places
To meet the demands of locals and tourists, Dubai South offers a variety of shopping areas. In spite of the development's ongoing expansion, the following Dubai South retail destinations are noteworthy:
Dubai South Mall
The Outlet Villag
Ibn Battuta Mall
Festival Plaza
Dragon Mart
Entertainment venues
To meet the leisure and entertainment demands of locals and visitors, Dubai South has a variety of entertainment venues and attractions. Listed below are some popular entertainment spots in and near Dubai South:
Dubai Parks and Resorts
Al Maktoum Stadium
The Els Club
Dubai South is also close to Dubai  Parks and Resorts which include Motiongate Dubai, Legoland, Bollywood Parks, and Riverland.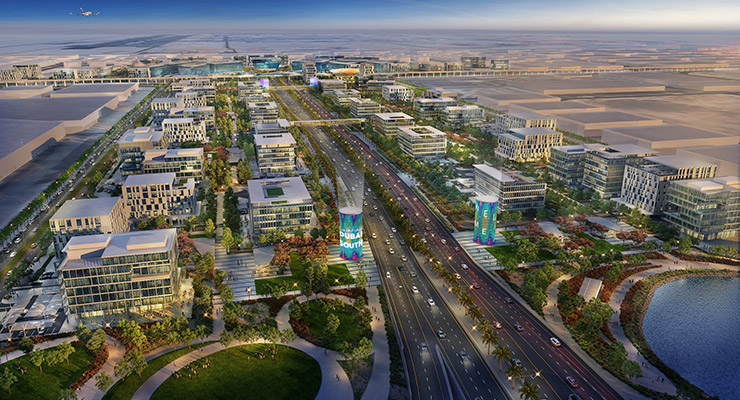 Advantages of Living in Dubai  South
Due to its distinctive characteristics and advantageous location, living in Dubai South has various benefits. The following are some of the main benefits of residing in Dubai South:
Site of Expo City Dubai
Growth Potential
Wide range of properties
Affordable prices
Excellent location
Is Dubai  South a Good Choice for Buying a Property?
Depending on your unique situation and investment objectives, Dubai South may be a wise alternative for purchasing a home. When assessing Dubai South as a potential location for real estate investment, keep the following things in mind:
A mixed-use development, Dubai South offers a variety of residential and commercial assets. Industry titans like Emaar Properties and MAG Lifestyle Development have expanded their property portfolio with an intriguing variety of flats, townhomes, and villas. The location of Expo 2020 has been turned into Expo City, carrying on its history.
Additionally, the community has been planned such that all districts may readily access shared resources including schools, hospitals, supermarkets, and restaurants. Not to add, your four-legged buddies may appreciate the many wide-open green places that are available.
Real Estate Investment in Dubai South
There are some factors that make real estate investment in Dubai South a desirable choice. When assessing real estate investment options in Dubai South, keep the following things in mind:
The neighborhood is planned to have a population of around 1 million people and to develop into a hub of business and technology that will provide more than 500,000 employment for the locals. This residential neighborhood will be elevated to a whole new level by Dubai World Al-Maktoum International, the upcoming biggest airport in the world.
The Dubai Airshow and World Expo 2020 will be held at this prestigious airport, promoting worldwide visibility and driving up demand for Dubai South apartments for sale. This region will develop into a key financial center for the world and Dubai's most significant economic platform. Great profits have been revealed by the predictions for both private and public stakeholders. Apartments at Dubai Investment Park (DIP) are a possibility if you're searching for houses in the area.
Real estate opportunities in Dubai  South by Imtilak Global Real Estate
Dubai  South is one of the largest and most innovative free zones, where there are many lucrative investment opportunities that attract investors. Imtilak Global Real Estate can help you find the best property for your needs. Imtilak Global also provides you with comprehensive services such as consulting, brokerage, legal advice, property management, after-sales services, and more.
Contact Imtilak Global Real Estate now and discover the real estate opportunities in Dubai  South.
Edited by Imtilak Global ©
Do you like this topic? You can share it with your friends now!