Jumeirah Lake Towers (JLT Dubai) Guide
Jumeirah Lakes Towers is one of the largest projects in Dubai and is currently among the best areas to live and buy a property. In this article, we will learn in detail about JLT Dubai. The tranquil and modest Jumeirah Lakes Towers (JLT) is a residential neighbourhood that centres around four lakes, one of which was later transformed into a 55,000-square-meter grassy park. Featuring clusters of sleek, contemporary skyscrapers, both residents and visitors warmly embrace its inviting atmosphere.
From sunrise to evening, you'll find young families, cyclists, joggers, and dog walkers enjoying the well-connected network of boardwalks and footbridges that run along the waterfront. These pathways are adorned with lakeside cafes, beauty salons, and various retail establishments. In response to the area's high livability, several hotels have sprung up, offering numerous vacation rentals and extended stay options.
During the pleasant winter months, the park hosts market days, community yoga sessions, and even open-air movie nights. Moreover, floodlit basketball courts enhance the active lifestyle atmosphere in the vicinity.
An Overview of Jumeirah Lake Towers
Location
Situated in the northern region of Dubai, Jumeirah Lakes Towers (JLT) is in close to several significant areas. To its west lies Dubai Marina, to the south you'll find Jumeirah Islands, while Al Barsha lies to the east, and to the north stands the Emirates Golf Club. This area is renowned for its striking collection of skyscrapers and artificial lakes, giving rise to a distinctive and contemporary residential and commercial district within Dubai.
Infrastructure
Jumeirah Lake Towers (JLT) is a well-developed and designed area with a robust infrastructure to support the needs of residents and businesses. Key elements of the infrastructure in JLT include:
Road Network: JLT features a network of well-maintained roads and streets with easy access to major highways, making commuting convenient for residents and businesses.
Public Transportation: The area is served by the Dubai Metro's Red Line, with two stations (DMCC Metro Station and JLT Metro Station), facilitating public transportation for residents and visitors.
Utilities: JLT has reliable utility services, including electricity, water, and sewage systems, ensuring uninterrupted supply for its residents and businesses.
Related: Best Areas to Invest in Dubai Real Estate.
Telecommunications: The area offers a comprehensive telecommunications network, providing high-speed internet and advanced infrastructure to cater to the connectivity needs of both businesses and residents.
Parking Facilities: JLT provides a variety of parking facilities, encompassing both open-air and underground options, to fulfil the parking needs of residents, visitors, and businesses alike.
Pedestrian Network: JLT offers a meticulously designed pedestrian network featuring walkways, footbridges, and beautifully landscaped areas along the waterfront. This creates a secure and enjoyable environment for individuals on foot.
Green Spaces: The neighbourhood features lush green areas, parks, and a large grass-lawned park created from one of the lakes, offering recreational spaces for residents to enjoy.
Retail and Commercial Spaces: JLT includes retail outlets, restaurants, cafes, and other commercial establishments within its towers, providing convenient access to daily necessities and dining options. Explore our guide to how to buy a commercial property in Dubai.
Security: The area enjoys robust security features such as surveillance cameras and gated communities, guaranteeing the safety of both residents and businesses.
Waste Management: Well-organized waste collection and disposal services have been implemented to uphold cleanliness and hygiene standards throughout the neighbourhood. 
Healthcare and Education: JLT is located close to healthcare facilities, schools, and educational institutions, offering essential services for residents and families.
Schools and Universities
Parents with young children who are of nursery age will discover a plethora of nurseries available in Jumeirah Lake Towers (JLT). Almost every other cluster in JLT boasts its own nursery facilities. These include two branches of Dewdrops Nursery, two Learning Ladders centres, Paddington Nursery, Kid Kare Nursery, Oakfield Early Learning Centre, and several others.
For families seeking primary and secondary education, Emirates International School is conveniently located just a short drive away in The Meadows. Additionally, the neighbouring area of Al Barsha is home to several prominent schools, including the highly esteemed Kings School Al Barsha and the American School of Dubai.
Check out our offers for top apartments for sale in Dubai.
For older students, JLT offers the advantage of higher education options. It is host to two universities: Modul University, which is affiliated with Austria and is situated in One Tower opposite Cluster G, and Synergy University, a Russian-based institution with a campus in Cluster I. Furthermore, Knowledge Park, located just opposite JLT, houses various universities offering diverse internationally accredited curricula, providing a wealth of choices for higher education seekers.
Shopping Places
Jumeirah Lakes Towers (JLT) in Dubai offers several shopping options for residents and visitors. Here are some of the shopping places you can explore in JLT:
JLT Cluster Shops: Each cluster within JLT typically has a small shopping area that includes convenience stores, supermarkets, pharmacies, and small boutiques. These shops cater to the daily needs of residents.
JLT Promenade: The JLT Promenade is a well-known destination for both shopping and dining lovers. Along the stunning waterfront, it offers a wide range of cafes, restaurants, and boutiques. Visitors can explore boutique clothing outlets, jewellery stores, and a host of other delightful shops.
Dubai Marina Mall: Although not directly in JLT, Dubai Marina Mall is a short drive or metro ride away. It offers a wide range of retail outlets, including fashion stores, electronics shops, and a supermarket. You can also enjoy dining options and a cinema here.
Related: Everything you need to know about Dubai Marina.
Ibn Battuta Mall: Another nearby mall, Ibn Battuta Mall, is known for its unique design inspired by the travels of Ibn Battuta. It houses numerous retail outlets, including fashion, electronics, and home decor stores.
JLT Retail Outlets: JLT also has retail outlets within some of its residential buildings. These shops often include small convenience stores, dry cleaners, salons, and cafes.
Street Markets and Retail Outlets: From time to time, Jumeirah Lakes Towers (JLT) organizes street markets and pop-up shops, particularly during special occasions and festivals. These markets showcase a diverse range of items, spanning from clothing to handcrafted goods
Although JLT may not boast expansive shopping malls as seen in some other parts of Dubai, it offers convenient solutions for everyday shopping requirements. Moreover, nearby larger malls are easily accessible for those seeking a more extensive shopping experience.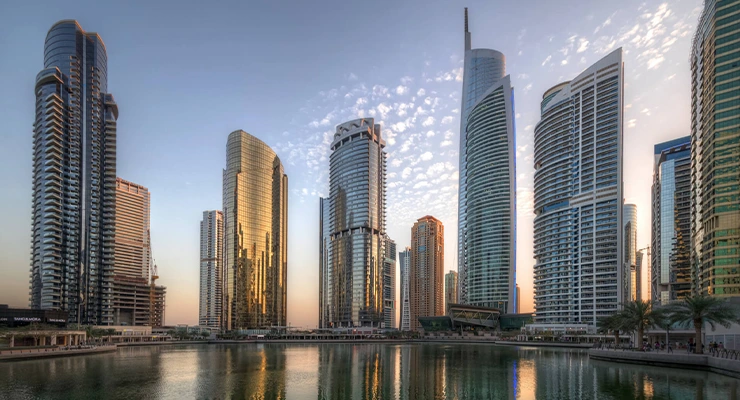 Entertainment Venues
In contrast to the bustling pace of Dubai Marina, residents of JLT experience a more tranquil and pedestrian-friendly lifestyle. JLT boasts the family-favourite JLT Park, complete with children's play areas and jogging tracks, making it a standout feature of living in the area.
In addition to fitness facilities within residential buildings, JLT offers a variety of workout options, including dance and yoga studios, as well as boxing clubs for those passionate about staying fit.
When it comes to beauty and self-care, JLT is abundant with spas and salons catering to both men and women, offering a wide range of options.
Advantages of Living in the Jumeirah Lake Towers Area
Urban Lifestyle: Jumeirah Lake Towers offers a vibrant urban lifestyle with a diverse range of dining, entertainment, and recreational options, making it an exciting place to live.
Freehold Zone: JLT stands as a freehold area, ensuring that its residents hold ownership rights, thereby offering long-term security and investment prospects.
Outstanding Facilities: This locale boasts an array of exceptional amenities, including meticulously maintained parks, fitness centres, and a diverse range of dining and shopping establishments, ensuring a convenient and enjoyable daily life.
Stunning Apartments with Waterfront Vistas: Numerous apartments within JLT feature mesmerizing waterfront views, allowing inhabitants to relish the tranquillity of the lakes and the breath-taking cityscape.
Related: What Are the Benefits of Living in Dubai?
Designed for Pedestrians: JLT has been meticulously designed with pedestrian-friendly pathways and walkways in mind, fostering a healthy and secure environment for strolling and jogging.
Welcoming to Pets: With pet-friendly areas and amenities such as JLT Park, this area is an excellent choice for pet owners, offering a hospitable environment for their companions.
Close to Dubai's Prominent Business Hubs: Thanks to its strategic location, JLT offers convenient access to Dubai's major business centres, making it an ideal choice for professionals employed in the city.
Is JLT Dubai a Good Choice for Buying Property?
JLT is a smart choice for property investment, here is why:
Strategic Location: Jumeirah Lake Towers (JLT) boasts a strategic location in Dubai, offering easy access to key business districts, educational institutions, and major transportation hubs. This prime location enhances the area's appeal to both residents and investors.
Quality Infrastructure: JLT is known for its well-planned and modern infrastructure, including well-maintained roads, public spaces, and utilities. This commitment to quality infrastructure ensures a comfortable and convenient living environment for residents.
Year-Round Community Events: JLT fosters a strong sense of community through a calendar of year-round events and activities. These events not only create a vibrant social atmosphere but also contribute to the overall desire of the area for property buyers.
Get the best deals on properties for sale in Dubai.
The Advantages of Real Estate Investment in JLT Dubai
Impressive Return on Investment (ROI): JLT has a track record of delivering appealing returns on real estate investments. The region's strategic positioning and the increasing demand for residential and commercial properties enhance the potential for a substantial ROI.
Consistent Rental Revenue: Thanks to its strategic location near business hubs and educational establishments, JLT properties frequently draw in long-term residents and expatriate professionals, offering property investors a dependable stream of rental income.
Freehold Ownership: JLT is a freehold area, allowing non-UAE nationals to own property with full ownership rights.
Quality Infrastructure: JLT is known for its well-planned infrastructure, featuring modern amenities, efficient transportation links, and quality public spaces. This enhances the overall appeal of the area, making it a desirable choice for residents and businesses alike.
Diverse Property Options: JLT offers a wide range of property types, including apartments, offices, and retail spaces, allowing investors to choose properties that align with their investment goals and risk tolerance.
Strategic Location: Its central location within Dubai makes JLT a prime choice for businesses and residents. It provides easy access to major business hubs, educational institutions, and leisure destinations.
Strong Community and Amenities: JLT fosters a sense of community with its year-round events and a variety of amenities, including parks, restaurants, and recreational facilities. These factors contribute to tenant retention and property value appreciation.
Tax Advantages: In Dubai, property investors can enjoy favourable tax conditions, as there are no capital gains taxes or income taxes, rendering it an enticing choice for global investors.
Steadfastness and Security: Over the recent years, Dubai's real estate market has demonstrated its resilience, thanks to ongoing government investments in infrastructure and economic diversification efforts. These initiatives contribute to market stability.
Prospects for Asset Value Growth: As Dubai's growth and expansion persist, properties in prime locations such as Jumeirah Lake Towers (JLT) hold the potential for gradual appreciation, presenting investors with the opportunity for long-term capital gains.
Investment Opportunities in JLT Dubai by Imtilak Global
Jumeirah Lake Towers (JLT) Dubai offers prime investment opportunities. Its vibrant lifestyle and strategic location make it an ideal choice for property investment. Imtilak Global specializes in helping you find the finest properties in JLT, ensuring a seamless and profitable investment experience. Invest wisely with Imtilak Global for a prosperous future in this dynamic district
Wasl Properties Company Profile
Since its inception, Wasl Properties has developed several residential and commercial projects in Dubai. This article is...