Dubai Real Estate Market Forecast for 2023
Dubai's real estate market is growing year after year, but will this growth continue in 2023? In this article, we put in your hands the expectations of the Dubai real estate market in 2023. What Are the Factors Affecting the Dubai Real Estate Market?
In Dubai, the demand for real estate is significantly influenced by population growth. Housing is more in demand as the population grows, for both locals and foreigners. The demand for residential, commercial, and rental properties is impacted by demographic trends like the entrance of foreign workers and the growth of the local population.
The real estate market is directly impacted by the general status of the economy in Dubai and the rest of the UAE. The demand for real estate is influenced by economic growth, GDP performance, employment rates, and business prospects. Investors are attracted to and the trust in the real estate market is increased by a booming economy with steady growth.
Even though Dubai has expanded its economy beyond oil, the real estate market is still indirectly impacted by oil prices. Dubai's economy is impacted by changes in oil prices because it is a part of the United Arab Emirates. Changes in the price of oil may have an impact on government expenditure, investor confidence, and general economic stability, all of which have an impact on the real estate market.
Finance options and affordability for real estate are significantly influenced by interest rates. Mortgage rates and borrowing expenses for home buyers may change in response to changes in interest rates. By lowering financing costs, lower interest rates can boost the appeal of real estate investments, whereas higher rates might raise borrowing costs and possibly affect demand.
Dubai Real Estate Market Performance in 2022
At every level, there were records broken in the Dubai real estate market. The market reported 97,465 registered transactions worth AED 266,347 billion in 2022, setting a record for the biggest number and value of transactions ever. This is an astounding increase of 61.88 percent and 78.10% above the total transactions recorded in 2021. The majority of sales, 54.91%, included secondary or existing assets.
Around 45.09% were for houses that were off-plan. When we consider the quantity of sales transactions, the off-plan market transacted 43,951 homes for a total of AED 94.948 billion, setting the record for the most off-plan sales transactions ever.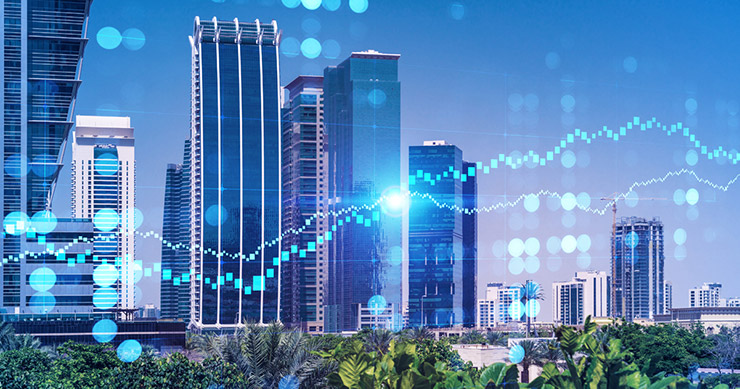 Dubai Property Market Forecast for 2023 in Terms of
1. Total Real Estate Sales
The overall real estate sales in Dubai may be impacted by a number of variables, including the economy, market mood, governmental policy, and external influences. These elements may have an influence on the market's total sales activity as well as the demand for real estate. For the most up-to-date projections on total real estate sales in Dubai for 2023, it is essential to consult current studies from real estate companies, research organizations, and industry experts. According to Dubai real estate brokerage Unique Properties, the number of high-net-worth people (HNWIs) residing in the city increased by 62% between 2012 and 2022, setting the city's real estate market on a path to record US $81.69 billion in sales this year.
2. Real Estate Sales to Foreigners
Dubai's real estate industry has drawn a sizable number of overseas investors and purchasers. Government laws, investor mood, currency exchange rates, and economic conditions in Dubai and the purchasers' home countries can all have an impact on sales to foreigners. To comprehend the possible impact on sales to foreigners in 2023, it's critical to keep track of any changes in laws or rules governing foreign ownership and investment in Dubai real estate. Dubai will continue to draw in overseas investors who want to safeguard their investments. Against the backdrop of the oil crisis and global unrest, Dubai will only solidify its position. As a result, the demand for real estate will rise even more in 2023.
3. Return on Investment
Several variables, including location, property type, market circumstances, and holding term, can affect the return on investment (ROI) in Dubai's real estate market. Property values and rental rates have fluctuated in Dubai in the past. Rental income and capital growth are two types of returns that investors could anticipate. To evaluate the potential ROI in certain property sectors and locales, it is crucial to undertake in-depth research, take into account all expenses and risks related to real estate investment, and consult with experts.
In Dubai, the average rent and sale prices for residential property climbed by almost 19% and 12%, respectively, in 2022, which has an impact on rental yields. The top 5 neighborhoods in Dubai with the highest rental yields are Jumeirah Village Circle (6.9%) and Dubai Marina (7.04%). It's reasonable to assume that investing in the real estate market in Dubai offers promising returns on investments when compared to other well-known cities like Ottawa, with an average rental yield of 4.6%, and New York, at 5.8%.
4. Property Prices
Market circumstances, dynamics of supply and demand, monetary considerations, and governmental regulations may all affect the price of real estate in Dubai. Dubai's real estate market has seen price increases over time as well as corrections at specific points. For the most recent estimates of property prices in various markets and regions of Dubai for 2023, it is essential to consult recent market reports and analyses from reliable sources.
Is Dubai Property Market Going to Crash?
The real estate market in Dubai has seen cycles. 2005 marked a huge peak for us. The peak led to a fall in 2008 as a result. We had a market recovery and an all-time high in 2014. In 2018, the market plummeted once more. In 2021, the real estate market has once again hit a record high. An S&P analyst predicts that the Dubai real estate market will bottom out in 2022. When searching to buy or rent a property, reports suggesting the city's prices would decline and stabilize have been a great resource. However, while housing costs are still low, folks who are thinking about relocating shouldn't be afraid.
You may also want to read more about: The Ultimate Guide to Dubai's Real Estate Market.
Book Your Free Consultation With Imtilak Global!
Imtilak Global is a real estate company that helps investors to buy property in Dubai. Imtilak Global provides several services such as Consultation and guidance. Book your free consultation with us today and discover the benefits of working with a trusted and experienced partner in the Dubai property market.
Edited by Imtilak Global ©
Do you like this topic? You can share it with your friends now!
Wasl Properties Company Profile
Since its inception, Wasl Properties has developed several residential and commercial projects in Dubai. This article is...