Map
Filter
Sort by:
Min price
---
Apartments for sale in UAE 2023
Ready to invest? What is your budget ?
How many living rooms are in the apartment?
Thank you!
Thank you, we have received your request, and we will contact you as soon as possible.
Information About UAE
History:
The United Arab Emirates' tribal heritage runs deep through its history. Prior to 1971's formation of UAE, six separate emirates each ruled independently before joining together in December to form one single union - Ras Al Khaimah joined shortly thereafter.
Culture:
UAE culture is an eclectic combination of both traditional and modern elements, where both are valued highly. Traditional values and practices remain important in many cities such as Dubai and Abu Dhabi; new technologies have also become part of its landscape there. Emirati hospitality is highly prized as part of their culture; you will often experience many warm greetings upon arriving there.
Religion:
Islam is the official faith of the UAE and most of its population adhere to this belief system. However, tolerance within society allows non-Muslims the freedom to practice their religious traditions. Mosques can be found all throughout the country that showcase these important Islamic traditions.
Capital:
Abu Dhabi, with the highest population and economic activity among the seven Emirates, serves as the political, cultural, economic, and shopping epicenter. Dubai stands out among them with its modern architecture and luxury shopping opportunities.
Advantages of Buying an Apartment in UAE
Thriving Economy
The UAE boasts an economy characterized by diverse sectors including finance, tourism, and real estate. Experts in these areas agree that a flourishing economy leads to growth and stability within real-estate investments - making the UAE an excellent option for long-term gains.
Tax Benefits
Owning an apartment has many tax-friendly benefits for investors looking to maximize returns and preserve wealth. No personal income tax is levied in this country and neither property nor capital gains taxes apply, providing investors an advantageous tax environment in which to grow wealth.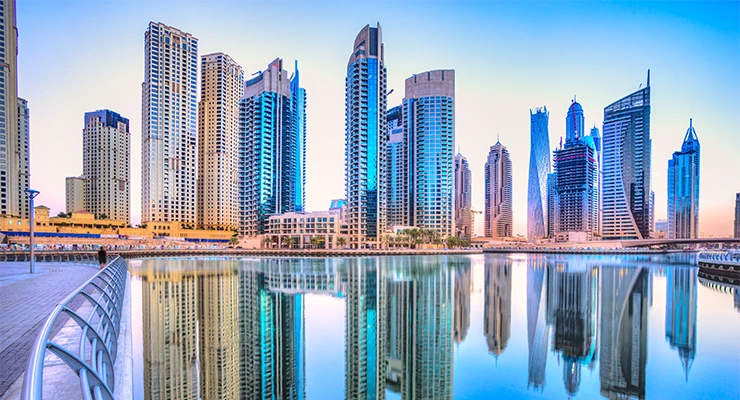 Sustainable Development
The UAE real estate industry is committed to sustainable development. Real estate experts understand the significance of environmentally friendly practices. Apartment complexes across the UAE have been designed with energy-saving technology, waste management systems, and green areas in mind; not only will this help reach global environmental goals more easily but it can also add lasting value to investments over time.
Infrastructure and Connectivity
The UAE's dedication to infrastructure development can be seen through their modern transportation systems and world-class airports, as well as their well-maintained network of roads which make traveling around easier, as well as improving connections to other regions. No matter whether traveling for business or pleasure, the UAE offers an exceptional infrastructure that makes traveling an easy process.
Advantages of Living in UAE
Work Opportunities
The United Arab Emirates can be an excellent way to expand your career. There is plenty of potential to be found here for greater responsibility and new experiences. Abu Dhabi and Dubai are large cities with bustling economies that require English-speaking hires to advance innovation and technology. Dubai in particular is rapidly emerging as an international business center - it stands as the primary location in the Middle East for commerce.
Earnings are Tax-free in the UAE
Salaries in the UAE are tax-free, offering great tax savings as well as a low cost of living. This benefit may seem unbelievable at first, but salary tax-free status makes living in UAE affordable, and low costs of living are another advantage of living here.
Best-planned City in the World
Dubai's extraordinary growth over the last two decades is unparalleled anywhere else on Earth. This success story comes despite being situated in a desert environment without access to natural resources that most cities rely upon, giving rise to something unexpected despite being near nothingness.
Safe Environment
When moving to another country, feeling secure is of utmost importance. Dubai stands out as being among the safest in the Middle East both for residents and tourists alike due to its stringent laws; crime in Dubai is almost nonexistent with white-collar crimes being most likely.
Culture Diversity
Dubai is an incredible cultural melting pot, providing visitors and residents alike the chance to be exposed to not only Middle Eastern religions and cultures, but also those from other countries - all in just 1,500 sq miles! Globalization can be found all around, and every day will bring something new or someone special into your life.
Is Real Estate Investment in UAE a Good Choice?
Stronger ROI
Real estate investments in Dubai have been shown to provide stable returns over time, according to Dubai Land Department reports of between 5-8% annual returns on average making this market highly attractive among investors who seek high-yield investments.
Dubai's property market is flourishing as its population and demand expand, prompting government initiatives to attract investors from overseas, offering high returns through initiatives like the UAE Golden Visa. Real estate investors looking to invest in Dubai should explore this unique investment opportunity.
Regulated Market
Dubai's real estate market is widely recognized for its integrity, drawing international investors. Recently, Dubai introduced new initiatives and regulations designed to increase transparency further while showing commitment to creating an industry that thrives.
Rental Properties with High Yields
Dubai's dynamic and cosmopolitan character has evolved over time. Its robust economy, infrastructure, and lifestyle all combine to make it an attractive location for investors. Dubai presents numerous investment opportunities for property investors with properties ranging from luxurious villas to more budget-conscious options available on its market - giving buyers and investors plenty of choices.
Dubai is well known for its luxurious offerings. People come from all around the world to work, travel, or do business there; no wonder then that Dubai has become such an attraction as it boasts higher rental yields than other emirates with archival data showing 5% higher rental yields in Dubai than elsewhere in UAE.
Tax-free Lifestyle
Tax-Free Lifestyle Dubai's status as a tax-free city is an irresistibly attractive feature for investors in real estate. This makes the city attractive for both wealthy individuals and business owners looking to maximize profits without high taxation costs, making Dubai an increasingly sought-after destination.
Dubai is an ideal destination for investors who wish to maximize profits while building portfolios without incurring heavy tax bills. Dubai draws investors looking for opportunities that allow them to economize their tax burden while building profitable portfolios without heavy tax obligations.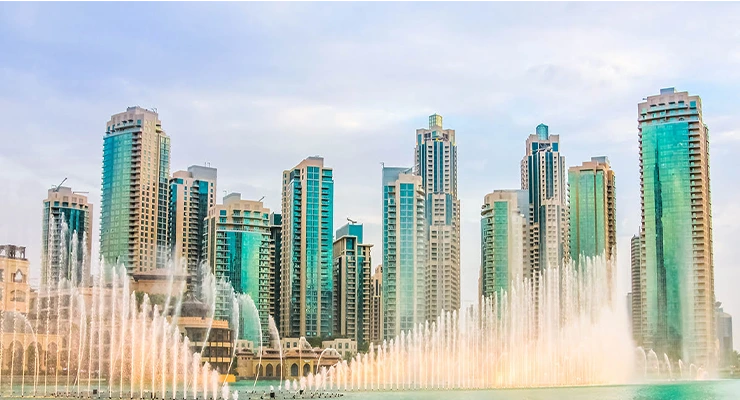 Average Apartment Prices in the UAE
Average Apartment Prices in UAE 1-bedroom unit prices typically fall within a range of $127,000-$750,000 in more prestigious areas like Dubai Marina, Palm Jumeirah, or Dubai Marina; more costly properties begin around $1,000,000. Meanwhile, less prestigious locations like International City or Dubailand usually start from around $70,000.
The Best Cities in UAE to Buy an Apartment
Dubai
Dubai's real estate market has proven itself as an investment option that consistently yields strong returns for investors, offering returns ranging from 5-8% per annum. According to Dubai Land Department reports, real estate investments provide competitive returns of 5-8% per year making Dubai a desirable location for those seeking high-yield investments.
Dubai's property market is experiencing explosive growth due to population expansion and rising demand. To attract foreign investors, the Dubai government is taking steps such as offering high returns for investments through initiatives such as the UAE Golden Visa. Real estate investors seeking stable returns should explore this program for potential opportunities.
Abu Dhabi
Abu Dhabi Downtown is at the center of Abu Dhabi city and is home to numerous luxury properties. Here you will find shopping centers, entertainment venues, and social institutions within walking distance.
Madinat Zayed lies closer to the city center than to any of its suburbs, boasting less modern architecture but still looking superior to most Russian homes.
Al Raha Beach is an idyllic destination for beachgoers. Accessibility makes this oasis easy; even the airport can be reached in 10 minutes!
Khalifa City A & B provides residents with a more peaceful life away from the city center, where villas are highly desired but apartments in residential communities may also be available.
Mohammed Bin Zayed City offers everything necessary for a productive business experience. Within half an hour's drive, you can reach the city. Plus, many parents choose it due to its selection of schools and kindergartens - making Mohammed Bin Zayed City an attractive option.
Apartments for Sale in UAE by Imtilak Global
Sobha One Project
This development can be found in Ras al Khor, which has seen rapid expansion and high demand over recent years. It is situated near Ras Al Khor Road, providing easy access to other parts of Dubai and thus giving the project access to other locations nearby.
Altai Tower Project
Altai is situated at Jumeirah Village Circle in Dubai's highly desirable family community area. Situated just off Sheikh Mohammed Bin Zayed Road - Dubai's primary transportation route - its easy access allows residents easy access to any location throughout the city.
The project is strategically situated close to all the amenities needed by residents, such as schools, markets, and medical centers - within walking distance - making it easily accessible for its inhabitants. Furthermore, its close proximity to some of Dubai's iconic landmarks like The Dubai Mall makes this an attractive property choice.
Elbrus Project
This project has been carefully located near major roads and transportation means in Dubai to facilitate access to its key areas. Additionally, Elbrus is close to an intricate network of roads and means of transport connecting it directly with Dubai's most significant areas.
Nobles Tower
Nobles Tower can easily be reached from any part of Dubai thanks to a comprehensive road network, offering great residential and investment potential with its apartments that combine comfort, luxury, and beauty. In addition, it provides public services as well as comprehensive integrated infrastructure features.
Bugatti Residence
Bugatti Residence's location in Dubai Business Bay's Financial District makes for an energetic and sophisticated neighborhood in the center of Dubai and boasts a sophisticated exterior design influenced by the French Riviera sand movement. This project marks Bugatti Residence's debut project - its 42-storey tower has views over Dubai Water Canal, Downtown Dubai, and Burj Khalifa!
Steps and Conditions for Buying an Apartment in UAE for Foreigners
Select a freehold area:
First, it is necessary to determine where you would like to buy property in Dubai. There are freehold properties scattered all throughout the Emirate with unique advantages for living. Before narrowing down your list, determine why purchasing property is of importance for your purposes.
Choose between off-plan and ready projects:
Once you've selected your location and project type, select whether you want an off-plan or completed property to buy. When making this choice, your finances need to be in order.
Consult a real estate agent:
After selecting the type of property, it is recommended that you consult with a real estate agent in Dubai in order to streamline and simplify the buying process while saving both time and money in the process.
Arrange finance:
Before purchasing property, make sure that you have enough funds.
Apply for NOC:
A No Objection Certificate from local authorities is often needed if purchasing either new or previously sold units.
Register your property:
Your final step would be registering your property at RERA Dubai and then acquiring a title deed under your own name.
Book a Free Consultation with the Imtilak Global Team
Imtilak Global Team offers free consultation. Imtilak Global offers numerous investment opportunities that promise both financial growth and secure futures, while Imtilak Global can assist you with navigating the UAE landscape with its exciting real estate and business opportunities.
Are you ready to embark on your path to success? Reach out to Imtilak Global now for a complimentary consultation and discover all that the UAE has to offer.
Edited by Imtilak Global ©
Do you like this topic? You can share it with your friends now!