 Imtilak Real Estate Company
A large-scale Turkish company, specializing in real estate consulting and brokerage, based in Istanbul, Trabzon, Sakarya, and Antalya. It has dealings in other cities within Turkey, as well as agents in several Arab cities, and numerous agreements with most major Turkish construction companies, focusing its attention on foreign real estate investors, who wish to own property in Turkey.
Imtilak has achieved huge successes in Turkish real estate markets during its long run, gaining extensive practical experience, and a reputation locally and regionally, gaining the confidence of foreign investors and Turkish construction companies.
Imtilak Real Estate company operates within and under the Imtilak Real Estate Group which includes:
Our vision
We look at Turkey as the paradise of the next investment, and it's the paradise of the land to which tourists shelter, as well as the hopes of investors.
We believe in the principle of the cooperation of countries, the friendship of people, wherever you are, Turkey is your second home, the people are your family, and the country is yours.
Real estate education
We publish a series of episodes on property ownership in Turkey, and we translate and publish specialized articles on the Turkish economy, major infrastructure developments, new laws on real estate, and other matters of interest to investors who are willing to own or live in Turkey.
Why Turkey?
The new Turkey is a rapidly and confidently rising country, and its growth index knows only jumps and rises, coinciding with the infrastructure revolution, government facilities, industrial and medical development, and giant projects that take Turkey from the past to the future at the speed of light! Such as the Istanbul New Airport Project, located in the Arnavutköy area north of Istanbul, with an estimated area of 7,500 hectares, absorbing 200 million passengers per year and reaching 350 global destinations. In addition to the Istanbul Water Canal project, the mega medical cities, the transportation networks and advanced roads projects...
Imtilak Properties
Our activity includes all kinds of real estate:
Apartments of all kinds
Seaside apartments, smart apartments, duplex, penthouse, office apartments, luxury or cheap…
Villas of all kinds
We have independent, shared villas, villas with sea views, villas in installment, and villas for investment…
Stores and shops
We also have good options from offices, shops and warehouses in vital areas, ready and under construction.
Land
For those wishing to own and invest land, we offer land options for construction or agriculture.
The company's approach to choosing the property
We suggest the property to you according to your purpose: Investment or housing or both! Considering the advantages that priority to you such as view, location, aesthetic of the building, government assurance... In the light of this, we offer you a range of options closer to your request, taking into account your budget.
Imtilak Real Estate focuses on three types of projects:
New projects
We recommend new properties to investors because:
Its features in terms of quality construction and finishing are better and nicer.
It contains modern systems that are not available in older projects.
They are more likely to profit when they are under construction, or in an area of rapid prosperity, such as Basaksehir, Bahcesehir and Buyukcekmece.
Transfer of property is more secured.
As well as the prosperity of living in a new property.
Residential complexes
We recommend ownership of the complexes, because of the social services they offer, gyms and entertainment facilities, green areas, parking lots, and a security system... which is not available in regular buildings.
Major investments
We encourage investors to "make a good increase" in the budget, with the understanding that the better the budget, the better the profit and the higher.
Services of Imtilak Real Estate: from the airport until receipt of the property
Prior to purchase
Airport-to-hotel reception.
Help with choosing a place of residence.
Specialized real estate consultancy.
Real estate tours throughout Istanbul, Trabzon, Skaria and Antalya.
After Purchase
We have a specialized team to follow up these procedures:
Receipt of the property and verification of its conformity with the contract.
Getting a real-estate residence permit.
Opening a bank account.
Preparing the property and its accessories for use (decoration, furnishings, water, gas and electricity).
Managing real estate affairs: renting it out, reselling it (as desired), following up on taxes, fees and invoices for the property.
Managing the transaction and affairs of applying to Turkish citizenship.
Note: Most of our services are free of charge.
Advantages of Imtilak Real Estate
The company deals only with (reliable) construction companies and government-guaranteed projects.
It has business agreements with hundreds of real estate projects in Turkey.
Through its extensive experience and relationships, it puts the (real estate projects summary in your hands).
Most of its after-sale and pre-sale services are free of charge.
Our slogans
Real estate is the best decision.
No regrets from consulting
The property must have a consultant.
Real estate profit by waiting
Turkey is your second home
With you from the airport until receipt of the property.
Real estate is the best decision
The asset in the property is profit, the property is secure, the markets fluctuate, the fortunes fade, the value of the property remains in itself, and the landlord remains as rich as he owns.
Real estate profit by waiting
Goods lose value over time, currencies fluctuate with the turmoil of events.  The price of the property is going up, the property has to be invested from a waiting period, and the cheap today will be expensive tomorrow.
The property must have a consultant
It's not an ordinary commodity, that you simply go and buy, it's a business investment, even if it's meant for housing, and it's an expensive commodity, you're happy with it or you're made, and the choices in Turkey are too many, so you always say owning real estate: The property must be from a consultant.
No regrets from consulting
Difficulties stemming from the size of the real estate market could be confusing, but a wise investor would find good deals by seeking the help of a "strong honest" real estate consultant and he will not lose.
Our Team
Imtilak Real Estate Company is a large family that includes 400 professional employees, of multiple nationalities, brought together by the love of work and the integration of expertise, including engineer, consultant, administrative, technical and lawyer... It operates in a system compatible with Turkish labor laws.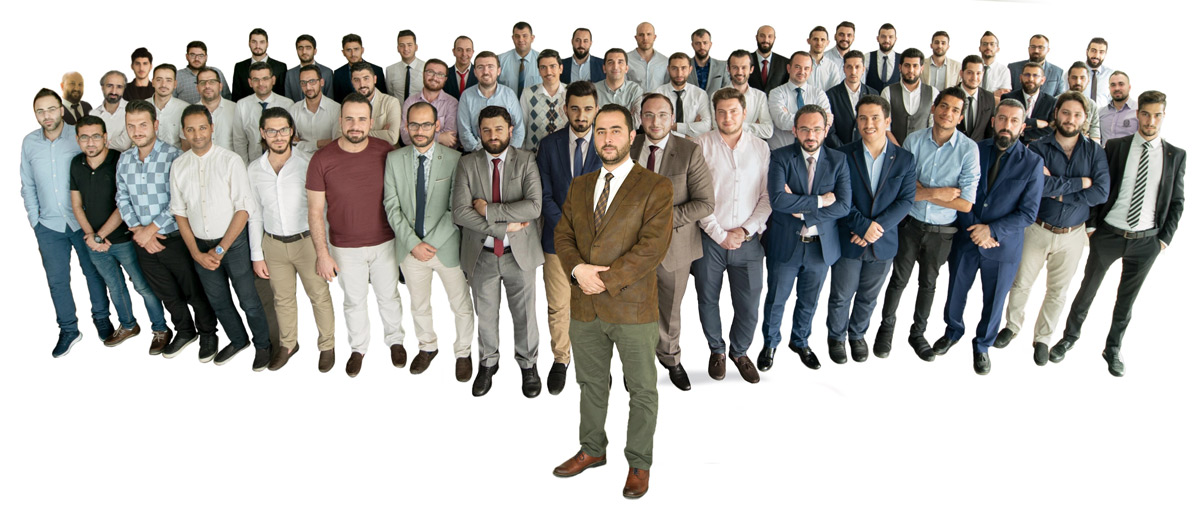 Departments of Imtilak Real Estate Company
The company consists of a group of major departments, including:
Marketing, real estate consulting, sales, after-sale services, human resources, programming and technology, in addition to many subsections.
Our Values
Imtilak Real Estate company's team is committed to providing professional services that depend on:
Honesty in providing advice.
Real and rational speech.
Being away from cheap methods of promotion.
Imtilak Real Estate office address in Istanbul
The head office in Istanbul
Başakşehir. Mall of Istanbul. Office Block. No.91. Istanbul, Turkey
The address of Basaksehir's sales office in Istanbul
Kayabaşı Mah, Gazi Yaşargil Cad. Adım İstanbul Sit. A2. NO A12 Başakşehir / İstanbul
The address of the Imtilak Real Estate office in Trabzon
Kemerkaya Mah. Gazipaşa Cad. No: 19. Kat: 2. Karadeniz iş Merkezi. Ortahisar - Trabzon, Turkey
The address of the Imtilak Real Estate office in Sakarya
TAN İŞ MERKEZİ. Arabacıalanı, Papatya Sk. No:1, 54050 Serdivan/Sakarya
The address of the Imtilak Real Estate office in Antalya
Etiler mahallesi, 834. Sk. No:9, REMEL PLAZA Office no: 608 07010 Muratpaşa/Antalya
The address of the Imtilak Real Estate office in Bursa
KONAK MAH. 1.BADEM SOK NO:26 B BLOK KAT:5 OFİS NO:66 NİLÜFER / BURSA LOTUS OFİS PLAZA
The address of the Imtilak Real Estate office in Ankara
Muhsin Yazıcıoğlu Cad. No:39 A blok 21.Kat Ofis No:141 Çankaya Ankara
Government-guaranteed Projects
The most important housing projects in Istanbul