What are the Best Districts to Buy Office in Istanbul?
Istanbul is known for its properties great value for investors, here is the list of the top districts to buy offices in Istanbul presented by Imtilak real estate. 2017-07-27
Last update
2021-06-07
What are the Best Districts to Buy Office in Istanbul?
The Best Areas to Start a Business in Istanbul
Istanbul is one of the most vital and commercial areas in the world, and it is reported that there are many businesslike areas in Istanbul competing with many of the world's commercial centers in the world. The areas of Levent, Maslak, Gertape, Zincirlikuyuand, and Esenyurt, which includes a large number of commercial and business complexes of the most areas with offices and companies.
These districts are witnessing the arrival of a large number of Arab and foreign companies and investors wishing to open centers and branches for their offices and companies in these districts.
According to a report by Cashman & Wakefield Real Estate in the United States, more than half of the offices and commercial companies rented in Istanbul are in the above-mentioned districts of those located in the European part of the city.
Reports in this context indicate that the first half of this year saw a high increase compared with the same period last year. Where the increase rate doubled to 82 thousand and 774 square meters. This year witnessed a large turnout by foreign and Arab companies that expressed their desire to open branches and headquarters in the European part of Istanbul.
The European part of Istanbul dominated a high proportion of the city's commercial centers, with the European share accounting for more than 58 percent of the city's total number of business and commercial centers, while 42 percent were in the Asian part of the city.
Omraniah district in the Asian part of the city has witnessed the opening of a large number of commercial and businesslike centers and has attracted great attention from local investors, Arabs and foreigners alike.
Turkey has been witnessing a significant urban movement in many aspects, starting with the construction of new properties, offices, companies, and shopping malls. The city of Istanbul has witnessed the entry of a large number of foreign and Arab companies, which opened a large number of branches belonging to it in the city. The Gulf countries ranked first among the Arab countries that entered the Turkish markets.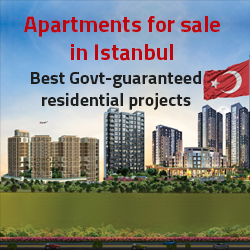 This is the right time to invest in Istanbul Turkey.