Learn in detail about the Belek region of Antalya
A comprehensive guide to get to know the Belek region in Antalya: its location, infrastructure, advantages of living, and investing in it. Learn about the most beautiful tourist places in Belek, Antalya. 2021-08-24
Last update
2022-01-10
Learn in detail about the Belek region of Antalya
Information about Belek, Antalya
Belek is full of pine forests and pistachio trees, which made it an attractive tourist model overlooking the shore of the Mediterranean Sea, which is distinguished during the month of March every year with tourism, swimming, and perfect recreation there, where sports activities, the warm sun, and various sports events such as surfing, water skiing, sailing, diving, and others.
Not to mention that Belek is a paradise for golfers and lovers, and a major destination for foreign tourists, who enjoy high-quality services thanks to the development of tourism in general in this region since 1980 when it began to grow as a tourist destination.
The sun shines in Belek for 300 days, the sandy beaches are 80-150 meters deep, the average sea temperature is +22 degrees, and the average humidity is 55%.
In Belek, there are about 50 football fields, and more than 200 tennis courts, but the most beautiful thing you might see is the beautiful view of the sunset, and do not forget to taste the fruits of bergamot, other citrus fruits, watermelon, and various kinds of jams.
The location of Belek district in Antalya
Belek, in the state of Antalya, is located on the Mediterranean coast, 30 km from the eastern side of Antalya Province, and it belongs to the coastal suburb of Serik, located between the city center of Antalya and the famous suburb of Alanya.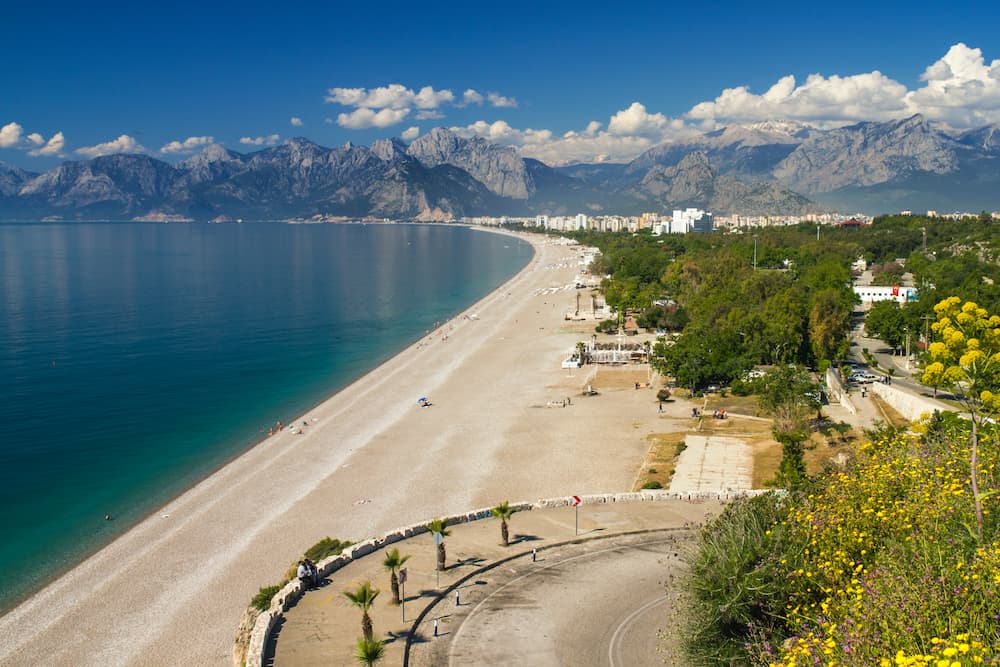 Infrastructure in Belek, Antalya
Schools and universities
In Belek, there is the new Akif University, which opened its doors in 2017, and it is one of the most important universities in southern Turkey, as it has faculties of arts, economics, electrical and electronic engineering, agricultural engineering and decoration engineering, in addition to other specializations.
There are also a number of public schools for all educational levels, and private schools, which are part of the educational plans of the Turkish government and the government of Antalya in particular.
Hospitals and health clinics
There's a private hospital in Anatolia, which is known as a hospital for therapeutic tourism, especially plastic surgery for tourists from all over the world, giving an integrated tourist atmosphere.
Markets in Belek, Antalya
Belek city center is a gathering of commercial markets in which there are traditional shops next to restaurants and cafes. These shops are famous for their diversity of options that meet all the needs of residents and visitors.
Tourist places in Belek, Antalya
Kundu Beach
The charming beach extends for 1.5 km, and nearby there are entertainment complexes and golf courses, similar to an integrated tourist village built along the coastal strip, in a wonderful scenery surrounded by a pine forest.
Kursunlu Falls
It's the favorite destination for tourists, as it draws attention directly, as the cave hidden behind the mouth of the waterfall forms an exquisite divine painting.
Dinler Park
If you want to see the meaning of tolerance in one painting, you should visit Dinler park, "dinler" means religion in Turkish. It was opened in 2004 AD, and its advantage is that it contains landmarks and evidence of tolerance in the world, as the park includes a mosque, a church, and a synagogue, each of which overlooks a common courtyard, in a wonderful scene that deserves a visit.
Golf Courses
Golf courses are almost one of the highlights of the trip to Belek, as it gives its lovers the opportunity to enjoy courses designed according to international standards that provide an ideal atmosphere for families and friends.
The Land of Legends
It is a huge entertainment city with entertaining and interesting activities for children and adults, and it has luxurious rooms and suites suitable for families and equipped with all modern amenities, which add to the visit an atmosphere of fun and excitement.
Advantages of living in Belek, Antalya
After the accelerating interest in Bellick as a leading tourist destination, today it has become one of the integrated tourist areas that enjoy the beauty of nature, and archaeological cities with historical heritage.
Therefore, today it has become an attractive point due to the multiplicity and diversity of sports facilities, recreation points, and the presence of a high infrastructure of transportation, modern hotels, and high-end restaurants, which gives living in it a kind of economic and cultural stability that attracts families or real estate investment.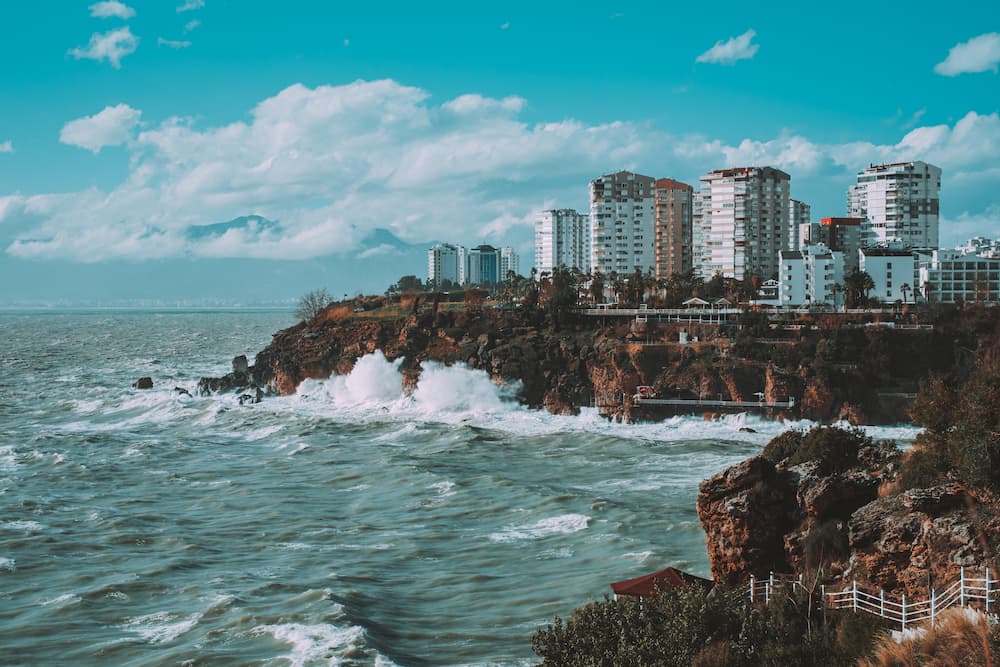 Advantages of owning and buying an apartment in Belek, Antalya
Today, the Belek region is witnessing a remarkable increase in the value of its real estate, after the urban situation in it has grown in recent years, and investors have tended to enter into large investments in the field of tourism. The real estate sector and investors have benefited from the region's proximity to Antalya city center and the international airport, except for tourist spots that tourists are keen to visit when they come to Turkey's tourism capital, Antalya.
Advantages of real estate investment in Belek, Antalya
First of all, real estate investment in Antalya is an indispensable destination for a wide range of investors, and therefore Belek is a permanent destination for Arab and foreign tourists continuously throughout almost the year.
Real estate investment in Belek has been a unique case, especially since the competition is fierce for investors to own apartments in residential complexes that are characterized by high-end services, suitable for families, and suitable for a long vacation.
The condition for choosing the location and type of investment within the region remains the most important, and therefore Imtilak Real Estate provides, through its offices and strong expertise in the Turkish real estate market, the best real estate investment opportunities in Antalya, which leads to Turkish citizenship and the best possible return on investment.
Imtilak Real Estate's best projects in Belek
Belek Bank Villas IMT - 776: The project has a privileged location in a quiet area, next to the Aji Su River, with all transportation services and access to all parts of the city, especially as the project is close to shops, markets, shopping centers, schools, and health centers.
In addition to its proximity to many recreational facilities, such as the golf clubs that Belek is famous for, which is one of the most important tourist attractions in it.
Each villa of the project consists of two floors, of 4 rooms and one hall, with an American kitchen, and each villa also includes a private pool and parking. The villas of the project are suitable for the conditions of Turkish citizenship in exchange for real estate investment.
The price of villas with a net area of ​​160 m2 starts at about $282,000, with 4+1 rooms and halls. As for the method of payment and price details, it is in cash, or in installments: 50% down payment, and installments over 15 months.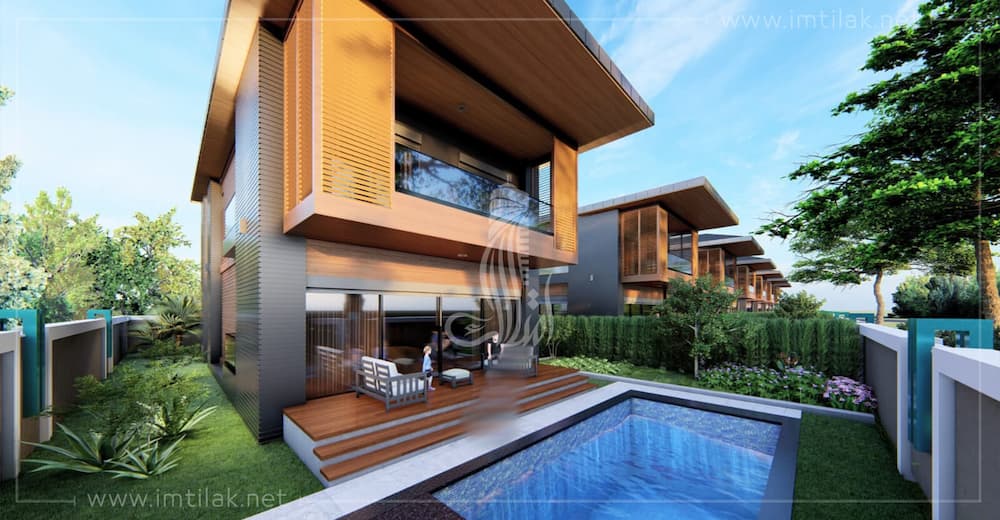 You can also read about:
Edited by Imtilak Real Estate©
Did you like this topic? You can share it with your friends now.