Studio Apartments: The Pros and Cons
Learn about studio apartments, and why you should live in one. This guide defines the studio apartment and shows the advantages of living in it. What Is a Studio Apartment?
Studio apartments are small homes where multiple spaces, like living areas and bedrooms, are combined into a single space for ease of living.
Some studio apartments feature a washroom which may or may not include a bathtub/shower combination; otherwise, this facility usually forms part of a communal area accessible to multiple apartments with various arrangements in place to guarantee privacy. Furthermore, certain studio apartments may provide extra storage space attached directly or remotely from their main unit.
Who is a Studio Apartment right for?
International Students
International students' studio apartments tend to be more cost-effective than larger units, which makes them suitable for budget-minded students with multiple obligations on their plates. There are fewer maintenance and cleaning requirements in a studio apartment as compared with its counterpart.
Expatriates
Studio apartments provide an ideal accommodation option for expatriates adjusting to a different culture or lifestyle, providing comforting surroundings without taking up much extra room.
Related: How to buy an apartment in Turkiye.
Low-Income Citizen
Low-income citizens Studio apartments can be an economical solution for those on tight finances. Rent and utility costs tend to be lower in studio apartments compared to larger houses or apartments, plus smaller spaces require less furniture for setup which means a reduced initial outlay cost.
Check out our offers for Affordable Apartments in Turkiye.
Regular Traveler
Studio apartments provide an ideal option for frequent travelers who find themselves on the move frequently, providing them with a place they can call their own when living out their travel dreams.
The Pros of Living in a Studio Apartment
Single people who spend limited time at home will love studio apartments; it makes the best sense when constantly on the go.
Studio apartments can be more easily furnished because of their smaller sizes. No need to purchase expensive sofas, coffee tables, and dining tables when simplicity can help save both time and money on costly home improvement projects.
Studio apartments tend to be cheaper than one-bedroom units depending on where they're located.
Related:
Top Places To Buy Apartment In Istanbul
.
The Cons of Living in a Studio Apartment
Before making your final decision about renting a studio apartment, it is wise to thoroughly assess both its advantages and disadvantages. Studio apartments tend to be smaller in space and finding furniture suitable to their dimensions may prove challenging.
As soon as space becomes limited, being creative with furniture selection is crucial for success. Your preferences will dictate whether to create an under-bed couch sleeping area for a loft-style sleeping space or minimize dining with a small round table; either way, making sure a studio bedroom works is an ongoing journey that brings its own challenges.
Shared living can be taxing. Each person brings with them different expectations and ways of handling things; one-bedroom apartments may seem appealing in this respect.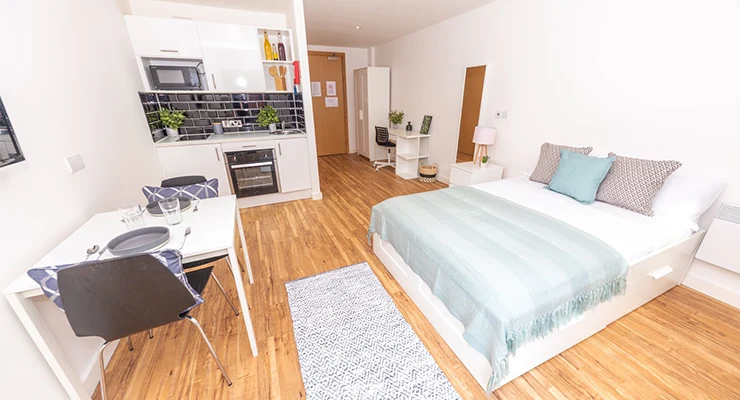 Why Studio Apartments Make Great Investments
Where to Buy Studio Apartments in Turkiye
Istanbul
Istanbul boasts an energetic metropolitan environment filled with diverse residents; rent can vary depending on whether a particular area attracts many students seeking housing options or provides easy public transit access.
Antalya
Antalya City, Turkey - an idyllic coastal city popular among both visitors and expatriates - boasts studio apartments that cater specifically to tourists or expats in areas that attract them.
Ankara
As the capital city, Ankara features government offices, business centers, and universities that may attract studio apartment investors looking for studio investments in areas near these hubs.
Izmir
Izmir city can offer visitors and residents alike an attractive coastal location, making the area appealing to both. When selecting residential areas within Izmir that provide a balance between attractive living environments and easy access to amenities.
Buy a Studio Apartment in Turkiye with Imtilak
Imtilak offers you the unique opportunity to purchase a studio apartment in Turkiye. Imtilak offers excellent studio apartments in Turkiye. Their team's knowledge and expertise ensure you find an apartment to meet all of your needs and goals - giving you peace of mind throughout the buying process.
Imtilak Real Estate Services' professional team can guide your purchase more smoothly and ensure a more informed investment decision, providing quality service that often leaves its customers delighted and contented with their investment decisions.
Edited by Imtilak Real Estate ©
Do you like this topic? You can share it with your friends now!