Affordable Neighborhoods to Live in Istanbul
Minimize your expenses in Istanbul by living in these affordable areas. This guide helps you lower your costs and save your money and budget. Reasons to Choose to Live in Cheap Housing in Istanbul
Improve Mental Health
Affordable and stable housing arrangements play a crucial role in improving mental health. Families and individuals living in such environments feel secure about their housing costs, leading to greater mental well-being overall.
Good for Kids
Affordable housing provides children with a nurturing environment. Families residing in affordable housing are better able to devote resources towards key elements of child development such as education, healthcare, and extracurricular activities. Stable housing gives children a sense of belonging and continuity which in turn positively influences both emotional and academic growth.
Develop Sustainable Communities
Affordable housing initiatives foster the creation of sustainable communities. Affordability encourages residents to invest in their community, instilling pride while contributing to its development. Investment can result in local businesses opening shops or improved infrastructure being installed, leading to greater community cohesion and cohesion.
Check out our offers for affordable appartments in Istanbul.
Creates Jobs
Many affordable housing projects require an enormous workforce to complete construction, maintenance, and community services - stimulating local economies by creating employment in their community. In turn, this boosts financial stability for families as well as increases resilience within a neighborhood.
Promotes Diversity
Affordability Housing promotes diversity within communities. By enabling people from various backgrounds to afford to live together in one area, affordable housing creates an eclectic mosaic that includes different cultures, experiences, and perspectives - helping break down barriers between them while creating vibrant and inclusive communities.
The Cheapest Neighborhoods in Istanbul
1. Esenyurt Neighborhood
You can save money when purchasing cheap property in Istanbul by investing in Esenyurt's prime European side location on Esenyurt's European side; prices tend to be more economical here compared with other parts. Esenyurt has excellent capital appreciation potential; your investment value should increase over time as more people invest there. Easily accessible via major highways and public transport - cars and buses alike are easily available here for convenience, not to mention Marmara University Campus is close by for students studying close-by when studying nearby!
2. Sultanbeyli
Sultanbeyli, in Istanbul's north, is home to most non-Turkish citizens who choose not to speak Turkish as their mother tongue. With pleasant weather conditions and low real estate prices, people looking for somewhere pleasant with low real estate costs often choose this area - popularized by Aydos Castle which draws thousands of visitors yearly and provides affordable real estate prices; becoming popular due to public amenities like taxis and the subway which make living here easier for residents as well.
Related: Insightful Guide to Houses Prices in Istanbul.
3. Büyükçekmece Neighborhood
One of the cheapest neighborhoods in Istanbul, Buyukcekmece can be found in its western area and features some of the cheapest villa and house prices around; more distant from its center than other neighborhoods yet still promising potential development, this area also provides good potential for future growth compared to others; its prices for villas and houses being much more economical compared to their counterparts elsewhere in Istanbul.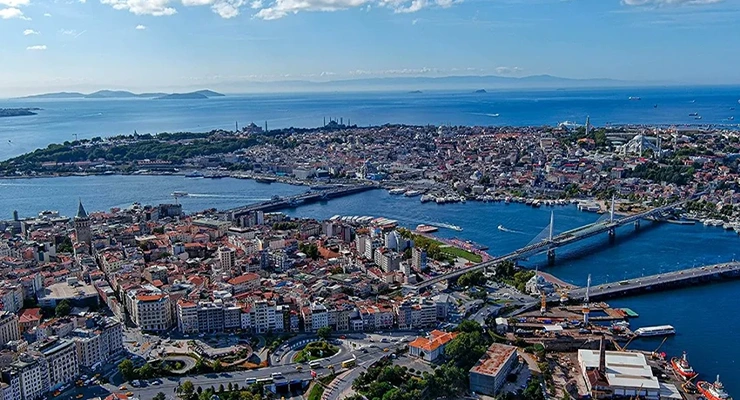 4. Arnavutkoy Neighborhood
If you are considering purchasing property in Istanbul's northern region, Arnavotkoy should be your go-to neighborhood. Situated near Istanbul Airport and second only to Basaksehir in terms of popularity, Arnavotkoy boasts the Black Sea's longest coast. Although cultural levels were initially relatively low before 2016, they have seen significant improvement due to an influx of immigrants; making this location popular among single non-natives as well.
5. Tuzla Neighborhood
Tuzla lies on the eastern side of Istanbul. Primarily considered industrial, with most factories located here. This neighborhood provides convenient workplace access. You'll also find stunning apartments and buildings here as well as one of the largest concentrations of shipyards and ships.
Get the best deals on cheap apartments in Turkiye.
6. Silivri
Silivri is an ideal neighborhood for homebuyers searching for homes near Istanbul's western part, close to the Marmara Sea. Water sports enthusiasts will find plenty of activities here as well as affordable housing. Villa buyers should definitely look here; apartments do vary considerably in this area so photos alone should not be relied upon when making decisions here. Silivri is known for producing high-quality dairy and livestock production.
7. Avcilar
Avcilar in Istanbul's western part is an academic district for students and academics. Situated near Europe, numerous construction projects are underway and its beach is beautiful. Avcilar boasts high-quality security as well as restaurants and cafes for its amenities - not to mention hosting one of Istanbul's major universities, which only adds to its prominence.
Inflation in Turkiye
Turkey experienced its highest inflation rate since December 2017 this month at 58.9% from 47.8%, surpassing market expectations of 55.9%. This marks an unprecedented rate. The main causes include increased tax rates, rising food costs, and depreciation of the Turkish Lira. Food inflation reached an 8-month peak rate of 72.9% as opposed to 60.7% over that same timeframe. Housing & utilities (25% versus 19.3%), Transportation (70.2 percent from 43.4%), Furniture, Household Equipment (58.1 from 50.1%), and Health (77% compared to 75%) all contributed to the rise in inflation rates. August saw the core rate hit an all-time high at 56.1% - after rising 9.5% the month prior. Consumer prices also experienced another monthly increase of 9.1% after an 8.5% gain in July. Inflation predictions had been revised downward to 63% this year and 33% for 2024 while it anticipated a gradual decrease to 15% by the end of 2025.
As noted above, Istanbul's European side features more upscale shops and malls; living there can be more costly.
Expats living in Istanbul will find homes that provide stunning views of the Bosphorus depending on which side they face, making these neighborhoods very desirable as centrally located options with plenty of restaurants and shops nearby.
Edited by Imtilak Real Estate ©
Do you like this topic? You can share it with your friends now!