Turkish Citizenship Laws- Exclusive Official Translation
Exclusive translations from Imtilak Real Estate of the most important Turkish citizenship laws in return for a real estate investment 2019-07-19
Last update
2022-06-14
Turkish Citizenship Laws- Exclusive Official Translation
Latest Updates on Turkish Citizenship Laws for Foreigners
The real estate sector in Turkey has undergone a qualitative transformation since the recent amendment to the Turkish Citizenship Act of 2018. After the new executive regulations, a foreign investor can obtain Turkish citizenship through real estate investment of not less than 250 thousand US dollars, in accordance with procedures that are not more than 45 days.
Note: The law on obtaining Turkish citizenship in exchange for real estate has been amended as of April 2022, to become $400,000 instead of $250,000.

The following are exclusive translations from Imtilak Real Estate of the most important Turkish citizenship laws in return for a real estate investment: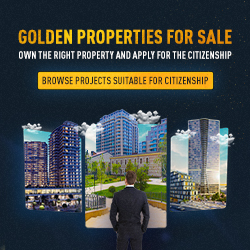 Edited by: Imtilak Real Estate ©
Did you like our topic? You can share it with your friends now!