Prices of apartments in Izmit, Turkey in 2022
Find out the prices of apartments in Izmit, Turkey during 2022, including apartments near the sea and apartments in the city center. Updated information from Imtilak Real Estate company. 2022-01-20
Last update
2022-08-17
Prices of apartments in Izmit, Turkey in 2022
What are the most important factors affecting the price of apartments in Izmit, Turkey?
Like other properties elsewhere in Turkey, the most important factors affecting the prices of apartments in Izmit can be categorized based on:
Structural (related to the structure of the property, its location within a residential complex or a regular building, its cladding and finishing).
Or the location of the property in Izmit, its proximity and distance from services, markets, main roads, beaches, and sea views.
There is no doubt that the increasing demand for modern real estate types, and apartments located within residential complexes with high specifications, services, and multiple facilities, especially by foreign investors, was a major factor in raising the price of these real estate types.
Not to mention, Izmit's important position, its proximity to Istanbul, and its close location to many of the most attractive tourist points, such as the magnificent Bay of Izmit, Sapanca Lake, the snowy slopes of Mount Kartepe, and the Masukiye area.
What are the average prices of apartments in Izmit, Turkey in 2022?
With a quick survey of the price developments per square meter in modern apartments in Izmit, and by comparing them on the day of writing these lines, we can say that the price per square meter in modern apartments located in residential complexes with various services starts from approximately 6,000 up to 16,000 TL, and by calculating the average of the two prices, the average price per square meter is 11,000 TL, and this price may increase or decrease considering the features of the property and its surroundings.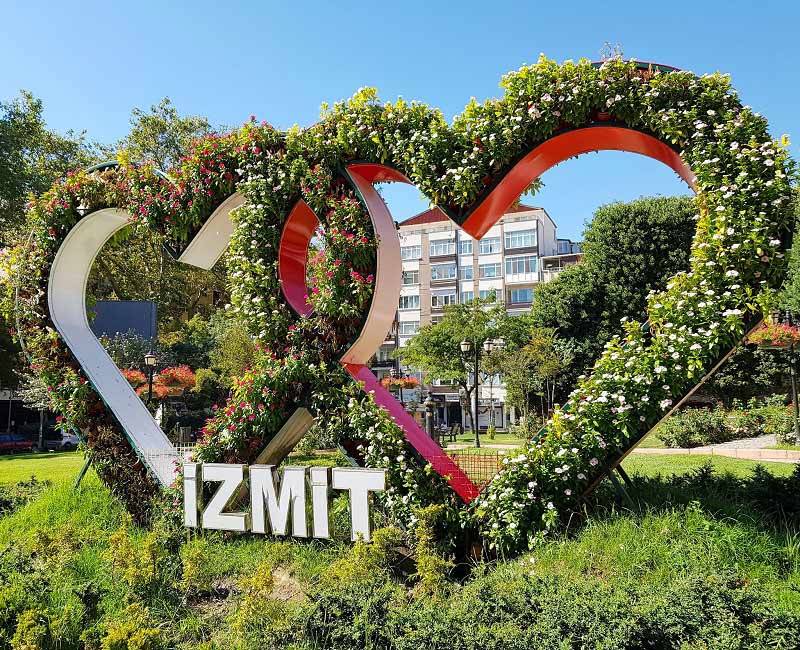 Price of apartments overlooking the sea in Izmit
Apartments with sea views in Izmit are gaining more and more demand for ownership, like other Turkish cities with coastal locations, and there is no doubt that real estate near the sea, located at a distance of zero from it, has double prices than others.
As an example of Imtilak Real Estate's projects in Izmit with distinctive and open sea views of the Marmara Sea and the magnificent Bay of Izmit; The Green Hill Project, which is a project with many features, is located in Akpnar district, surrounded by green forests with attractive views, in a location that has a cool and gentle current.
The Green Hill is the first project in Kocaeli that was established in the style of Rezidans plus known for the quality of services, in addition to that 95% of the apartments of the project enjoy sea views and attractive views of the forests and landscapes.
The project apartments prices start from $89,000 for a 1+1 apartment with an area of ​​approximately 73 meters. As for the 2+1 apartments, their spaces start from 118 square meters, and their prices start from $108,000.
No doubt these prices are always subject to adjustment according to the fluctuations of the real estate market and changes in exchange rates, which usually control real estate prices.
The most important projects of Imtilak Real Estate in Izmit and their prices
Imtilak Real Estate has paid great attention to real estate projects near Istanbul, especially in the most attractive tourist areas for real estate investors, including the city of Izmit, which is located in a tourist triangle that attracts tourists from all sides. With its famous snow slides, Izmit is connected to the city of Bursa and Yalova by a highway, not to mention the Bay of Izmit of outstanding natural beauty at the end of the Marmara Sea at its eastern end.
In addition to the aforementioned Green Hill project, the list of Imtilak Real Estate projects in Izmit includes a number of projects of high investment value, including:
Aseel Kartepe Project
Aseel Kartepe IMT - 611: It is a luxury residential project under construction, in a privileged location between Izmit Bay and Sapanca Lake, where green nature embraces the beauty of the Marmara Sea, away from the hustle and bustle of the city.
The project extends over an area of ​​37,000 square meters and includes 501 apartments spread over 16 buildings, with apartment styles distributed between 1+1, with prices starting from $63,000, up to 4+1 apartments at prices starting from $265,000.
Some of the project buildings include floor gardens with unique designs, with private floor swimming pools for some apartments.
The project also includes an artificial lake with an area of ​​5,000 square meters, surrounded by service and recreational facilities, in addition to a cafe for the project.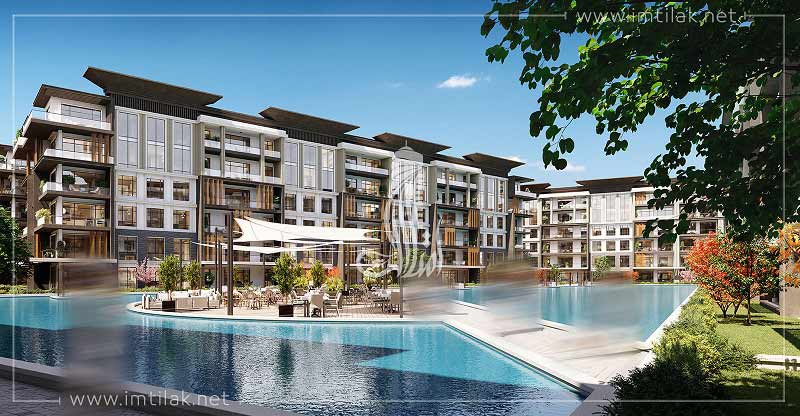 Yuvacik City Project
Yuvacik City IMT-1609: This project is located in the Yuvacik area, which is one of the most beautiful natural areas on the coast of the Gulf of Izmit and is characterized by its location near the main and rapid transportation routes.
It is a carefully designed and thought-out project, even in the smallest details, combining the elements of security and comfort suitable for family life. The project also offers luxury apartments of different styles, ranging from 1+1 with an area starting from 109 meters, at a price of $60,000, up to 4+1, with an area starting from 270 meters, prices start from $186,000.
In addition to the duplex apartments offered by this project, which have their own terraces on the upper floors.
The project has many social and recreational facilities that meet the requirements of family accommodation and are rich in entertainment for adults and children.
Both projects are suitable for those wishing to benefit from the real estate ownership law for foreigners that leads to obtaining Turkish citizenship.
For more information on the best offers of ownership in and around Izmit, you can visit the Imtilak Real Estate website, or communicate directly with our expert advisory team consisting of more than 350 real estate experts who are ready to provide the best service around the clock.
Edited by Imtilak Real Estate©
Did you like this topic? You can share it with your friends now.