What Do You Know about Istanbul's Basaksehir Metro Station?
Basaksehir Metro project is highly important for its investment in the area 2019-06-10
Last update
2020-10-21
What Do You Know about Istanbul's Basaksehir Metro Station?
Basaksehir is one of the most promising areas of investment in the city of Istanbul and has witnessed a remarkable turnout of foreign investors in recent years, especially Arab investors.
This is in view of the advanced infrastructure and vital projects that have been opened in the area such as the largest Basaksehir square in Turkey with an area of 60,000 square meters, the modern medical city and the largest botanical park in Europe.
One of the reasons for the rise in prices in Basaksehir is also its proximity to mega-projects such as the Istanbul Canal project, and from the nearest residential areas to Istanbul's new airport, as well as the Basaksehir Metro, which will like Istanbul parts to the Basaksehir Center.
Detailed information about Basaksehir Metro
At present, work is underway to establish the Basaksehir-Kayasehir M3 metro line as the northern extension of the M3 metro line Kirazli - Metro Kent / Basaksehir.
Once completed, the sub-line will serve the medical city in the area of Basaksehir. The following is an explanation of the stations that will be passing through the Basaksehir metro line - Kayasehir M3.
| | | | |
| --- | --- | --- | --- |
| Kayasehir Merkez | Toplu Konutlar | Onurkent | Metrokent / Basaksehir |

Map of railway system investments in Basaksehir area
| | |
| --- | --- |
| Line Name | Line type |
| Otogar-Bağcılar Kirazlı-Olimpiyatköy-Başakşhir | Metro |
| Ataköy-Basın Ekspres-İkitelli | Metro |
| Mahmutbey-Halkalı-Bahçeşehir-Esenyurt | Metro |
| Başakşehir-Kayaşehir | Metro |
| Sefaköy-Halkalı-Başakşehir | Metro |
| Kayaşehir-Fenertepe | Metro |
| Halkalı-Arnavutköy-İstanbul Havalimanı | Railway |
| Halkalı-Bahçeşehir-Çatalca | Railway |
| Başakşehir-Kayaşehir-Olimpiyat | Tramway |
| Firuzköy-Hadımköy | Railway |
| Vezneciler-Sultangazi-Fenertepe | Metro |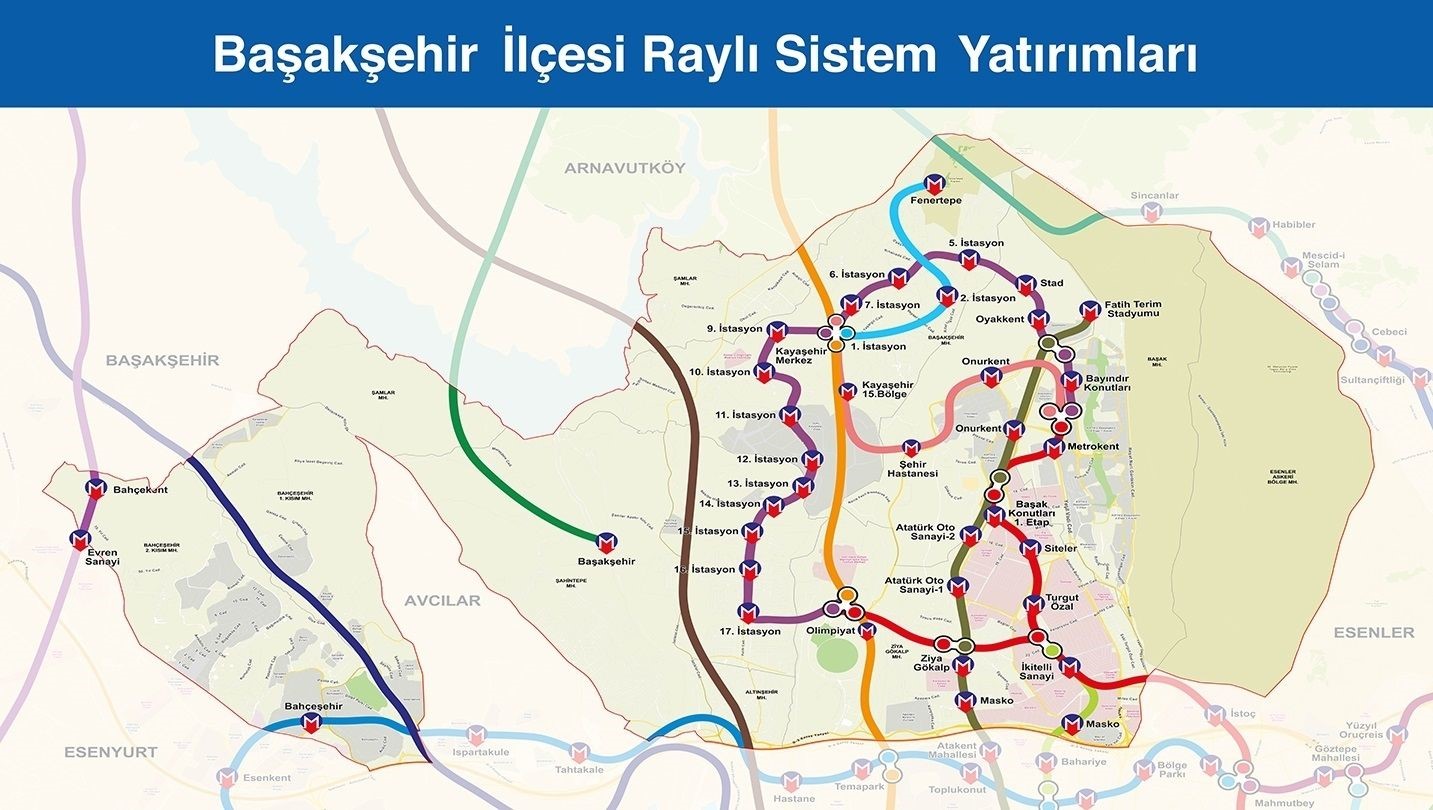 Metro lines that intersect and integrate with Basaksehir – Kayasehir line
The Basaksehir - Kayasehir M3 line integrates with other metro lines as follows:
M9 Atakoy-Olimpiyat Metro line at Ikitelli Sanayi station.
M7 Kabatas-Mahmutbey-Esenyurt Metro line at Mahmutbey station.
M1B Yenikapi-Kirazli Metro Line at Kirazli Station.
M1A Yenikapi-Ataturk Airport Metro line at Bakirkoy-Incirli Station.
The Marmaray Metro Station at Ozgurluk Meydani Line.
Marine Bus (Sea Taxi) at Bakirkoy IDO Station.
Basaksehir Line - Kayasehir M3 Information
| | | | | |
| --- | --- | --- | --- | --- |
| | | | | |
| Number of Workers | Drilling machines | Trip duration | Capacity | Line length |
| 66 | 2 | 19 minutes | 70 thousand people | 6.20 km |

How has Basaksehir Metro become a motive for investment in the region?
It is well known that the Basaksehir real estate, adjacent to the modern transport lines in general and the metro in particular, is of great investment importance. In view of the intensity of the expected turnaround in the completion of these projects depending on the vital role, it plays in facilitating the lives of those living in those areas.
The following two links include the prices of apartments in Basaksehir in a number of the most important real estate projects that are located near stations of Basaksehir - Kayasehir M3 metro line and Imtilak recommends them for you.
Edited by: Imtilak Real Estate ©
Source: Metro Istanbul
Did you like our topic? You can share it with your friends now!