Detailed information about the Dosemealti district in Antalya
Learn in detail about the Dosemealti area in Antalya Turkey: its location, infrastructure, advantages of living, owning, and buying an apartment in it. Learn more about the most beautiful places in Dosemealti, Antalya. 2021-08-24
Last update
2021-09-16
Detailed information about the Dosemealti district in Antalya
Information about Dosemealti district in Antalya
It is an area characterized by calm and stunning nature, far from the noise and crowding of the city, overlooking wonderful mountains, and we can call it the calm city compared to the rest of Antalya, and it is located 18 km from the center of Antalya, and 30 km from the airport.
Dosemealti area is today one of the modern areas, which contains luxurious residential complexes with a modern architectural style, as well as prestigious villas that are designed in a way that makes it a promising investment attraction in the future, thanks to the great interest in this aspect due to a large number of tourists.
The location of the Dosemealti district in Antalya
It is located north of the city of Antalya, known as the "tourism capital" of Turkey.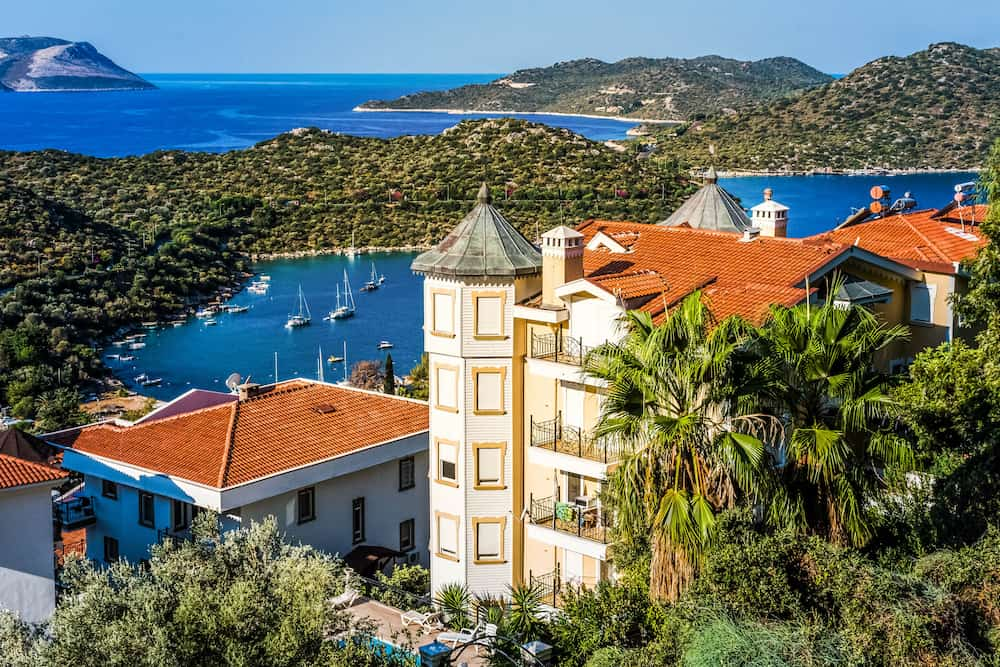 Infrastructure in Dosemealti, Antalya
Schools and universities
The best thing that distinguishes Dosemealti is that it hosts the private "Antalya Bilam" University, which was established in 2010, and one of its advantages is that it teaches dentistry and engineering in English, which gives a great opportunity to study for foreigners without thinking about the difficulties of learning the Turkish language.
There are also schools for primary education that teach the Turkish curriculum approved by the Turkish government, as well as secondary schools, including technical ones, and there are also a number of private schools.
Hospitals and health clinics
In the area, there is a private hospital (Döşemealti Thermessos Hospital), which operates 24 hours a day, is equipped with high medical equipment, and is a popular destination for the areas near Dosmealti. There are also a number of health centers and dental clinics.
Roads and transportation
Dosemealti is characterized by the presence of a modern highway, which connects all areas of the region to each other, allowing transportation and access by private car or public transportation in a short time, because the area has no traffic, but is ideal for those looking for calmness.
Markets and shopping centers in Dosemealti, Antalya
Dosemealti district is rich in shops that have all the necessities of life from foodstuffs and meat, and shops that provide all household items and tools for housing, as it provides its residents with integrated and diversified services, in addition to various stores for furniture and others, in addition to what is called in Turkey "the bazaar" which is a mobile market opens every week and sells all household needs of vegetables, fruits and foodstuffs at good prices.
The most beautiful places in Dosemealti, Antalya
The most beautiful thing in Dosemealti is its charming mountains, where you can go to its plains and enjoy a beautiful and enjoyable day with family and friends, as residents prefer it for stability and tranquility, and this is what made it an ideal housing point, as it is close to all the most famous tourist areas in Antalya, especially the charming Lara Beach, which It is 17 km away, which is a quarter of an hour's drive.
The beach is a special destination for tourists during the summer, to spend the most beautiful time swimming and stretching under sunshine, or playing water sports, cycling and hiking in green spaces.
Advantages of living in Dosemealti, Antalya
Living in Dosemealti is characterized by independence for those who wish to live in a charming natural environment with the availability of all the necessities of life, and wish to settle down or spend a special vacation in an atmosphere far from the hustle and bustle of cities.
Advantages of owning and buying an apartment in Dosemealti
Since Dosemealti is seen as a promising future investment city, today it is distinguished by the presence of the most distinguished and finest independent villas and modern apartments, which constitute a profitable investment gateway in the future because the area is lively and close to the most famous tourist attractions in Antalya.
Therefore, the opportunity to own and buy real estate in a state such as Antalya is the capital of tourism in Turkey. The profit results are guaranteed far from adventures because it is a tourist area that is increasing in popularity annually.
Advantages of real estate investment in Dosemealti, Antalya
The growing interest in and development of vital infrastructure in Dosemealti over the past 10 years has brought it into line with modern urban foundations, contributing significantly to the real estate importance of the region and ultimately attracting investor interest.
The investment citizenship program in Turkey also provides one of the most suitable offers to obtain Turkish citizenship through real estate ownership. The investor can obtain a Turkish passport within 3 months by investing in real estate in the amount of $250,000, provided that it is not sold for 3 years.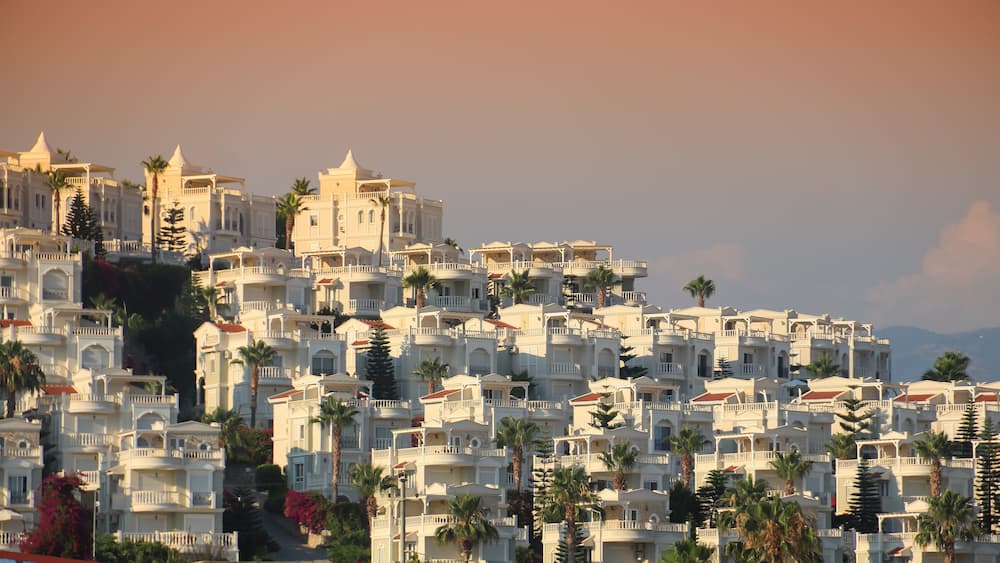 The best Imtilak Real Estate projects in the region of Dosemealti
Digital Home Villas IMT - 785: There are 10 independent villas, and 30 double villas, in addition to a group of adjacent villas (66 villas), where the adjacent villas (which are located in groups) consist of two floors, with a floor area of ​​120 m2 on each floor, containing a spacious hall and a separate kitchen, two bedrooms, two bathrooms, two toilets, and two terraces.
The two floors (duplex) have 270 m2 of ground floor space, including a large 50 m2 lounge, kitchen, and bathroom, and the first floor has two bedrooms, a children's room, a laundry room, two bathrooms, and the upper floor has a bedroom, bathroom, and a spacious terrace.
As for the independent villas, their ground floor area is 330 m2 and includes a spacious hall, a separate kitchen, a bedroom, a bathroom, and a toilet. The first floor contains 3 bedrooms, two bathrooms, a laundry room, and two terraces, and the upper floor includes a spacious bedroom of 32 m2, a dressing room, a bathroom, and a terrace.
The complex also includes many social facilities suitable for families and for a luxurious stay. The price of a 120-square-meter villa is $142,000, while a 270-square-meter villa costs $371,000, and a 330-square-meter villa is about $606,000. The method of payment and breakdown of prices are cash, or in installment: 50% down payment and the rest to 12 or 18 months.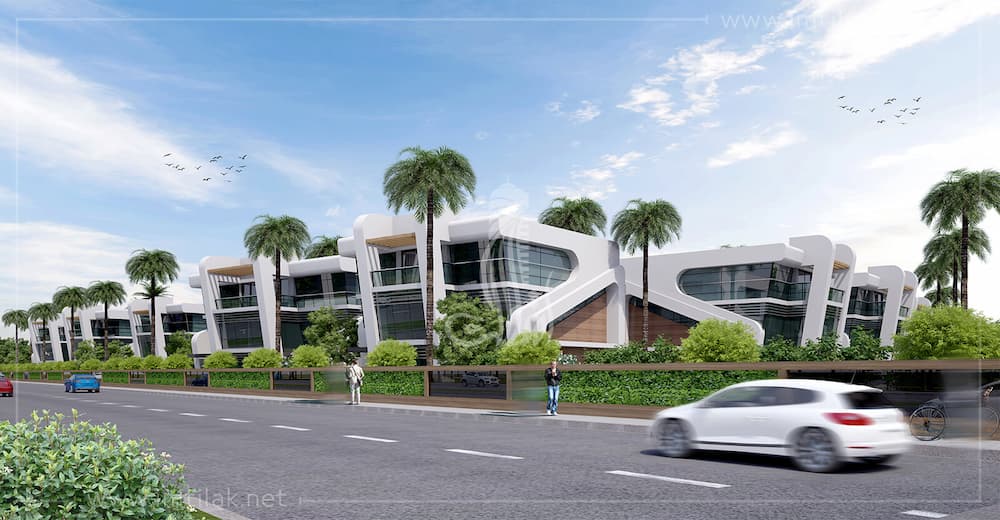 Edited by Imtilak Real Estate©
Did you like this topic? You can share it with your friends now.