A comprehensive guide to get to know the Konyaalti region in Antalya
Detailed information about the Konyaalti region in Antalya, Turkey, including the location of Konyaalti and the advantages of living and investing in it. Learn more about Konyaalti Beach and its attractions. 2021-08-24
Last update
2021-09-17
A comprehensive guide to get to know the Konyaalti region in Antalya
Information about Konyaalti district in Antalya
As the city of Antalya, located in the southwest of Turkey, is an inevitable destination for millions of tourists annually, thanks to its picturesque nature, charming coasts, and places surrounded by beauty and history.
Konyaaltı neighborhood was the first destination for swimming lovers and beautiful beaches, specifically Konyaalti Beach in Antalya, which is distinguished and charming, as the vibrant and beautiful heart of Antalya. It's one of the two main beaches of Antalya to the side of the charming Lara Beach.
The location of the Konyaalti district in Antalya
Konyaalti is located on the western side of Antalya and overlooks the Mediterranean Sea. It has a 10 km long beach, it is located in the old city of Antalya.
Infrastructure in Konyaalti, Antalya
Schools and universities
Konyaalti is suitable for living and stability, with its beautiful nature, fresh air, and attractive coastline for tourists, which has enabled it to become of high educational importance thanks to the presence of a large infrastructure. Akdeniz University is one of the largest universities in Turkey, which is famous for having no less than 45 faculties, led by the faculty of Medicine in which it is famous.
As for the schools, there are dozens of schools that teach all levels of education, whether the government is the most welcoming to students because teaching is free, the most famous of which is Abdul Rahman Nariman Belidi School, and Jahid Anwar School.
One of the most famous private schools is the Bahçeşehir group of schools, which includes kindergarten, intermediate primary and even secondary school, and this group is characterized by being equipped with the latest modern methods of education, in addition to a variety of entertainment facilities for students that make their time alongside studying full of activities.
Hospitals and health clinics
There are three hospitals in the Konyaalti region, which are between public and private, in addition to the availability of health centers and clinics with medical tourism that tourists visit.
The most important governmental hospitals, which are the "State" Hospital, the University Hospital, and there is also the "Olympus" private hospital.
Markets and shopping malls in Konyaalti, Antalya
Near the beach of Antalya, there is the main shopping center is the famous Migros Mall, which contains sections for food, clothing, household appliances, electrical, vegetables, meat, fruits, and nuts.
There are also shops and supermarkets, as well as weekly markets where fruits, vegetables, meat, and dairy products are available in different areas in Konyaalti, specifically in Liman, Toros, Meltem, and Altinkum.
There is also a large home furnishing shopping mall, "Tamal Home Design Centre", which is a magnet for locals in the area.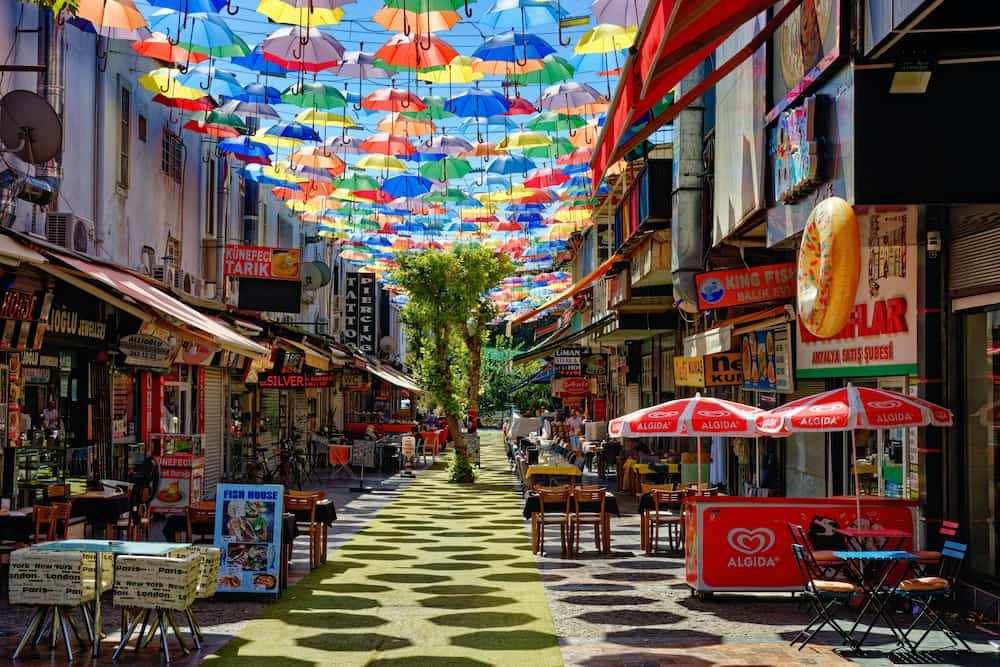 Tourist places in Konyaalti Antalya
Konyaalti beach
Konyaalti beach is located in the Konyaalti neighborhood in the Mediterranean Sea on the western side of Antalya and extends over a length of 10 km. It is intended for tourists and locals because its waters are lightly cold, compared to other beaches.
Visitors like the extent of the wonderful services overlooking the beach, as there are five-star restaurants, high-end resorts, a Turkish bath, and impressive theaters were built near the beach, giving a pleasant nighttime atmosphere.
Not to mention that the beach is overlooked by hotels of world-class and valuation and that it is also possible to practice all kinds of entertaining sports and wonderful sea activities.
One of the coolest features of the beach is that it is easily accessible from the city center by bus or even on foot for short walks.
Gardens in Konyaalti, Antalya
One of the most famous gardens for tourists is the "Mini City" garden, a garden with copies of the architectural scenes in Turkey, which embraces similar models of many architectural works belonging to various Anatolian civilizations from the past to the present time.
As there are 86 miniature tourist attractions that were created in a way that ensures complete similarity between them and the original landmark. In addition, there is a marine zoo and a water park for slides where you can ride a banana boat.
Advantages of living in Konyaalti, Antalya
Since Konyaalti has become an ideal and main destination for tourists, this has increased its advantages for those who think of living and stability, as it is already close to the city center and its beach on the Mediterranean coast is close and can be visited on foot, and it has a good transport node and modern markets and meets all the needs families, this is in addition to the diversity and richness of the centers of activities, social and recreational events, markets and beautiful gardens.
Consequently, the attention of real estate investors has begun to move towards Konyalti, which, on the one hand, is vital and has a year-round tourist turnout and, on the other hand, is a promising real estate market thanks to the Turkish Government's interest and the development of its infrastructure.
Advantages of owning and buying an apartment in Konyaalti, Antalya
As tourists and local residents go to Konyaalti during holidays, vacations, and during the tourist seasons, the idea of ​​owning and buying an apartment in Konyaalti for the purpose of tourist rental is considered a profitable option and returns to the investor a good financial return that increases every year, especially during the tourist seasons. Especially if the real estate choice was successful, of importance, and a good location and this is due to the appropriate choice of location within the Konyaalti region.
Real estate investment in Konyaalti Antalya and its advantages
The availability of tourism throughout the year in Konyaalti and a large number of types of outdoor activities that allow guests to explore the natural attractions, attracted Arab and foreign investors to seize promising investment opportunities in the region, which is currently witnessing a huge urban tourism renaissance so that housing units and luxury apartments are increasing with designs that make the tourist vacation period has an upscale atmosphere that matches the beauty of nature there.
Therefore, the real estate future of the region is constantly growing and encouraging investment, especially with the increase in real estate prices in the current period, after the rise of a number of large tourism projects in the region, which generated a state of demand for those looking for profit and ownership.
Imtilak Real Estate's best projects in Konyaalti
Golden Palm IMT - 774: This project is located in the important tourist area of ​​​​"Konyaalti", and the project consists of one building, with a height of 4 floors, and contains 25 apartments, of styles ranging from (1+1 at $82,000 - and 2+1 at $142,000), in addition to apartments duplexes with garden or terrace type (3+1 at $168,000 - 4+1 at $204,000).
The one-bedroom apartments have a living room, an open kitchen, a bathroom, and a balcony.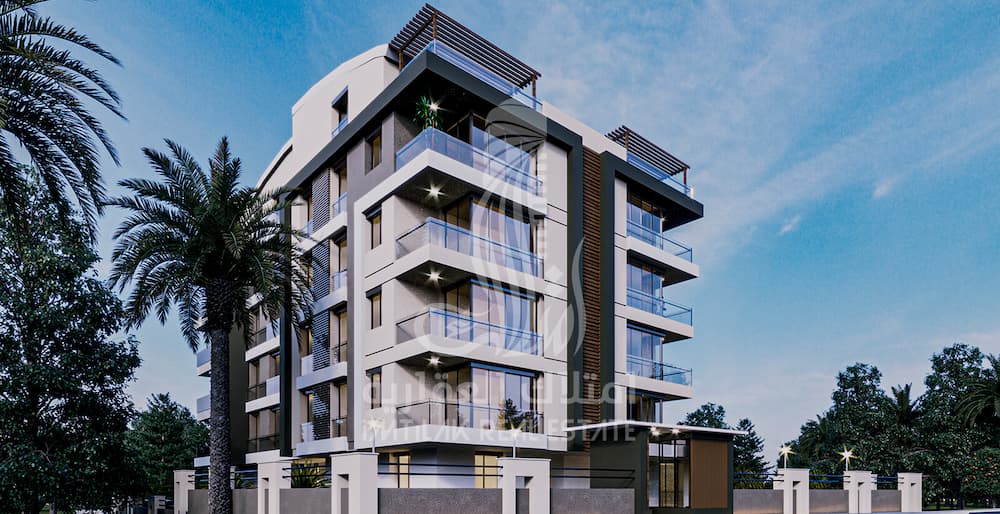 While the 2+1 apartments, consisting of two bedrooms, a living room, an open kitchen, a bathroom, and a balcony (some of these apartments have an extra bathroom in the parents' room).
The 3-bedroom duplex apartments have a living room, an open kitchen, two bathrooms, and a terrace, while the 4-bedroom duplex apartments have a living room, an open kitchen, two bathrooms, in addition to the parents' bathroom, a balcony, and a terrace.
The project includes a number of social and recreational facilities that meet the needs of modern life, such as a swimming pool, children's pool, gym, sauna, open car parking, niches for sitting in the gardens, and surveillance cameras.
As for the method of payment and price details, it is in cash or in installments: 50% down payment and the rest in installments over 12 months. Not to mention that the project complies with the conditions of Turkish citizenship in accordance with the ownership law at a value of $250,000.
Read more about: 
Edited by Imtilak Real Estate©
Did you like this topic? You can share it with your friends now.