Villas and Bungalows in Istanbul- The Luxurious Investment  Opportunity
The booming future and successful investment are in the idea of finding, owning and investing in villas for sale in Istanbul. Studies suggest that choosing Istanbul is the best choice. 2018-02-20
Last update
2021-06-03
Villas and Bungalows in Istanbul- The Luxurious Investment  Opportunity


Advantages of Villas Investment in Istanbul
The booming future and successful investment are in the idea of finding, owning and investing in villas for sale in Istanbul. Studies suggest that choosing Istanbul is the best choice for the following features:
It has thousands of old tourist attractions that attract millions of visitors.
The city's distinctive and strategic location.
Developmental plans set up by the Turkish government in the city.
The Ease of buying a property in Istanbul.
The political, economic and social stability in the country, with great facilities for foreign investors.
One of the many options for real estate investors in Istanbul is to search for villas for sale in Istanbul and enjoying the many offers of distinctive buildings, beautiful places, and very easy payment methods.
This diversity in offers and prices was one of the most important factors attracting investors for owning real estate in Istanbul for sale such as villas, so the investor has to choose from:
Various interior and exterior designs for the villas, in addition to a number of different rooms on request.
Different views of the scenic landscape and other amazing views of the sea.
Excellent facilities and services surrounding the villas.
Quiet and privileged locations away from the hustle and bustle of the city.
Different prices for villas where you can find what suits your budget and your financial potentials.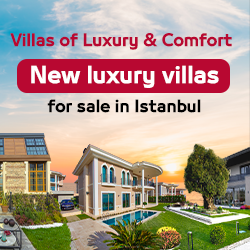 Why Real Estate Investment in Istanbul?
There are many elements that attract many foreigners to own real estate in Istanbul, the most important of which are:
The city is characterized by a charming and attractive nature with deep-rooted past.
A true opportunity for a guaranteed profit.
The city is an East-West connection center.
Turkey's overall policy of supporting and encouraging investment.
The many options offered in terms of design, location, price, and variety of facilities.
The real estate sector in Istanbul is one of the most growing and profitable sectors in the world, and the risk ratio is very low. In this regard, many studies and official statistics have confirmed the growth of investment in this area and confirmed that growth will be steadily increasing over the coming years.
The decision to buy villas or property in Istanbul needs a somewhat larger budget to purchase other properties because of its space and luxurious design. As long as your budget allows you to own villas in Istanbul, you can choose from many different offers in terms of location, areas, facilities, services, designs and other features for each property.
A Glance at Bungalows in Istanbul
Bungalows are available for sale in Istanbul at enticing prices, they are found in the often serene rural areas. With the increasing demand from foreign buyers for this kind of house, a number of innovative designs of houses have been built, as the construction of these houses allows the wide ruse of the land, and gives great spaces for relaxation and living.
Many visitors to Istanbul want to own a fully furnished bungalow, ideal for permanent residence or retirement and summer vacations amidst the beautiful nature and tranquil rural environment of Turkish cities and villages, suitable for family housing in a quiet area, with all local facilities available from restaurants and shops nearby.
Some rural houses consist of one bungalow, some of which are two or more floors, and generally, you will notice that the layout of the bungalow depends on the spacious and open spaces, where the kitchen is equipped with a dining area. There is also a large living room with a fireplace and air conditioning units.
The bungalow often has a private garden and a large area around the building ideal for a barbecue with seating options or a medium-sized swimming pool.
Looking for bungalows for sale is a great option for many Arab tourists who travel to Istanbul and other Turkish cities, where you can find a country house near historic sights, sandy beaches, and local facilities.
Luxury Villas in Istanbul European Side
The European side of Istanbul is one of the most important investment regions in Turkey. It is home to mega government projects, with the best villas and residential complexes in Istanbul. We also offer you the best options for villas in Istanbul European side.
Here are some of the great sites on the European side of Istanbul, where you can search for villas suitable for you either for family housing or for leasing as a safe investment project, so you can find suitable villas in the following areas:
The Bosporus Strait, where historical villas and palaces are designed according to a system of European classical style.
Beylikduzu, a new center for Istanbul, where villas in this area feature stunning views of the sea.
Zakariakoy area, strategically located in the midst of nature, while at the same time close to important facilities and services.
In Bahcesehir area, close to social facilities and within easy reach of central Istanbul.
These areas are, for example, are not exclusive. The offers, advantages and strategic location of villas in Istanbul are very numerous, and the options are multiple for investors.
The proximity and distance from the Istanbul European Center and historic areas, the sea views and the areas supported by mega projects ... all play a key role in choosing villas.
Why Buying Villa in Istanbul?
Turkey is one of the attractive countries for real estate investment and tourism. It is a destination for luxury lovers and big brands, so many foreigners are attracted to buying luxury villas in Istanbul during 2017 and 2018 for various purposes such as tourism, housing, and investment.  
Turkey has a strategic location linking Europe and the Middle East, and the investor can find a variety of golden deals for buying luxury villas with wonderful sea views, from local and international developers in the Turkish market.
Smart homes in Istanbul, have developed a very advanced technological capability that shortens the time and carries out vital tasks of the owners according to the latest artificial intelligence systems.
On the other hand, the Turkish government is working to provide various tax cuts and exemptions in the real estate sector, and encourage the establishment of high-end real estate projects, commensurate with the increase in housing, and meet the expectations of the promising real estate market.
Turkey's burgeoning tourist activity is also an important investment factor, with millions of tourists arriving every year, making Turkey's investment in villas and luxury properties favored by tourists profitable.
Sea View Luxury Villas in Istanbul
Istanbul the city of beauty and charms with its wonderful natural views, both through the vast forests that surround it, and sometimes interfere with the city, or through stunning sea views, so the option of looking for villas for sale with sea views in Istanbul will be your preferred choice of accommodation, comfort, and recreation.
Istanbul tops the list of Turkish cities in the splendor of its sea views, from the highlands with sea views to Istanbul houses that overlooks the sea, and it also takes you with its homes with magnificent natural views of splendor and beauty to other worlds of luxury and magic.
Villas are the most luxurious dwellings, for the lovers of nature, the tranquility, and the comfort, in which the greenery, the water, the beautiful views, the privacy, the feeling of independence, especially if the villa overlooks the sea in Istanbul.
The sea-view villas in Istanbul have its taste, a distinctive atmosphere, and distinctive color, as Istanbul is a paradise on earth, thus the sea view in Turkey is not like any sea view, because it is the junction of the two continents, its Mediterranean climate, far from the hurricanes, and enjoys a special care and cleanliness on its shores.
Cheap Villas in Istanbul- Perfect for Investment
Istanbul is a preferred destination for tourism in the region, as well as a booming destination for capital and investment, especially real estate, so many foreigners - investors and tourists - want to buy cheap villas in Istanbul for various purposes such as tourism, housing, and investment.
Advanages of Buying Cheap Villas in Istanbul
Strategic locations where villas for sale in Turkey are located on the sea, as most of these villas have charming and wonderful views overlooking various vital and natural green places such as Buyukcekmece, Bahcesehir, and Basaksehir...
The obvious development in the price of villas in Turkey in 2017 and in 2018, as the purchase of villas and, use for the purpose of investment give its owner a percentage high profits either by leasing to tourists and visitors or reselling after a period of time.   
The Turkish government's positive treatment and encouragements for both foreign and Turkish investors in accordance with the same laws without discrimination, with no difference in treatment or taxes, and with big facilities for foreign investors.
The purchase of villas for sale in Turkey in a vital and strategic area will see great demand, and then be sold at a higher price, the most attractive to investors nowadays is the search for villas for sale in Istanbul, especially in places close to the archaeological, nature or cheap villa with wonderful sea views, which usually gives the investor a high return on investment.
Buying ready cheap villas and then leasing it and ensuring a steady monthly return, as it is estimated that villas' rentals are high, especially during the times of tourism.
Financial Income of Investment Villas in Istanbul
The investment return in Turkey varies
According to the type of property, the lease period and the real estate features such as (location, area, quality, and surrounding facilities.)
Rental income for villas is estimated at between 7 and 12%, while tourism rents are estimated at 16 to 20% of the property price. 
If the villa is owned before the completion of construction and contracting, then selling these villas after the completion of the project, the return on investment is not less than 12%.
Installment Villas in Istanbul
In addition to the possibility of real estate investment, you may want to buy a villa in Istanbul for permanent or seasonal personal housing, so the subject of cheap price is an important factor in the demand for the house or home that potentially will be owned, making the option to search for villas for sale in installments in Istanbul ideal for those seeking housing or investment in Turkey.
Many Turkish real estate companies have offered easy offers to encourage ownership, including the option to buy now and start paying in 2019. This option allows the investor to move directly to his home and postpone payment of early installments to early 2019 for easy installment payments up to 240 months.
The installment includes luxury villa projects with beautiful views and luxurious properties that increase the value of real estate. This will increase the vitality of the Turkish real estate sector and the demand for buying villas, residential and investment houses in Istanbul of all kinds, especially villas with charming sea views in Istanbul.
the Turkish government encourages the villas and real estate ownership for foreign investors, by facilitating their purchase of real estate, reducing taxes and routine procedures, in addition to granting the possibility of easy installment for foreigners, as well as the advantages offered by the Turkish state for those wishing to invest in real estate, Such as exemption from taxes and granting them exceptional Turkish citizenship if they own property of a certain value.
You can easily get all the offers of villas in the most luxurious areas of Istanbul, whether for family housing or for leasing and investment with monthly financial returns, also profits from resale operations; you can also get after sales services and property management In addition to leasing services by contacting a reliable real estate consultancy company such as Imtilak Real Estate.