The Turkish Masterpiece Ortakoy Mosque in Istanbul
Ortakoy Mosque is one of a series of historic structures that adorn the Bosphorus Strait and is known as the Mosque of Abdul Majid 2019-05-14
Last update
2021-04-19
The Turkish Masterpiece Ortakoy Mosque in Istanbul
Table of Content

The History of Ortakoy Mosque in Istanbul
Ortakoy Mosque is one of a series of historic structures that adorn the Bosphorus Strait and is known as the Mosque of Abdul Majid. It was built by Sultan Abdul Majid and designed by architect Nikoğos Balyan, who studied architecture in France. The mosque was first opened for worship in 1854.
The mosque is one of the most important symbols of the city of Istanbul characterized by its beautiful Baroque architecture, a special urban style used in 17th-century European palaces.
The Ortakoy Mosque lies on the edge of the Istanbul Strait, occupying a privileged position. It also has a view for taking a commemorative picture of the Strait with the July 15 Martyrs' Bridge.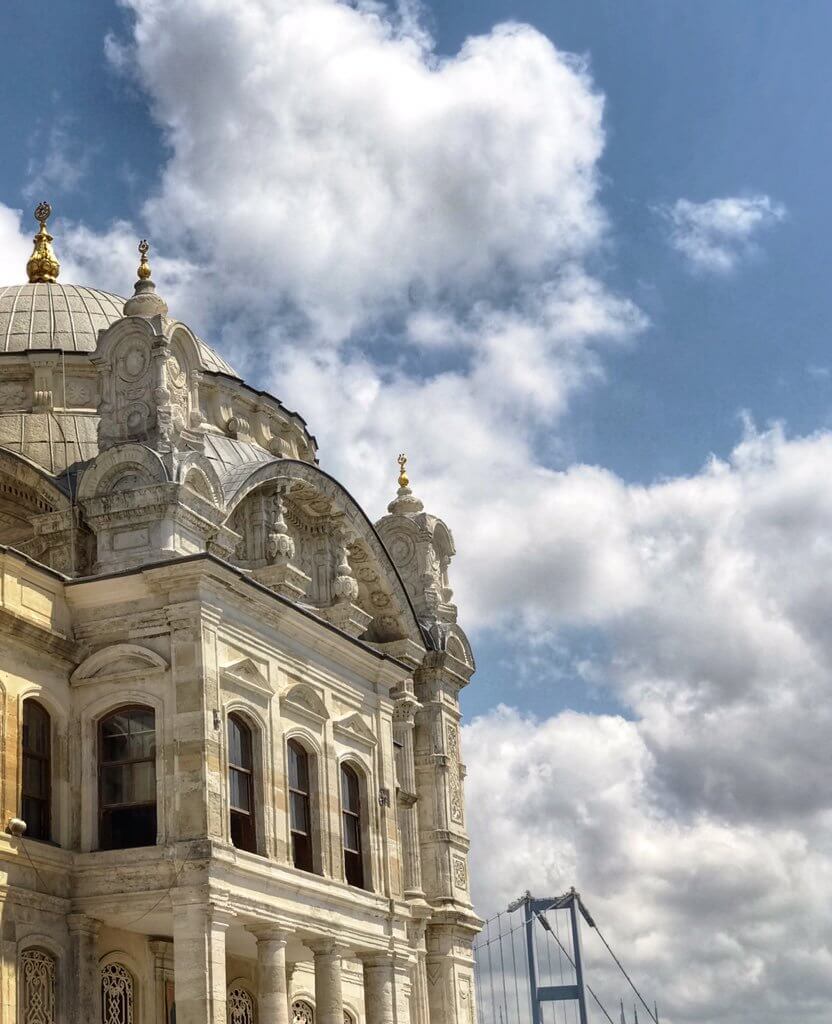 In addition to the main worship section, the mosque also includes an additional section where the sultan prays and rest. It was called the Sultan's Palace at that time and was the largest palace built in the nineteenth century, and the palace is roughly the size of the main mosque section.
Istanbul Ortakoy Mosque Interior- The Turkish Architecture Touch
The mosque has a large dome covering the main section of worship, and the decoration of the dome and its decoration from the inner face are of the celestial inscriptions in addition to the wide lines. The Ortakoy Mosque is distinguished from the other historic mosques in the area with large floral leaves painted with golden color under the balconies of its minarets.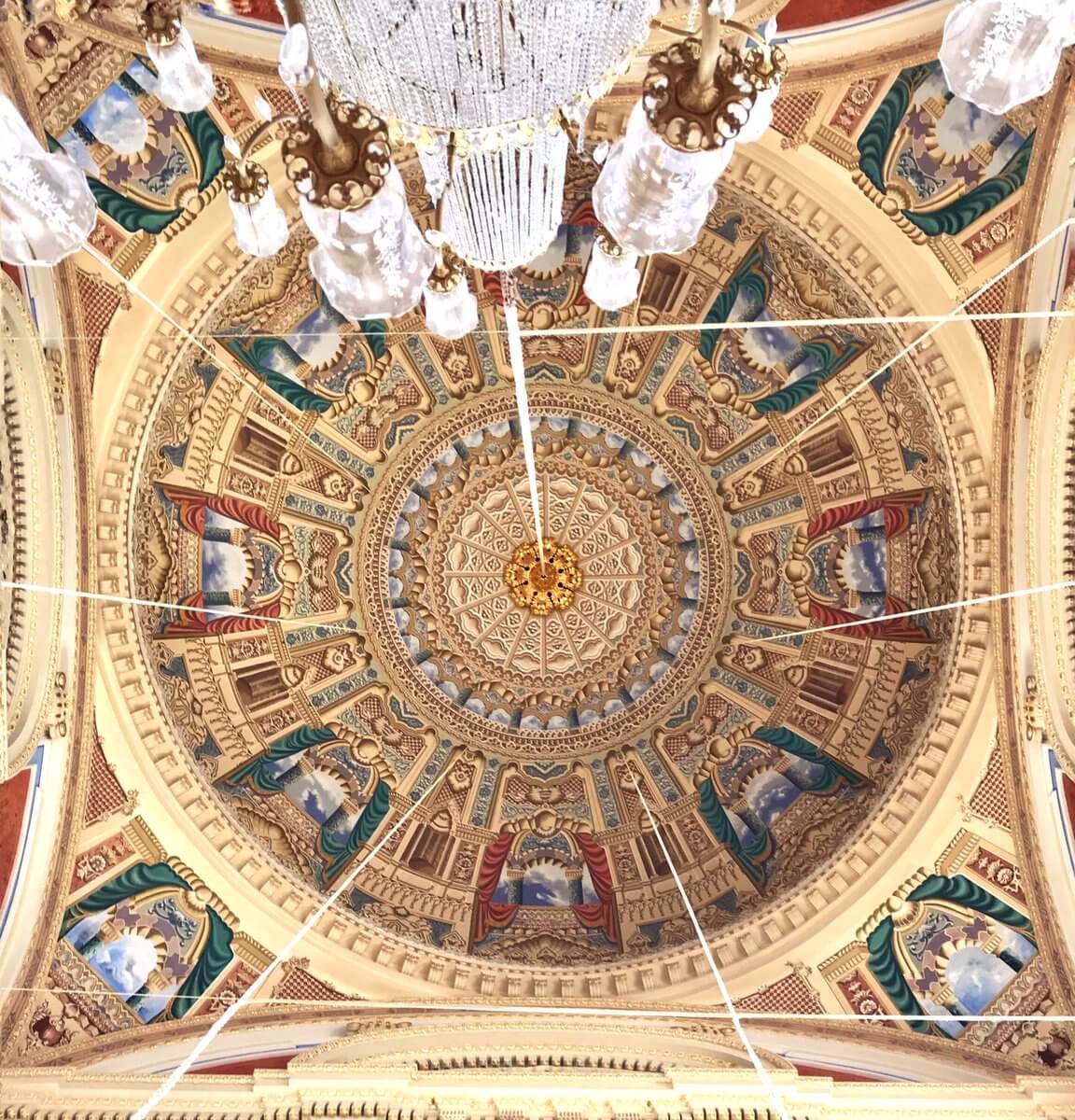 You can also notice several paintings in Arabic calligraphy in the mosque. The paintings include the word of the majesty, the name of the Prophet Muhammad, the names of the caliphs, In addition to the plate of the declaration of faith above the pulpit, and all these paintings are written by the handwriting of Sultan Abdul Majid!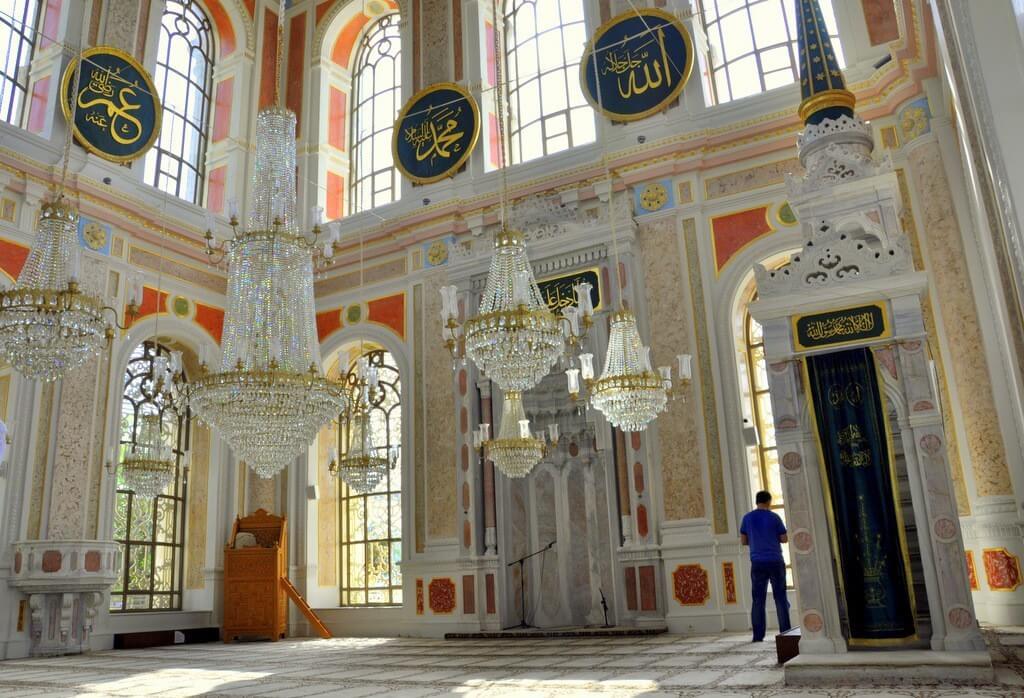 Administratively, the mosque follows the Ortakoy district which Besiktas district, when you visit it, the local food of kumbir will attract you, where you can enjoy the taste of it while looking at the beauty of the strait.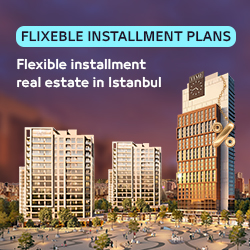 How to Go to Ortakoy Mosque
While if you want to go via public transport in Istanbul, if you are on the Asian side of Istanbul, you can take the ferry Besiktas. From there you take the bus going to the Sarıyer area and get off in the Kabataş Lisesi stop.
If you want to walk from Besiktas to the mosque, you can reach it in about twenty minutes.
If you are on the European side of the city, you can go to the mosque using the Bağcılar-Kabataş trampoline line, get off at Kabatash stop, and then take a bus to Sarıyer.
If you use the Metrobus, you should get off at Zincirlikuyu and then take the bus to go to the Besiktas square near the area of Ortakoy.
Edited by: Imtilak Real Estate ©
Sources: istanbuldagez 1 + istanbuldagez 2
Did you like our topic? You can share it with your friends now!