The best tourist places in Bursa
Learn about the most important tourist places in Bursa and its most famous monuments, including museums, gardens, waterfalls, lakes, and the Bursa cable car. 2022-08-01
Last update
2022-08-03
The best tourist places in Bursa
The tourist value of Bursa
The city of Bursa gathers beauty from its outskirts, and thus gained tourist fame until it's known by tourists even before visiting it, mainly due to:
The diversity of its nature, between sea, mountains, and valleys.
A city with a bygone civilization associated with the establishment of the Ottoman Empire.
A natural beauty, you can see its features wherever you look.
Its proximity to Istanbul.
The most important and famous tourist places in Bursa
Here we discuss this issue from its many aspects, such as museums, mosques, tourist attractions
Bursa Museums
We mention:
Bursa City Museum
It's one of the most beautiful museums that can be visited in Bursa, where the museum consists of three floors, and the museum contains many landmarks that deal with the history of Bursa, from historical pictures of the city, antiquities, professions, and handicrafts that the city was famous for, the most important of which are the craft of cotton, silk, and carpentry, blacksmithing, swordsmithing, leather.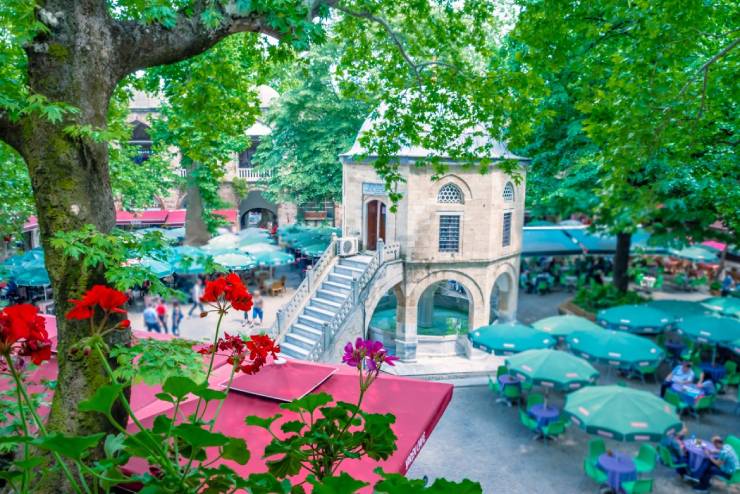 Hünkar Mansion Museum
This palace was built by the ruler of Bursa, Muhammad Saleh, in 1844, then he made it a resting place for Sultan Abdul Hamid during his hunting trip, and then the caliphs used it after him. The palace reflects the Ottoman architecture intertwined with some European monuments and consists of two floors with decorated rooms and reception halls.
In 1947, the palace became a property of the Bursa municipality, where it was repaired and rehabilitated to become a museum, until it was opened to the public in July 2009.
Karagoz Museum
The museum is located on the main street of the Çekirg district of Bursa, opposite the Karagöz Hacivat monument. The museum was opened as an art house on June 14, 1997, by Bursa Municipality and Bursa Foundation for Culture, Arts and Tourism, then it was converted into a museum in 2007.
The building includes a gallery, where Karagöz performances are held, the Karagöz Gallery - Hacivat, known in Arab culture as Karagöz and Aywaz, a puppet gallery, and a specialized library, and a photography workshop.
Tufaş Automobiles and Vans Anatolia Museum
Tufaş Auto Museum in Bursa is the first and only car museum in Anatolia in Turkey. Where one can enter a time tunnel starting from a historic wheel dating back thousands of years, to the antique cars that fill the place. The museum is also famous for its giant 300-year-old tree in its garden, and dozens of beautiful trees, plants, and flowers.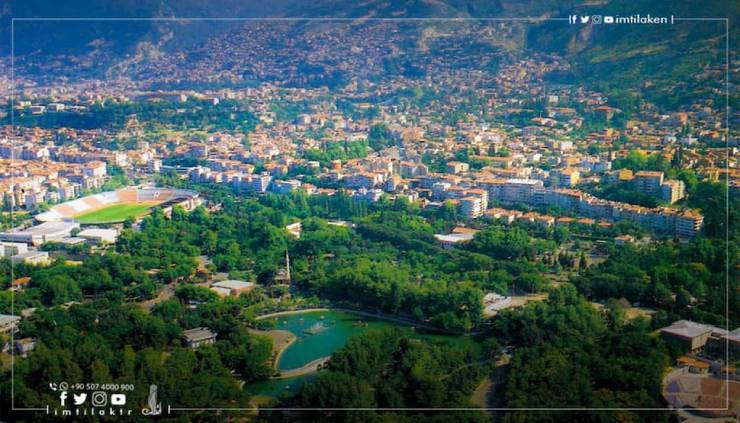 Bursa Parks
We mention:
Kültürpark
It's a spacious family garden, with a beautiful layout, and one of the most suitable places for children to play, wander and relax. It also includes several games areas, places equipped with sports equipment, and a football field for reservation as well as a medium-sized amusement park.
Cazibe Park
It's known in Turkish as Kaplıkaya Cazibe Merkezi and is considered a distinctive destination for a family outing in Bursa. It is a garden that includes various facilities for recreation and a variety of fish tanks, special water ponds for fishing, in addition to many picnic areas, cafes, and restaurants serving fresh fish dishes.
The park in Bursa, Turkey provides a special area for children's entertainment, where you can take your children to spend their holidays and fulfill their passion for fun and entertainment. You may also visit the aquarium in an attractive garden, which includes many types of fish.
Zoo in Bursa
It's a medium-sized zoo, which includes a variety of animals brought from several countries around the world, such as giraffes, lions, zebras, and grizzly bears. The zoo is located in the central Osmangazi district and is considered one of the attractive tourist attractions of Bursa.
Uludağ Milli Park
It's a wonderful full-service tourist place, where you can practice snowboarding, rent ski equipment, and ride cable cars, in addition to the availability of private trainers.
The park is located on one of the peaks of Uludağ Mountain, which is famous for its snow that remains until summer days. It is a popular tourist destination for tourists even from outside Turkey.
The most beautiful waterfalls of Bursa
We mention:
Saitabat Falls
Saitabat Waterfalls are located within walking distance of the center of Bursa, within the Kestel district. It is a lightly sloping area, surrounded by green meadows and oak trees, and you can hear the sound of nature and waterfalls gushing all over the place.
Korekli Waterfall
It's pleasant to walk in the forest and descend the slopes and climb to reach the end of the waterfall to enjoy its cold water, where you can watch the waterfall flowing from a high place, surrounded by rocks and trees on all sides.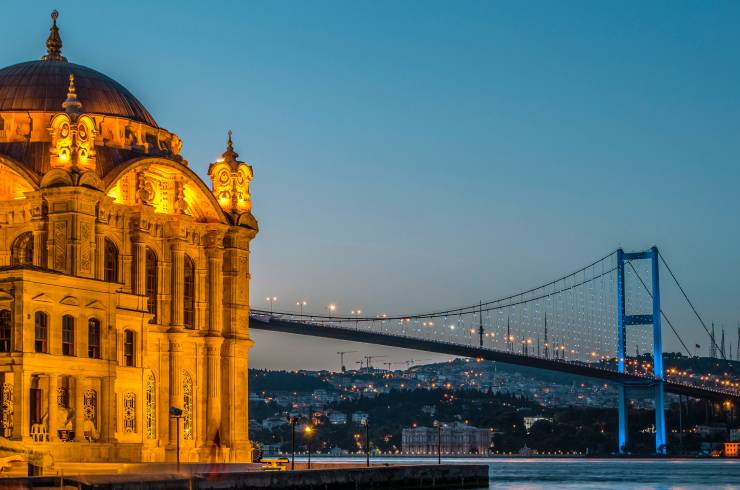 Bursa Mosques
We mention:
The Great Mosque of Bursa (Ulu Mosque)
It's one of the most beautiful historical and religious places in the historical and peaceful city of Bursa. It is located in the middle of a giant market.
The construction of this mosque dates back to the era of the Ottoman Sultan Bayezid I (Yildirim) in 1399 AD. It is built in the Seljuk style that was prevalent in that period. The mosque contains two minarets outside its main building. The mosque is also distinguished by its large number of domes (20 domes), a large water tank, and a water fountain, in addition to the amazing Arabic calligraphy paintings and Ottoman inscriptions that decorate its doors, and ancient clocks and candlesticks.
The Green Mosque
The Green Mosque and the Green Mausoleum, in the Prince Sultan area, whose construction dates back to 1423 AD during the time of Sultan Murad II.
The historical mosque, which is one of the prominent landmarks to visit and tourism, is surrounded by a number of tombs of some of the sultans and notables of the Ottoman Empire.
Special tourist places
We mention:
The historical tree in Bursa
It is located at the beginning of Mount Uludağ, only a ten-minute drive from the center of Bursa. It is a huge tree with branches covering a large area of ​​land, and its age is about 600 years.
This tree has become a famous symbol of Bursa. There is a beautiful café with a wonderful view of the city under the tree, where visitors come to sip drinks in its shade and take pictures of it.
Bursa cable car ( ‪Bursa Teleferik‬ )
The Bursa cable car has a length of 9 km and is the longest among its peers in Turkey. The entire tour consists of two parts, a trip that takes you from the foot of the green Uludağ Mountain to the top, from which you can see the whole city.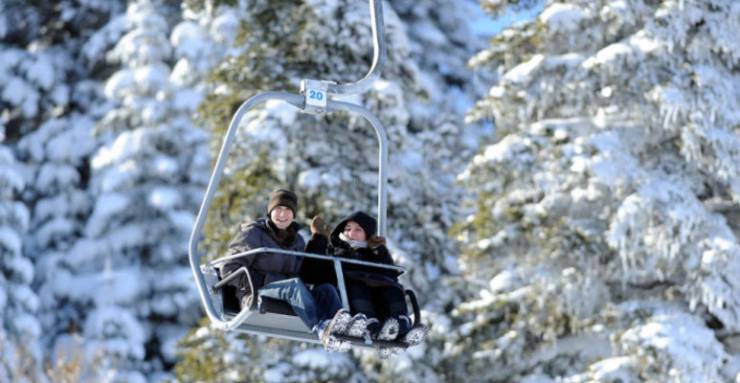 Ottoman village in Bursa
Cumalıkızık Köyü or what is known as the Ottoman Village in Yıldırım District. It is one of the villages that have preserved its historical buildings dating back nearly 700 years, and in its alleys, you can transfer history to an authentic historical era whose spirit is evident in the place.
Uludağ Mountain
Uludag, which means the huge mountain, was named in the old days as Mount Olympus, a huge, towering mountain and a prominent landmark of the city of Bursa, so that you may be able to see the highest snow-capped peaks from Istanbul.
The mountain is located near the city of Bursa and can be reached by car or by cable car ride. The mountain is the most important ski resort.
Silk Market
The Silk Market is located in the lively heart of Bursa. It is known in Turkish as Koza Khan. It is located specifically in the Heikal area of ​​Osmangazi. It is one of the most important tourist places visited by tourists in the city. It also includes a large courtyard, a mosque, and a group of ancient monuments.
Tourism investment opportunities in Bursa
It is not surprising that Bursa receives great tourist interest in parallel with its many aesthetic features. Tourism investment opportunities in Bursa vary, and its avenues expand with the breadth of its options, but tourism and real estate investments must be linked to adequate studies that gather the controls for their success.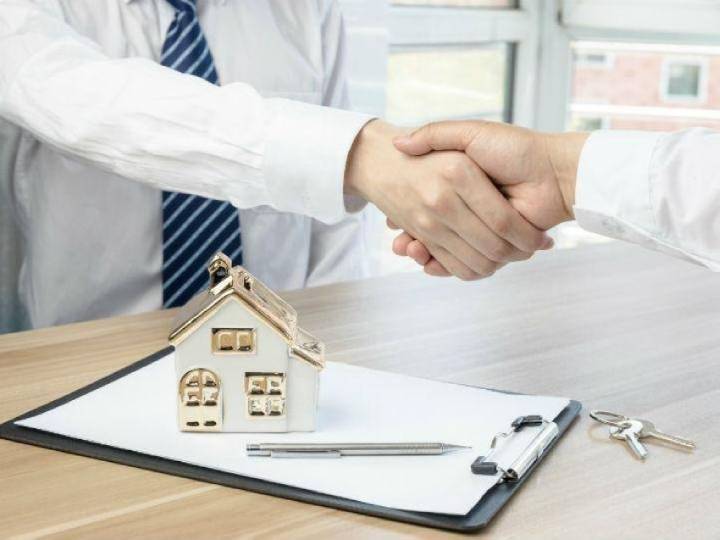 The value added by tourism to real estate in Bursa
Tourism has a significant impact on the real estate value of any area in a positive and clear way, and therefore the impact usually extends to an urban renaissance parallel to the increase in real estate demand, and this is what we see today in Bursa in an obvious way.
The largest construction companies in Bursa are still betting on the real estate future of the region, by implementing dozens of luxury villa complexes and residential buildings, which real estate investors receive with a kind of noticeable interest, regardless of their different intentions of ownership, especially in residential complexes with registered brands, and various high-end facilities.
Read More about: 
All You Need To Know About Mudanya District In Bursa
Nilufer District In Bursa: Learn About It In Detail
Edited by Imtilak Real Estate ©